Retail Pharmacists work in retail pharmacies supplying prescription and over-the-counter medications. Their duties include dispensing medications, confirming prescription accuracy, supervising the pharmacy team, checking for drug interactions, informing patients about their medications, and customer service. Educational requirements to work as a Retail Pharmacist are a Bachelors's degree in Pharmacy or PharmD degree and completing an APPEs program. Retail Pharmacists need to have supervision skills, be detail-oriented, have great written/verbal communication, be organized, follow safety procedures, have good teamwork skills, and a flexible schedule to be successful.
A good resume is well-written and concise. It should be neat and easy to read, listing previous experience in a logical order.
Our resume samples will provide you with multiple examples of what you can include when writing your resume.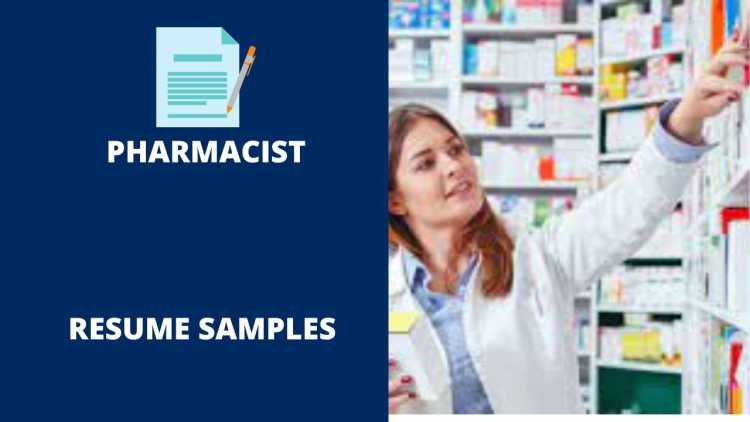 The Best Pharmacist Resume Samples
These are some examples of accomplishments we have handpicked from real Pharmacist resumes for your reference.
Pharmacist
Patient- focused pharmacist with proven strengths in solid experience in filling physician prescriptions and dispensing medication.
Consult regularly with doctors on finding alternative medications to existing drug therapies, covered by patients' insurance plans.
Proactively developed expertise in complete pharmaceutical service cycle: including preparation of medications, drug dispensing, customer service and complete drug consultation.
Solved an analytical problem by applying advanced math to calculate the most effective chemical dosage for a patient's compromised immune system.
Recognized as one of the top drug stores in Maryland, recognizing the company's commitment to customer service.
Pharmacist
Accurately type, verify, and review scripts as well as provide consultation and recommendations on drug interactions to patients.
Float to various stores with script counts ranging from 150 to 500 per day.
Actively provide expanded immunizations and participate in flu clinics for the community.
Honed creative problem solving skills with each unique issue with both pharmacy and patient policies.
Assisted pharmacists with tasks that were outside their competence by sampling and testing all active ingredients imported into Maryland from 50 different medial facilities.
Pharmacist
Performed pharmacist duties including answering drug/IV questions from physicians and nurses, review prescriptions, review IV orders, monitor vancomycin and aminoglycoside levels, make therapeutic recommendations, resolve prescription problems relating to patient allergies, drug-drug interactions, and drug dose/frequency, monitor CBC lab results for patients on erythropoietic medications and clozapine.
Prioritize work flow to make sure all deliveries are made in a timely manner.
Monitor field technicians loading medications into on-site dispensing machines on camera.
Liaised between medical researchers and pharmaceutical manufacturers to formulate creative solutions for diseases, such as cancer and AIDS.
Restored the vision of a blind patient by transplanting her own corneas.
Pharmacist
Provided good pharmaceutical care building strong customer relationships.
Managed inventory system maintaining consistent availability of medication/products with high turnover.
Trained intern pharmacists and pharmacy students during their clerkship.
Developed and managed a Pharmacy department.
Managed patient care service, primary diagnosis, and prescription drug treatments, and assisting both residents and physicians in clinics.
Pharmacist
Collaborated with doctors and nurses regarding dosage and alternative treatment options to ensure that all patient therapeutic needs are met.
Performed product review for dispensed drugs including sterile and non-sterile compounded products.
Collaborated with pharmacy staff regarding workflow improvement.
Cross-trained to be a certified Pharmacist Technician in Physician Assistant programs.
Researched and provided treatment of toxic effects of lead exposure, including blood lead levels in multiple patients.
Pharmacist
Prepared 50+ medications by reviewing and interpreting prescription information as entered by the data entry pharmacy technicians.
Provided pharmacological information by answering questions and requests of health care professionals; counseling patients on drug therapies.
Reviewed and resolved drug-drug and drug-allergy interactions and high dose prescriptions.
Ensured the removal of expired and damaged medications from shelves and sent to appropriate locations.
Provided diagnosis of patients' illnesses by analyzing symptoms; developed a pharmacokinetic model as an aid to patient education.
Pharmacist
Maintaining drug inventory levels by ordering necessary medications and supplies, and verifying deliveries against purchase orders.
Reviewing and Transferring new prescriptions via phone and interpreting written prescriptions from prescribers.
Mixed various pharmaceutical preparations according to written prescriptions.
Created an exemplary pharmacy experience for customers by establishing relationships, providing friendly and efficient service, and quickly resolving customer inquiries.
Proven to be an effective leader in the pharmacy industry by overseeing the operations of a retail pharmacy and responding to crisis situations.
Pharmacist
Provided direction and guidance to Associates regarding workflow and customer services.
Reviewed prescriptions for drug-drug interactions, correct dosing and contacted physicians for clarifications.
Administer immunizations such as Flu, Pneumococcal, Hep B, Hep A, Shingles and Varicella vaccines.
Established a medication synchronization program that positively impacted clients' health care and health insurance costs.
Canvassed drug stores in the community to increase awareness of the benefits of access to medications through a local pharmacy.
Pharmacist
Provided Comprehensive Medication Review, Medication Therapy Management service.
Provided patients education and counseling to increase adherence, efficacy and reduce side effects.
Interact with medical teams for clarification and monitoring patients for best outcomes, avoid drug interactions and also limit adverse effects and medication dependence.
Provided nursing staff with a sufficient supply of pharmaceuticals and maintained inventory levels according to federal guidelines.
Graduated from the University of Maryland School of Pharmacy with excellence in the clinical and academic study; received teaching awards to develop curriculum.
Pharmacist
Ensure the accuracy and appropriateness of all prescriptions filled by completing Drug Utilization Review and Final Quality Assurance, applicable to state and federal Board of Pharmacy regulation.
Review and fill prescriptions, and provide patients/caregivers with information and counseling regarding prescriptions, over-the-counter products and disease management.
Ensure proper medication usage through careful verification, medication history review and communication with healthcare providers.
Developed personal responsibility by dealing with uncooperative family members and teaching school children basic skills to help them clean their rooms, cook simple meals, read a storybook to a sick child, and deal with their feelings.
Appreciated personal growth via expanding knowledge in traditions of many world religions; developed ethics regarding healthcare through mentoring college students.
Pharmacist
Responsible for typing, filling, billing prescriptions and communicating with third parties (i.e. Insurance companies, healthcare providers).
Proactive in following-up with patients on their status of disease management (both acute and chronic).
Counsel patients on prescription medications and offer counsel on over-the-counter products and appropriate immunizations.
Created a program to encourage positive thinking and self-discipline through career choices; resulted in opportunities for personal development.
Demonstrated outstanding performance in independent practice and achieved an exemplary record of excellence, with no adverse drug reaction or other drug error.
Pharmacist
Ensure accuracy and appropriateness of prescriptions by Drug Utilization Review and Final Quality Assurance at high-volume prescription store.
Build profitable business and script growth through appropriate immunization and Medication Therapy Management.
Interact with physicians and nurses to request refills when appropriate or recommend changes in therapy based on insurance requirements.
Provided patient care in compliance with medicines' policies and procedures by accurately completing medication profiles.
Served as the lead pharmacist for four other pharmacists; efficiently maintained a smooth workflow system within the pharmacy department.
Wrap Up
You need to make sure your resume stands out amongst the other candidates. It is the first impression that employers have of your work experience and skills. Use the samples above to put together a resume that best suits your needs and helps you get the job you want.