Chefs coordinate and direct kitchen staff and prepare food according to recipes. They typically have an associate or bachelor's degree in culinary arts along with 1-3 years of work experience as a cook, sous chef, or line cook. Chefs must be proficient in knife skills, reading recipes, food safety, portioning dishes, cooking techniques, and sanitation standards. Chefs also need excellent communication skills and teamwork abilities for effective collaboration with other chefs and kitchen staff.
A good resume is well-written and concise. It should be neat and easy to read, listing previous experience in a logical order.
Our resume samples will provide you with multiple examples of what you can include when writing your resume.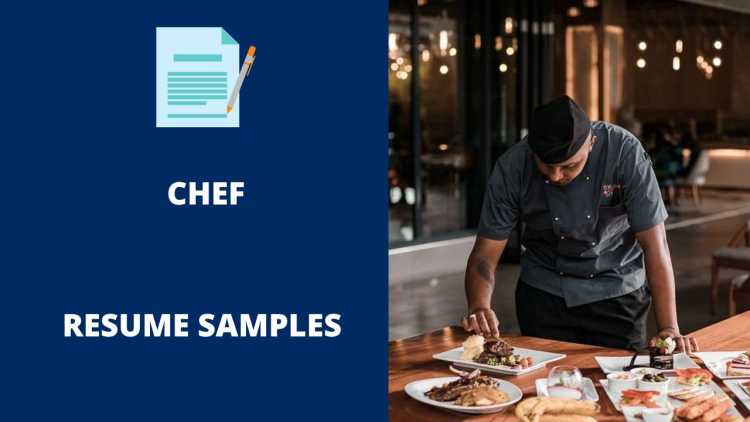 The Best Chef Resume Samples
These are some examples of accomplishments we have handpicked from real Chef resumes for your reference.
Chef
Checked the quality of raw or cooked food products to ensure that standards are met.
Monitor sanitation practices to ensure that employees follow standards and regulations.
Order or requisition food or other supplies needed to ensure efficient operation.
Supervise or coordinate activities of cooks or workers engaged in food preparation.
Experienced the actual behavior and attitude of a successful and accomplished chef in professional kitchens of five-star restaurants.
Chef
Assisted cooks on the preparation, cooking and presentation of different foods in the restaurant and banquets.
Ensured that all food served is arranged properly and met quality standards.
Ensured that all kitchen work is completed within the timelines.
Specialized in specialties such as French cuisine, Asian cuisine, and Italian cuisine.
Helped to prepare food by using various utensils necessary to achieve quality meals at all times discussing with customers how they felt about their meal.
Chef
Prepared menu items and serve breakfast, lunch, and dinner on a daily basis for patients.
Prepared soups and desserts daily.
Purchase inventory, stock dining room, clean dining room, clean kitchen equipment, and minor maintenance on kitchen equipment.
Menu development and updates of a 2 week cycle menu.
Tampered with the cooking process, ingredients, or equipment as necessary to achieve high-quality meals without compromising the quality or safety of food or drinks.
Chef
Able to multi-task many different responsibilities throughout the day with a positive team attitude.
Consistently exceed daily, weekly and monthly targets while maintaining excellent customer service and keeping employee turnover low.
Managed daily kitchen operations and created standards that exceed safety and health regulations; identify and provide solutions for any problem areas.
Participated in team-building activities in which teamwork was an essential component for success.
Realized that teamwork was essential for success in any occupation.
Chef
Ensured freshness of food and ingredients by checking for quality, keeping track of old and new items, and rotating stock.
Planned menus according to employers' needs and diet restrictions.
Prepared food trays for both general and therapeutic diets, maintaining proper temperatures for hot and cold foods.
Cooked foodstuffs according to menus, special dietary or nutritional restrictions, and Numbers of portions.
Master Chef for the Midwest's largest restaurant corporation. Designed and created menus for the company's new concepts, menus for corporate events, as well as private chef services from training to chef-client dinners.
Chef
Responsible for overseeing culinary and operations functions for high profile events.
Works with event planners to design menus and develop standardized recipes to meet production, delivery and service schedules.
Assisted in production planning, record keeping and reporting.
Worked at two Michelin three-star restaurants on short notice and under heavy time constraints.
Effectively coordinated a catering event of over 400 people in less than 24 hours.
Chef
Anticipating culinary trends so that the restaurant keeps and enhances its competitive advantage.
Multi-lingual, and able to speak Italian, Spanish and English.
Putting together daily production sheets and also delegating specific tasks to individual employees.
Ability to remain calm under pressure while working in a target driven and high volume environment.
Monitoring the taste, visual appeal, financial cost and temperature of all meals served.
Chef
Prepared food items consistently and in compliance with recipes, portioning, cooking and waste control guidelines.
Reduced food costs by 27 % by using seasonal ingredients, setting standards for portion size which helped minimize waste.
Helped created entrees using fresh produce and seafood from local farmers' market.
Maintained smooth and timely operations in preparation and delivery of meals and kitchen sanitation.
Created a fool-proof restaurant punch list and offered a food documentation program to improve quality control and increase production productivity.
Chef
Here I mainly cook on Grill and Saute side but I fill in wherever needed to maintain ticket times such as cold station and raw bar.
Prep and cook Brunch every weekend, very comfortable cooking breakfast.
Fill in for the Executive Chef in planning and directing food preparation when necessary.
Order produce and paper goods, while maintaining walk in and dry storage to insure product rotation.
Continue conducting business by networking with local culinary groups, certifying restaurants on customer service, menu creation, quality control, food safety, providing catering services for client functions, and professional evaluations of other restaurant owners' plans and operations.
Chef
Maintain food and labor costs, oversee operations for food specifications, preparation & consistency, maintain high sanitation standards.
Training and development of employees to company specifications.
Financial responsibilities include, P and L, budget vs. Actual on weekly basis.
Supervise quality control, budgeting, purchasing, products procurement, vendor negotiations, hiring, training and staff development.
Created special recipes and prepared dishes to meet diet guidelines as requested by a diabetic customer.
Chef
Produce high quality dishes that following the established menu and level up to location's standards, as well as to clients' requirements.
Ensure food is stored and cooked at correct temperature by regulating temperature of ovens, broilers, grills, and roasters.
Inspected and clean food preparation areas, such as equipment and work surfaces, or serving areas to ensure safe and sanitary food-handling practices.
Ensure freshness of food and ingredients by checking for quality, keeping track of old and new items, and rotating stock.
Maintained quality of food preparation by tasting foods throughout each process, obtaining immediate feedback.
Chef
Functioned in leadership role as Sous Chef responsible for oversight of creation and presentation of various types of bakery goods; performed regular detailed menu updates.
Demonstrated inventory controls and financial proficiency by conducting relevant tasks to meet employer objectives; oversaw documentation related to labor records and activities.
Performed collateral tasks to ensure successful operations; responsible for general rehabs.
Achieved positive guest comments after serving dessert in the shape of a flower and providing water with lemon sliced into the shape of a rose.
Created customized menus with creative flair while maintaining the highest standard of quality and service.
Wrap Up
You need to make sure your resume stands out amongst the other candidates. It is the first impression that employers have of your work experience and skills. Use the samples above to put together a resume that best suits your needs and helps you get the job you want.