As a Parts Advisor, you would be responsible for helping customers with parts and product information. You may also order parts and help track orders. To work as a Parts Advisor, you need to have computer skills such as typing fast and accurately on a keyboard. You must also know how to use Microsoft Office programs like Access or Excel, which is important in the administration of your company's business data.
A good resume is well-written and concise. It should be neat and easy to read, listing previous experience in a logical order.
Our resume samples will provide you with multiple examples of what you can include when writing your resume.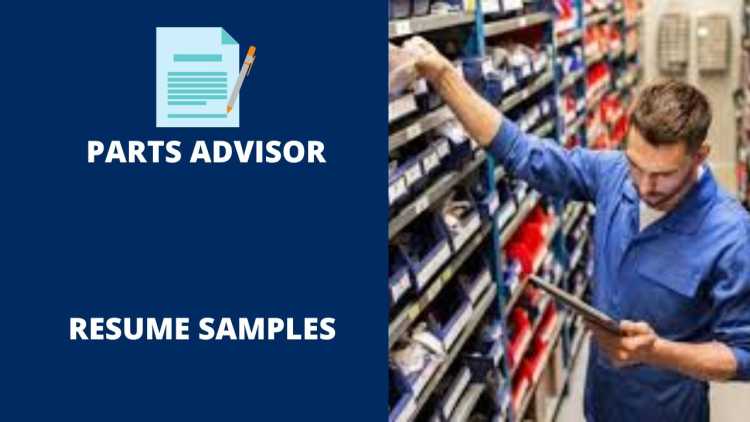 The Best Parts Advisor Resume Samples
These are some examples of accomplishments we have handpicked from real Parts Advisor resumes for your reference.
Parts Sales Advisor
Parts Sales, customer advisory, stocking, shipping and handling also receiving stock.
Inventory assessment, billing parts, warranty, returns and core returns.
Including sending cores back to specific places to receive core credit.
Handled customer service duties such as Accounts Receivable, Payroll, and Data Entry.
Edited and reviewed company filing, R&D expense reports for accuracy and completeness.
Parts Advisor
To attend to walk in customers and take care of any needs they may have.
On occasion step in and help the back counter with service tickets and special orders.
Helping management stock and special orders parts to keep stock levels at a maximum.
Maintaining with understanding how to manage high gross margin with discounts and how it effects sales.
Verified accuracy of expense reports for billing purposes; purchased office supplies, stationery, postage, and envelopes.
Parts Advisor
Followed checklists to verify that all important parts were examined.
Communicated with customers regarding vehicle issues and potential repairs.
Contributed to repeat and referral business by using strong customer service and problem solving skills.
Maintained a large amount of inventory; tracked costs/sales/mark-ups on all products kept in stock.
Scheduled and oversaw regular meetings with all department heads; participated in weekly planning meetings with Regional Manager.
Parts Advisor
Provided quality service to customers and technicians by assessing customer needs, advising and selling with a high accuracy rate to ensure a high level of customer satisfaction.
Inform customers of companion part requirements and specials and ensure customers are exposed to full product line.
Monitor inventory and manage warranty parts maintenance process.
Proven skill in order processing and delivery; coordinated shipments of approximately 1,000 parts in a single day to ensure customer satisfaction and parts availability.
Handled customer inquiries by using the Auto Trader system to locate requested parts and by communicating with salespeople regarding any price quotations.
Parts Advisor
Helping answer whole sale parts phone calls Helping stock and put away parts in its correct location.
Counting parts to maintain accurate inventory on shelf's And other duties assign by management.
Completed courses for Star Certification and other courses related to the position.
Provided follow-up on missing or damaged warehouse receipts, updating our computerized database for improved efficiency and accuracy.
Managed quality control for production orders; executed on-site audits at supplier locations to ensure that high standards were met with regard to product quality.
Auto Parts Advisor
Administered sales of parts and accessories to retail and wholesale customers via telephone, internet and over-the-counter.
Provided dealership service department with parts and information to repair and maintain customer vehicles.
Ordered after-market and OEM parts from third-party vendors for pre-owned vehicle certification.
Coordinated with vendors and shipping companies to ensure all orders were fulfilled.
Completed a course to acquire required knowledge and skills in computer repair, service, and maintenance.
Parts Advisor/Key Holder
Responsible for comparing all incoming shipping manifests with their corresponding purchase orders to make sure shipments were complete.
Insure accuracy of incoming daily stock of approximately $5000.
Receive payment or obtain credit authorization and record transactions on customer receipts for 25 per day.
Monitored inventory and costs of specialized parts to ensure that only necessary inventory was on hand for all branches of the business.
Prepared inventory lists for corporate offices using custom-developed computer software.
Part Advisor
Assisted in both daily and weekly inventories, and responsible for ordering parts, tires and accessories for Mercedes and other high-end makes and models cars and SUV's.
Cross-trained and handles retail, wholesale and back counter.
Assisted with daily inventory, receiving stocking and shipping. Scan daily inventory for order as needed.
Assisted technicians with on hand parts and ordering of specialized parts for custom repairs as needed.
Provided after-sale service for computers, copiers, printers, faxes, etc., by participating in and performing repairs on a regular basis.
Auto Parts Specialist
Facilitated used auto parts sales in a high volume inbound call center.
Place phone orders for auto body shops, auto service centers, used car dealers and new car dealerships.
Arrange for delivery of parts to correct location, perform in depth searches for parts by contacting other yards for available parts and broker parts to clients.
Received excellent performance review; a recognition for a high level of initiative, professionalism, and commitment.
Trained employees to stimulate a positive attitude toward others and the job; instilled strong work ethic with an emphasis on cooperation, team building, and leadership skills.
Parts Specialist
Quoting and selling various parts and materials for forklifts and other heavy machinery and equipment.
Substantial phone and email use to communicate with various vendors and customers.
Worked closely with the sales department to assist specific accounts in stocking on site parts as well as quoting parts for their fleet maintenance needs.
Researched positions for new hires and assisted in the interview process for future employees.
Assisted in researching positions for new hires and provided part suggestions to help them meet their career goals.
Parts Advisor
Assisted both wholesale and retail customers in selecting required parts while keeping customers updated of the status of orders.
Answer 25-50 phone calls a day providing price quotes, delivery updates and other information.
Maintain inventory of parts and shop materials daily via cycle counts.
Communicate estimated parts ship and arrival time, including regular updates.
Set up budgeting, personnel analysis, benefits paperwork control system to ensure taxes are accurately handled by our corporation which assisted the proper management of financial information.
Parts Advisor
Managed company Amazon account which includes keeping online inventory updated, tracking and shipping online orders, generating monthly internet sales reports.
Assisted in multiple departments including front retail counter, back service counter and shipping department.
Assisted service technicians in providing the correct parts needed for services and answering technical questions regarding the parts.
Handled several high-volume sales and service functions, including the sales of three automobile brands.
Met quota for parts sales and profit for over nine consecutive months. Developed a "Build to Suit" program using parts inventory.
Wrap Up
You need to make sure your resume stands out amongst the other candidates. It is the first impression that employers have of your work experience and skills. Use the samples above to put together a resume that best suits your needs and helps you get the job you want.