Certified pharmacy technicians work in a pharmacy under the supervision of a licensed pharmacist. Their main responsibilities include collecting paperwork, verifying insurance, verifying prescriptions, preparing medications, pricing prescriptions and completing paperwork. Pharmacy technicians must have a high school diploma or GED and pass the ExPCT exam. Skills needed for this job include reading, writing, speaking with patients, data entry, computer skills, organization and attention to detail.
A good resume is well-written and concise. It should be neat and easy to read, listing previous experience in a logical order.
Our resume samples will provide you with multiple examples of what you can include when writing your resume.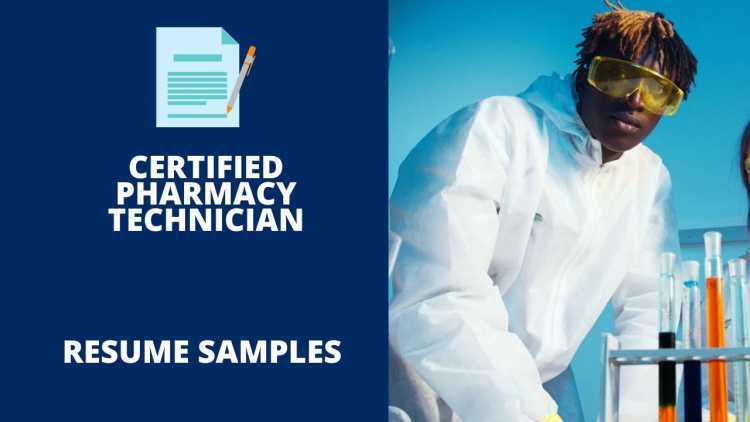 The Best Certified Pharmacy Technician Resume Samples
These are some examples of accomplishments we have handpicked from real Certified Pharmacy Technician resumes for your reference.
Certified Pharmacy Technician
Swiftly and correctly calculate dosages, dispense medications, prepare prescription labels and fill prescriptions for approval by pharmacists.
Use the pharmacy's proprietary computer program to access prescription information including patient and prescriber data, drug selection, prescription interpretation and insurance billing.
Researched and resolve dosage conflicts, potentially harmful drug interactions, insurance issues and other matters to ensure patient safety/wellness and build customer loyalty.
Worked at the same drug store for 7 years; received excellent evaluations upon completion of every training program, including certification testing and graduation.
Consistently performed duties as a Certified Pharmacy Technician (CPhT) without supervision.
Certified Pharmacy Technician
Accurately replenish and deliver drugs to various individual pill dispensing machines.
Maintain proper storage and security conditions for all drugs.
Checked in inventory using the computer data base and manually cycle count all drugs to make they are accurate.
Satisfactorily performed duties as a Certified Pharmacy Technician, which included preparation of sterile solutions, maintenance of required logs, and stocking medications for hospital use.
Helped lead pharmacy to one of the highest patient interaction rates in the nation by 1-800 number customers.
Certified Pharmacy Technician
Performed duties and responsibilities within a pharmacy,and assist with the preparation of medication orders under supervision of a licensed Pharmacist.
Maintain good customer service and customer/patient confidentiality according to HIPAA,answers phones,input data,inventory,verify information for insurance claims.
Assists in counting of drugs,and admixturing drugs in a timely manner.
Conducted drug and medical records reviews, analyzed patient charts, administered and recorded vital signs on patients.
Performed inventory management, scanned and loaded up to five pharmaceutical vials at a time with medication, transferred medication to pharmacy unit.
Certified Pharmacy Technician
Accurately package schedule C-II through C-V controlled substances, non-scheduled prescription medications, and over the counter drugs in a fast-paced work environment.
Track down and diagnose inventory discrepancies via backlog detective work.
Compound various prescription medications by measuring and mixing ingredients within strict tolerances of mass and volume.
Managed the operation and inventory of large automatic medication packaging machines and inspect the product they produce for quality and accuracy.
Checked prescriptions against the client's drug history records.
Certified Pharmacy Technician
Communicates directly with doctors' offices, hospitals and other pharmacies via telephone and fax.
Provides friendly customer service at prescription drop-off and pick-up counters and efficiently assists multiple patients at once during high volume hours of the work day.
Answers and screens phone calls for the staff pharmacist in a polite and professional manner.
Contacts insurance companies on behalf of patients to resolve multiple issues including but not limited to data input errors, prescription refill overrides and prior authorization approvals.
Updated the patient's chart prior to closing the prescription order.
Certified Pharmacy Technician
Take in-coming calls from members, providers, etc. and provide professional phone assistance to callers through the criteria based call center process.
Able to maintain complete, timely and accurate documentation of all approvals and denials, and transfer all clinical questions and judgment calls to the pharmacist.
Deal with a diverse customer base in a friendly and confident manner (internal and external customers); have the ability to work in team environment that require availability to work various shifts where I am abe to learn new operating systems and new communication strategies.
Employed knowledge in pharmacology to test pre-determined portions of prescription drugs and form calculation of dosages required by the patient.
Worked closely with physicians during treatment sessions.
Certified Pharmacy Technician
Responsibility in the areas of medication receiving, preparing, compounding, dispensing and delivery.
Compounding of intravenous solutions, maintenance of floor stock, entering patient charges into the computer.
Effective communication skills with all individuals both inter and intra-departmental, to ensure effective completion of all tasks within the department.
Successfully administered medications to a population of 2,500 patients.
Surpassed the highest standards for customer care and service, as documented by patient survey scores.
Certified Pharmacy Technician
Answered and screened phone calls for the staff pharmacist in a friendly, effcient manner.
Worked closely with pharmacists and used medication input software to safely and accurately dispense medication.
Accurately pulled medications from the shelves for Pyxis replenishment and delivered them tot the various paitent care areas.
Recognized and thanked by the local Councilman for my contributions to society in a televised news segment.
Ordered, tested, and prepared drugs, chemicals, and drug vehicles at the hospitals and local clinics.
Certified Pharmacy Technician
Communicate directly with doctors' offices via telephone, fax and email.
Provided friendly customer service at prescription drop-off and pick-up counters.
Efficiently answer multi-line phones and process high volume order requests from nurses, doctors and pharmacists.
Strictly maintain customer and patient confidentiality by adhering to HIPAA guidelines.
Educated patients regarding the process of formulating and mixing prescription drugs.
Certified Pharmacy Technician
Assisted in the provision of pharmaceutical services by performing the technical and clerical tasks involved in dispensing, preparing, and distributing all medications and pharmaceutical products for children from birth to 21 years of age that face special health challenges (ie. chronic illnesses and complex physical disabilities such as brain and spinal cord injuries to developmental and behavioral issues like autism and mental health).
Delegate everyday tasks among my team to efficiently and accurately dispense medications.
Maintain inventory control and work as a team player to efficiently and accurately dispense medications.
Provided courteous service to customers by explaining the reasons for our prescriptions, costs of dispensing, storage information, and dosage instructions.
Empowered patients with knowledge on self-care by presenting them with options on medications and methods of self-medication.
Certified Pharmacy Technician
Working in a fast-paced, high pressure environment while increasing productivity and efficiency for my manager; in addition to contributing to team effort by accomplishing related results.
In charge of successfully handling requests and inquiries to health care providers and insurance companies.
Helping patients by greeting them in person and by phone; answering questions and requests; referring inquiries to the pharmacist; preforming effectively day to day tasks.
Maintain pharmacy inventory by checking pharmaceutical stock to determine inventory level; anticipating needed medications and supplies; placing orders; verifying receipt; removing outdated drugs.
Has worked in two pharmacies; accomplished certifications as a pharmacy technician, pharmacist's assistant, and certified nursing assistant.
Certified Pharmacy Technician
Receive written prescription or refill requests and verify that information is complete and accurate.
Prepack bulk medicines, fill bottles with prescribed medications, and type and affix labels.
Receive and store incoming supplies, verify quantities against invoices, check for outdated medications in current inventory, and inform supervisors of stock needs and shortages.
Trained as a certified health education specialist for the Pennsylvania Department of Health.
Scored above average on reading exams for the PA Board of Nursing and Department of Health.
Wrap Up
You need to make sure your resume stands out amongst the other candidates. It is the first impression that employers have of your work experience and skills. Use the samples above to put together a resume that best suits your needs and helps you get the job you want.