A Call Center Supervisor manages the day-to-day operations of a call center. Their skills include supervising staff, hiring employees, training employees, motivating employing, assessing performance, assisting customers, and scheduling employees. Educational requirements to be a call center supervisor are an associate's degree in marketing, while a bachelor's degree is often preferred; many employers would like to see customer service experience on your resume. Skills needed are an ability to prioritize, good listening skills, communication skills, ability to delegate, coaching skills, problem-solving skills, attention to detail, stress tolerance, and documentation skills.
A good resume is well-written and concise. It should be neat and easy to read, listing previous experience in a logical order.
Our resume samples will provide you with multiple examples of what you can include when writing your resume.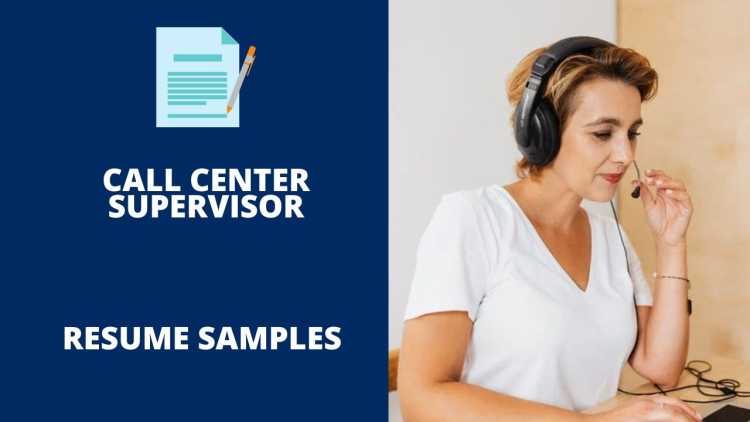 The Best Call Center Supervisor Resume Samples
These are some examples of accomplishments we have handpicked from real Call Center Supervisor resumes for your reference.
Call Center Supervisor
Responsible for organizing and directing the daily activities concerned to the call center's operation.
This included but was not limited to managing, training and call center agents to execute daily tasks.
I also monitored agents and calculated call center performances and analyze reports.
Conducted performance measurements, monitoring and evaluation of agents to improve efficiency.
Provided solutions to telephone calls that required loan processing, customer service, and information technology.
Call Center Supervisor
Oversaw call center employees to ensure customer satisfaction goals were consistently met.
Improved call center functionality and service capacity by resolving customer complaints efficiently and quickly.
Developed all process controls and metrics for daily management of the Call Center.
Managed customer calls effectively and efficiently in a complex, fast-paced and challenging call center environment.
Maintained professional attitude and demeanor during signing-in times while providing exceptional customer service to callers.
Call Center Supervisor
Acts impartially to coordinate open and honest communication between Associates and other areas/teams within the business.
Managed shrink and adherence to align with the business budget, exceeded site goal in retention.
Assisted in analyzing volume demand and manages to applicable key service level goals by line of business.
Negotiated a multi-million dollar budget with the Vice President of Technology to upgrade systems and computer hardware.
Led a team of three employees as well as other departments' resources during a major shift in technology in which many customers were migrated over to the new system.
Call Center Supervisor
Providing help and support to all agents, including technical expertise and knowledge.
Managing the call levels on the floor to make sure we are meeting business needs.
Regularly using Microsoft Office products to run daily reports and analyzing information.
Achieved Award for Outstanding Performance on the "Employee Survey" for a consistent record of performance; successfully trained employees for their positions and provide solutions for all customer needs.
Supervised over 100 customer service representatives, support employees, and administrative staff.
Call Center Supervisor
Provided coaching and development, conducting individual and group meetings, identify training needs, reviewing effectiveness of current training programs, and making recommendations to management to enhance existing training programs.
Interviewing, screening and hiring team members as replacements or additions to the team.
Analyzing current operating activities and reporting to management as requested to recommend changes in operating methods and business plans to ensure employees' compliance with company policies and Federal and State labor laws, including payroll and attendance.
The environment was enhanced by adopting a sales approach to customer service. Ensured employee effectiveness by providing incentives, recognizing division leaders, and fostering teamwork with creativity.
Fostered discipline and motivation by integrating performance evaluation into regular team meetings while setting personal goals.
Call Center Supervisor
Develop SOP for all aspects of job duties and functions for the customer service department.
Develop and Implemented tracking tools to keep track of incoming and outgoing calls and the types of calls that were being taken.
Created and implemented training program, Monitor and control call center que.
Extended the organization's referral program through local area network systems by implementing incentives for both organizations and individuals who use the network facilities for office business.
Proven knowledge of information security practices implementing standard data processing procedures within a decentralized environment.
Call Center Supervisor
Manage, process, and review timesheets, payroll, and daily attendance of call center employees.
Performed statistical analysis for each individual agent providing coaching to insure adherence to statement of work.
Insure implementation of call center policies, operations and performance standards were understood and followed by agents.
Supervised, directed, and motivated callers to resolve customer issues in a timely and satisfactory manner.
Directed the activities of seven supervisors who supervised approximately 150 agents in four states.
Call Center Supervisor
Promptly responded to general inquiries from clients via telephone, e-mail and fax.
Cross-train and provide back-up for other customer service representatives when needed.
Provided support of employees on Computer Maintenance Management System (CMMS), customer service database, email, live-chat and call center procedures.
Prepared and generated reports as needed, consolidating data from multiple sources, engineering reports for each campuses Performance and Satisfaction Trends.
Managed outsourcing of telecommunications equipment and services for a national call center.
Call Center Supervisor
Co-Facilitated several training classes that reached the capacity of over 50 new hires at a time.
Trained new hires in using software, data entry, data retrieval, and conflict resolution.
Monitoring random calls to improve quality minimize violation of HIPPA and track performance.
Implemented a successful call monitoring service for customers which reduced the number of lost calls by 80 percent; initiative recognized by management.
Supervised 14 agents as team leader for new product introduction and expansion of existing product lines.
Call Center Supervisor
Develop processes and training programs that will proactively improve call handling, increase first call resolution rate, decrease or eliminate controllable calls and recognize cost reduction potential.
Review and analyze statistical reports to manage teams productivity.
Ensure team is adhering to schedule so as to meet and exceed service level objectives.
Provided technical training, mentoring, and guidance to new agents in both sales and technical aspects of the company's software.
Worked with local vendors to set up new offices; set up district managers; supervised project coordinator; developed training programs; provided quality control.
Call Center Supervisor
Created training manuals targeted at resolving even the most difficult customer issues.
Recruited, managed and mentored an average of 25 new customer service representatives per year.
Top Seller with over $25,000 monthly revenue where company average was $11,000.
Improved service Supervised twelve employees.
Identified any potential service/product discrepancies; communicated information to appropriate personnel.
Call Center Supervisor
Manage, process, and review timesheets, payroll, and daily attendance of call center employees.
Performed statistical analysis for each individual agent providing coaching to insure adherence to statement of work.
Insure implementation of call center policies, operations and performance standards were understood and followed by agents.
Maintained written and oral policy and procedures, training manual, and all documentation for the department.quality and increased sales by developing a strong knowledge of company's products and services.
Resolved customer issues by approving or processing payment for services.
Wrap Up
You need to make sure your resume stands out amongst the other candidates. It is the first impression that employers have of your work experience and skills. Use the samples above to put together a resume that best suits your needs and helps you get the job you want.