Cable Technicians provide maintenance support. Their duties include installing cables, tying cables together, working outdoors, inspecting company vehicles, repairing towers, and maintaining records of their work. To become a cable technician, you must obtain a high school diploma or a GED and a valid driver's license. Cable Technicians must demonstrate dexterity, initiative, professionalism, physical fitness, customer service skills, problem-solving skills, and a solid work ethic.
A good resume is well-written and concise. It should be neat and easy to read, listing previous experience in a logical order.
Our resume samples will provide you with multiple examples of what you can include when writing your resume.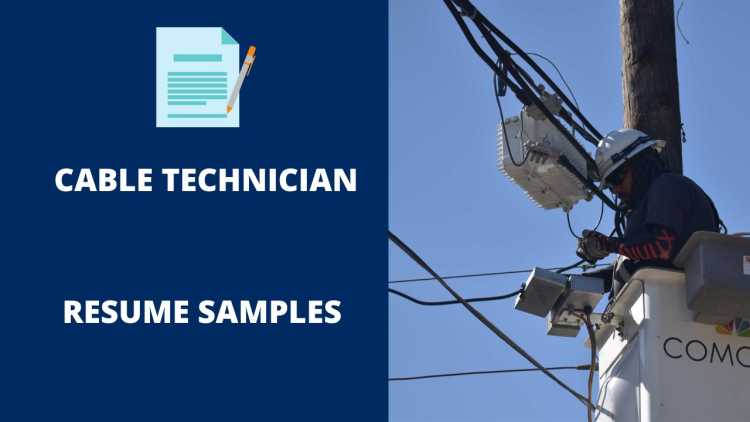 The Best Cable Technician Resume Samples
These are some examples of accomplishments we have handpicked from real Cable Technician resumes for your reference.
Cable Technician
I am responsible for providing customers with service through installation, troubleshooting, and upgrading satellite TV systems.
I prepared for installations by reviewing installation orders, gathering equipment, supplies, and tools, according to the work order and coordinating with schedules to fit customers€™ needs.
I planned installations by evaluating location, and lay-out equipment, as well as the wiring plan for the household or business.
Installed and repaired cable, driving, and splicing. Brought over 20 projects once a week to completion in a timely manner.
Conducted multiple cables while working on the vehicle, maintaining the work area and safety; made repairs to all necessary equipment and budget.
Cable Technician
Worked in feeder lines which provided service for number of providers.
Monitored the cable system of customers to determine potential problems and ensure continuous service.
Maintain cable system to avoid any disrupting cable service.
Researched solutions for problems encountered by customers.
Arrived on time to complete the job as scheduled; completed all assigned duties without deviation without prior discussion or instruction from supervisor for majority of assigned projects and overtime shifts.
Cable Technician
Travel to customer premises to install, maintain and replace audio, video and television electronics.
Explain cable services to subscribers and collect any fees.
Access specific areas to string lines or install terminal boxes.
Inspected cable lines for corrosion and foreign materials that may cause problems.
Installed, serviced, and maintained cable television systems ranging from analog to digital.
Cable Technician
Install Cable TV, Internet and Phone services to residential customers while providing high-quality service with a helpful, professional attitude.
Worked indoors in confined space, poorly ventilated areas such as attics during extreme heat.
Communicate and present technical information to non-technical audience in a friendly professional manor at all times.
Installed and tested audio/video network components.
Reconfigured cable systems to service new customers in time frames required by lenders.
Cable Technician
I am involved in every process of converting spooled, multi-wired cables of different lengths into a component of a geophysical sub-surface imaging system, basically consisting of a transceiver instrument and a cable with electrodes.
Everything from machining, brazing, injection-molding with polyurethane elastomer, to testing, verifying and documenting.
I also troubleshoot, identify, and repair issues with customers' cables.
Assisted customers with the installation of cable equipment.
Installed and repaired CATV, telephone, and data lines.
Cable Technician
As a Cable Technicians I was responsible for installing, maintaining, and repairing commercial feeder trunk lines of cable providing data, wifi and fiber optic network transmission access to company server rooms.
I would travel to various sites within the service area, set up cable, label, pull and lead a team of associates to run/pull hundreds of cable hundreds of feet.
Also responsible for installing supports such as J-Hooks, pullstring, ladder racks, cable trays and completing wall drops and termination of cat 5/6 cable using hand tools, power tools, schematic and blueprint diagrams.
Communicated with customers to determine issues with cable service and equipment, and contacted technicians to repair signal problems.
Installed, serviced, and maintained cable modems, set-top boxes, and Wi-Fi equipment to maximize internet speed.
Cable Technician
Global optics is a contractor company that installs cable for spectrum cable,formally known as time warner cable.
I installed cable and internet, Ex Would be connecting Ariel lines to the tap to the house box also replacing underground lines to the house box.
Then I would go in to find out where the customer wanted their cable box and or internet.
Repaired coaxial cables; increased customer base by 80% within the first six months after hiring.
Managed inventory of over 1,500 items including computer equipment, cable products, and troubleshooting tools.
Cable Technician
Hard labor job that required a tough mentality and a high resolve.
Installing cable lines on new construction to provide tenants with internet.
Instilled a sense of pride and the value of hard work in me.
Installed, set up, and dismantled cable systems within the client's network; while maintaining the aesthetics of the space.
Performed all new installations, replacements, and repairs to existing cable systems.
Cable Technician
HSIA and VoIP installation and maintenance. Repairing copper, fiber and satellite outages for new and existing AT&T customers. Resolving technical issues with business clients. Building customer relationships.
Assisted businesses with technical issues. Trained clients on proper troubleshooting techniques and workflow issues.
Accountable for customer satisfaction and business client work flows. Verified customer and business client satisfaction with extreme attention to detail.
Performed maintenance on electrical and mechanical components within an industrial environment.
Maintained cleanliness of his assigned areas within organizational facilities; performed minor electrical repairs on the job during breakdowns; which resulted in no downtime to customers.
Cable Technician
Performed basic installations, disconnects, reconnects, service upgrades and downgrades, and relocates for residential single family, multi-family and/or multi-dwelling units.
Maintained accurate records including time worked, daily logs, gas sheets as required; properly recorded all required information on data devices and/or work orders.
Educated the customer on proper use of services and equipment, including channel lineups, and how to access online help.
Integrated various company services (video, internet, telephone) with customer's equipment.
Communicated effectively with co-workers through open-ended discussions regarding relevant topics without being confrontational or intentionally trying to gain control.
Cable Technician
Assisted with installation of underground voice or data circuit feeders to facilities.
Install, terminate, and test wires and cables, both copper and fiber-optic.
Provided testing, analysis and repair of video, voice and data systems; including routers, and telephone systems.
Built relationships with his clients by consistently going above and beyond expectations.
Repaired over 15 different types of cable equipment to include fiber optic, satellite, and telephony; determined problems by listening to the customer.
Cable Technician
While working for Time Warner Cable I learned what it meant to truly become part of a team.
My customer service skills grew exceptionally well considering I dealt face to face with customers troubleshooting problems in real time.
My job duties included basic internet and cable installations around the area.
It would vary from climbing telephone poles to make drop installations for new customers receiving internet and cable and assisting them with any other issues that had about their service.
Fixed numerous cable television and telephone system problems; diagnosed faulty equipment; repaired bus cables; and protected the electrical system.
Wrap Up
You need to make sure your resume stands out amongst the other candidates. It is the first impression that employers have of your work experience and skills. Use the samples above to put together a resume that best suits your needs and helps you get the job you want.