Bussers ensure restaurant cleanliness by cleaning and resetting tables, managing a clean environment, and assisting patrons. Their duties include preparing the dining area, cleaning off tables and chairs, taking dishes to be washed, resetting tables, refilling glasses, delivering orders, and taking away empty or dirty dishes. Having experience working in restaurants is a plus to becoming a Busser but not required. Bussers must demonstrate excellent communication, customer service, works well under pressure, multitasking, teamwork, time management, physical stamina and hygiene, and food safety knowledge.
A good resume is well-written and concise. It should be neat and easy to read, listing previous experience in a logical order.
Our resume samples will provide you with multiple examples of what you can include when writing your resume.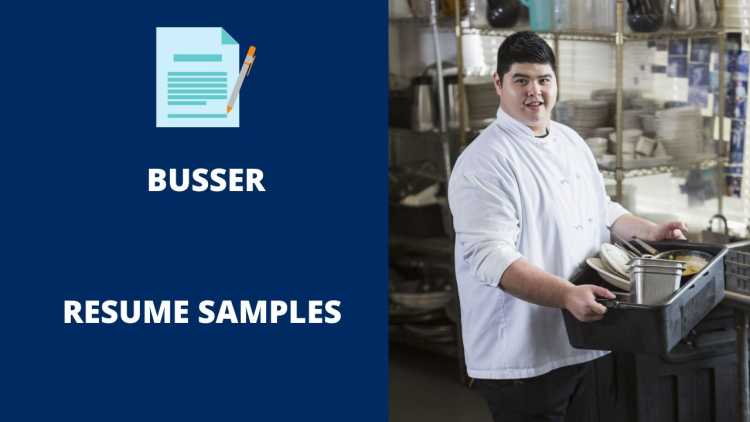 The Best Busser Resume Samples
These are some examples of accomplishments we have handpicked from real Busser resumes for your reference.
Busser
Go-to busser trainer. Trained new bussers on managing the floor and produced excellent bussers who were strategically placed on busy days in order to effectively handle the rush.
Assisted waiters in the preparation and delivery of food in a timely manner.
Efficiently cleaned and organized tables as needed while rapidly multitasking and managing other needs of the servers in an time effective manner.
Assisted the hospitality staff of a 4-star Michelin-rated restuarant.
Cleaning tables and attending to customers, by starting at 7:00 AM daily, including Sundays, began my shift at the end of breakfast service.
Busser
Take plates, utensils, and drinkware to the kitchen to be washed, fill customers glasses of water upon request.
I also help waitresses bring food out to the table, restock utensils, napkins, and other dining room needs in order to be ready for our next guests.
Barback – Back up bartender/ bartendress, maintain stocks, change kegs, collect empty glasses, maintain the premises clean, make sure there is plenty of clean glassware, and restock ice.
Worked overtime when requested for holiday parties and special events.
Spilled food on a General Manager's White shirt but did not let it affect my performance.
Busser
Provided clear flow of restaurant day to day work while being upbeat to created a high intensity and calm workplace.
Monitored guest area and promptly responded to requests or cleaning needs.
Completed end-of-shift cleaning duties to maximize cleanliness throughout the restaurant.
Ensured the availability and cleanliness of all dishes, glassware, cookware and silverware for servers.
Proved to be a team player despite an inefficient work schedule; made sure to fulfill all tasks as if I did it alone.
Busser
At the end of the night, I swept the floors and took out the trash.
I have also helped operate the cash register for 2 years at my dad's gas station a few years ago.
I also helped him count inventory and restock shelves and drinks.
Always worked as hard as I could, in spite of frequent mistakes and mishaps causing delays in service.
Respectfully answered and responded to patrons' requests for assistance.
Busser
Followed all safety and sanitation policies when handling food and beverage to uphold proper health standards.
Displayed enthusiasm and knowledge about the restaurant's menu and products.
Routinely cleaned work areas, glassware and silverware throughout each shift.
Developed and maintained positive working relationships with others to reach business goals.
Contributed to awareness of daily specials and upcoming events by providing regular updates to patrons.
Busser
Delivered exceptional, friendly and fast service.
Consistently adhered to qualify expectations and standards.
Skillfully anticipated guests service needs.
Managed closing duties, including restocking items.
Learned responsibility and accountability for effectively managing a busy lunch period; skipped lunch periods on one occasion to ensure that the kitchen staff received timely delivery of supplies.
Busser
Cleared dishes after guests departed and took table wear to washing station.
Sanitized each table area to prepare for next guests.
Monitored guests area and responded to requests or cleaning needs promptly.
Employed an effective team effort to ensure that the dining area remained clean at all times; identified potential hazards, completed tasks thoroughly, and used creativity in overcoming obstacles.
Highly detailed oriented; identified and reported any missed tasks to management immediately.
Busser
Provided exceptional customer service resulting in a high rate of customer satisfaction.
Followed all necessary safety procedures to ensure safety of self and driver.
Scanned packages through the use of dialogue scanner and verified that only authorized personnel receive deliveries.
Featured role in developing a restaurant's staff training program, successfully providing a strategy for the operation of 21 outlets.
Wiped up spills in the dining area of 300 seat restaurant and Moved heavy tables and chairs across the large dining area.
Busser
Performed side work at the start and end of each shift as required by service station assignment.
Prepared final bill, present check to guest, accept payment, process credit card charges.
Maintain a professional work environment for coworkers to be productive and active with their assignments.
Waited tables for six months during college.
Brought positive energy to a negative environment at an upscale hotel.
Busser
Support other restaurant staff in establishing a professional and positive experience for customers.
Complete table cleaning and preparation without disrupting dining experience of restaurant patrons.
Visually inspect new table settings to ensure that dining accessories and condiments are sufficiently stocked.
Provided first-rate customer service at the informal restaurant establishment by taking orders, serving meals, and delivering requested items in a timely manner.
Understands follows and carries out orders in a quick, productive manner without delay or error.
Busser
Stock cabinets or serving areas with condiments and refill condiment containers.
Carried food, dishes, trays, or silverware from kitchens or supply departments to serving counters.
Serve food to customers when waiters or waitresses need assistance.
Uses good judgment to reach decisions and act on them accurately.
Attends to details such as cleaning, making sure others are kept happy and that they have what they need.
Busser
Must clean tables or counters, provide customer service, collect payments from customers, garnish and decorate dishes.
Performed food preparation duties, prepare tables for meals, serve food or beverages to patrons, recognize customer intoxication.
Replenish supplies of food, tableware or linen, use computers to enter, access or retrieve data, resolve customer complaints and use oral or written communication techniques.
Dedicates time to learning new skills and techniques by doing tasks assigned; is willing to practice the new skills before being observed by others.
Contributed to the success of department operations by maintaining clean tables, replenishing food and beverage stock, and greeting customers.
Wrap Up
You need to make sure your resume stands out amongst the other candidates. It is the first impression that employers have of your work experience and skills. Use the samples above to put together a resume that best suits your needs and helps you get the job you want.