The building maintenance supervisor manages a team of maintenance technicians. This includes daily walk-throughs, regular inspections, routine maintenance, repairs, cleaning, and establishing daily, weekly and monthly maintenance schedules. A high school diploma or GED is required for this role and some employers also require technical school or certifications. Successful building maintenance supervisors delegate tasks, communicate effectively, have basic computer skills, a general knowledge of trades such as plumbing, electrical and HVAC, are detail-oriented, take initiative and always put safety first.
A good resume is well-written and concise. It should be neat and easy to read, listing previous experience in a logical order.
Our resume samples will provide you with multiple examples of what you can include when writing your resume.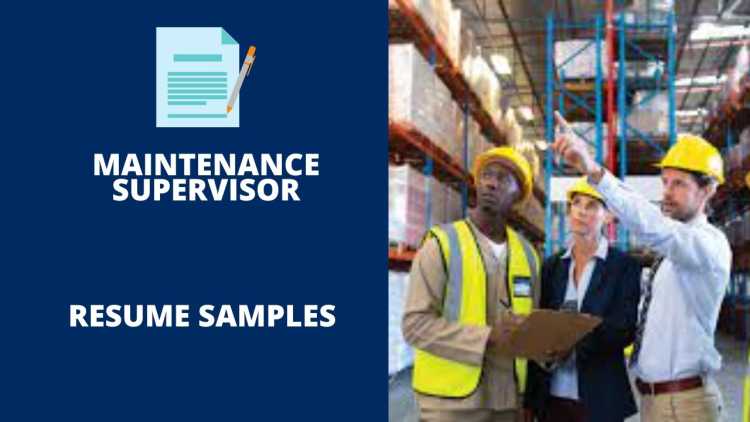 The Best Maintenance Supervisor Resume Samples
These are some examples of accomplishments we have handpicked from real Maintenance Supervisor resumes for your reference.
Maintenance Supervisor
Performed electrical repairs and maintenance on 110 volt appliances (light fixture ballast's, relay switches, capacitors, light fixtures, light switches, and motor fans).
Performed plumbing repairs and maintenance on common appliances (flow master, toilet fixtures, wax rings, sinks, p traps, and faucets).
Assisted Maintenance Supervisor in general tasks around the complex (painting, drywall, installation of beds, generator tests, fire drill tests, etc.).
Maintained computerized scheduling system that directed skilled workforce through lists of jobs.
Established relationships with internal and external vendors to ensure timely completion of projects.
Maintenance Supervisor
Able to meet and deal tactfully and courteously with fellow employees and vendors/contractors.
Ability to install, inspect, repair and maintain the electrical, plumbing and other related system.
In-depth ability to perform various cleanup and maintenance tasks as needed.
I excelled in updating inventories and other supplies as needed.
Fully organized maintenance department so that all team leaders knew exactly what needs to be done with all the parts and supplies needed to do their jobs.
Maintenance Supervisor
I am required to constantly be adjusting to an ever changing fast paced environment.
Maintenance of the powder coat extruders requires everything from general 3 phase electrical knowledge to metal fabrication and repair.
We are responsible for maintaining the operation of the production lines and returning them to service as quickly as possible.
Along with those responsibilities, as a supervisor I am tasked with work flow management and directing my department in the most efficient way possible so that we utilize each individuals skill set in the most timely manner possible.
Formed "Maintenance Hall Of Fame" by writing evaluation forms for each technician which were reviewed by supervisors, department managers as well as production managers.
Maintenance Supervisor
Provided direction to A, B and C level, and lead technicians assigned to work group to ensure that all repair and maintenance work is performed in a safe, efficient and timely manner.
Oversee planning and scheduling of all repair work to increase productivity.
Monitor shift's operational performance and efficiency and take action to redirect activities appropriately.
Developed a training program and obtained certification to perform line maintenance on all equipment manufactured by Brand X.
Responsible for the purchase of replacement parts and the repair of all malfunctions on a heavy-duty press.
Maintenance Supervisor
Supervised a team of thirty-five personnel with varying roles to provide scheduled and unscheduled maintenance support to four different Companies.
Established and refined physical security procedures to ensure over $10 million worth of tools and equipment and all sensitive data remained secure.
Maintained an operational readiness rate of 90% on over 700 different types of vehicles and equipment.
Filled in as the machine operator when no one else was available; demonstrated leadership skills by working directly under pressure to complete production goals.
Instrumental in completing 97 percent of all scheduled maintenance tasks during the first year of employment.
Maintenance Supervisor
Contributing to the reliability and availability of production equipment's to ensure they are available when needed.
Ensuring that Occupational safety regulations and standards in the Oil and Gas Industry are complied with.
Clear understanding and implementing of Equipment strategy as regards Planned /preventive maintenance system and equipment efficient operation and maintenance and acceptance upon completion of repairs.
Recognized by upper management for outstanding contributions as part of a team that demonstrated commitment through continuous improvement, cost control, and quality performance.
Trained, mentored, and supervised a team of skilled maintenance personnel.
Maintenance Supervisor
Responsible for routine maintenance schedule, safety and availability of equipment for factory operation at all time.
Effectively utilize maintenance engineering resources, managed spare parts and resources to minimize production downtime.
Maintain documentation and records of maintenance program to ensure compliance with all aspects of the quality management systems.
Ensured that facilities were clean, clear, safe, and sanitized; implemented sanitary procedures and compliance with adherence to health & safety regulations and codes.
Reviewed, evaluated, and maintained safety plans for a multi-million dollar facility.
Maintenance Supervisor
Maintenance supervisor responsible for day to day operation.
Supervising crew of 30 maintenance people including 6 mechanics, 14 electro-mechanics, three electricians and 2 electronics technicians.
Fully responsible for entire maintenance department, recruiting new employees, scheduling, training and payroll.
Provided quality service support to the maintenance department; educated, trained, and motivated maintenance personnel.
Achieved awards for monthly work performance standards for maintenance department; utilized two types of scaffolds in assisting in the installation of electrical cabling for communication systems in off-site locations.
Maintenance Supervisor
Supervise Employees in repairing equipment and maintaining said equipment for daily operations.
Keep track of employees time and pay and train employees in preventative maintenance.
Checked, tested and replaced faulty components, circuit modules and printed circuit boards.
Referenced in-depth knowledge of PLC and Control Systems, especially in relation to test stations and lab safety systems.
Installed, maintained, and repaired a myriad of equipment.
Maintenance Supervisor
Accomplishes maintenance human resource objectives by selecting, orienting, training, assigning, scheduling, coaching, counseling, and disciplining employees; communicating job expectations; planning, monitoring, appraising job contributions; recommending compensation actions; adhering to policies and procedures.
Meets maintenance operational standards by contributing maintenance information to strategic plans and reviews; implementing production, productivity, quality, and customer-service standards; resolving problems.
Meets maintenance financial standards by providing annual budget information; monitoring expenditures; identifying variances; implementing corrective actions.
Evaluates functionality and reliability of facility systems and associated equipment by conferring with operating departments; identifying problems and requirements.
Determined the proper methods to implement repairs and restorations for equipment; developed methods for providing high-quality labor.
Maintenance Supervisor
Keep community in top-notch condition to meet our residents' expectations.
Various hands-on maintenance duties necessary to maintain and enhance the value of the community.
Making repairs in areas such as HVAC, electrical, plumbing, pool, flooring, carpentry, dry wall, exterior structure and appliances.
Recognized by the General Manager for outstanding performance. Awarded "Superstar" status as an outstanding work ethic and customer service representative resulting in increased earnings potential as a result of positive remarks from his peers.
Successfully completed maintenance projects in advance of schedule completion dates; skillfully utilized installation engineering personnel to expedite repair processes.
Maintenance Supervisor
Counsel employees about work-related issues and assist employees to correct job-skill deficiencies.
Inspected and monitor work areas, examine tools and equipment, and provide employee safety training to prevent, detect, and correct unsafe conditions or violations of procedures and safety rules.
Requisition materials and supplies, such as tools, equipment, or replacement parts.
Monitor tool and part inventories and the condition and maintenance of shops to ensure adequate working conditions.
Maintained good attendance, knowledge, and skills in the field of maintenance; earned honors for excellence in leadership during annual staff meeting participation.
Wrap Up
You need to make sure your resume stands out amongst the other candidates. It is the first impression that employers have of your work experience and skills. Use the samples above to put together a resume that best suits your needs and helps you get the job you want.