Bar Managers manage, maintain, and run the bar space in a dining establishment. Their responsibilities include creating employee schedules, ensuring bar space follows health standards, maintaining supply stock, supervising bar staff, addressing customer complaints, and mixing and pouring beverages. To work as a Bar Manager, a high school diploma is required. To succeed as a Bar Manage, it is important to have excellent analytical skills, customer service skills, multitasking skills, time management skills, communication skills, interpersonal skills, and teamwork skills.
A good resume is well-written and concise. It should be neat and easy to read, listing previous experience in a logical order.
Our resume samples will provide you with multiple examples of what you can include when writing your resume.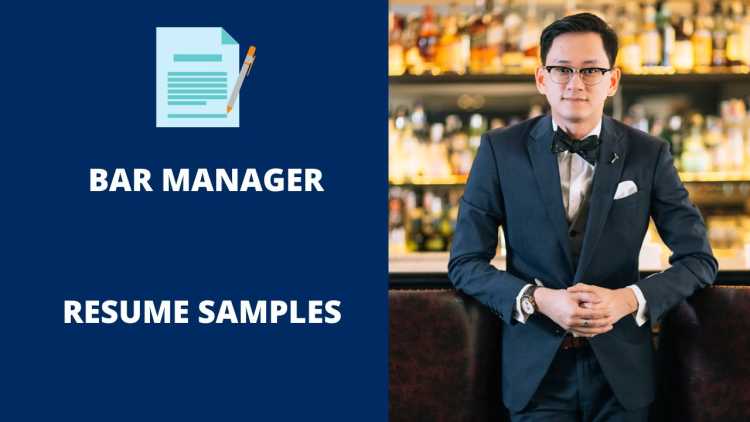 The Best Bar Manager Resume Samples
These are some examples of accomplishments we have handpicked from real Bar Manager resumes for your reference.
Bar Manager And Bartender
Proved to be a resourceful asset to the management team by providing original solutions, introducing new concepts, actively negotiating and resolving differences, and employing constructive criticism.
Increased bar revenue through the development and marketing featured cocktails from limited resources.
Generated higher ticket averages by adeptly training employees on suggestive up-selling techniques.
Owned, operated, and bartended in a city-wide business that included two businesses.
Planned, prepared, and oversaw all details of both operations; not only planned the day-to-day operations but also inspired and motivated wait staff as well as other employees.
Bar Manager
Provided restaurant guests with friendly and professional service, excellent food quality and consistency of execution in an attractive, well-maintained environment.
Assisted with ordering and inventory, maintaining and stocking all bar items.
Orchestrated all social functions to including private parties, business meetings and formal engagements.
Hired, trained, scheduled, supervised, and managed 42 employees per day.
Worked at this establishment for four years before being promoted to owner/operator.
Bar Manager
Worked varied shift schedule including lunch and dinner shifts, opening and closing the restaurant several times a week.
Reduced inventory cost by 40% through evaluating and streamlining vendor selection process.
Consistently exceeded sales goals by providing superior customer service and quality food.
Procured and managed over 20,000 cases of beer, wine, and liquor in my 2-year tenure.
Established strong relationships with three distributors to procure premium alcohol at a fixed discounted rate.
Bar Manager
Furthered development and refined skills in mixology and increased culinary knowledge by research and hands on training.
Assisted in the growth and development of clientele and generate profit increases up to 50%.
Assisted with inventories, ordering, staff training, end of day reports, cash handling and menu development.
Established me as the main supplier of alcohol for my bartending co-workers at our nightly bar nights, as well as the area's best-kept secret during our holiday party season.
Achieved superior financial results for my team during these seasons.
Bar Manager
Monitor and conduct weekly liquor inventory and purchase all beer, liquor and wine orders.
Hire and train staff to perform successfully in their roles.
Minimized loss and misuse of equipment through proper restaurant supervision and staff training.
Developed and maintained staff that provided hospitable, professional service while adhering to policies and business initiatives.
Employed thirty-five part-time service staff to deliver exceptional customer service by catering to a diverse clientele within the community, which included LGBT patrons who enjoy more discretion in their alcohol consumption.
Bar Manager
Provided training and educating the staff on policies and procedures, product knowledge and customer service.
Responsible for the execution of marketing, advertising, promotions and special events.
Handle large amounts of cash for this Multi-million dollar business that generates $100,000 to $150,000 weekly.
Managed, led, and motivated a staff of 16 employees to achieve a net profit margin of $300 per month.
Conducted a full-service bar and grille in a high-volume restaurant setting.
Bar Manager
Demonstrated expertise in supervising restaurant floor, liaising between management and staff, and following up with bartenders and/or servers to check the completion of end-of-shift side.
Exemplify exceptional multitasking capabilities while working behind the bar.
Serve as one of the company's certified Mixologist for restaurants, special events and PR.
Render exceptional assistance to the management staff in selecting wines and spirits for the restaurants.
Wrote and compiled financial reports for the Greek-American community.
Bar Manager
Managed companies website and Facebook account.
Maintained companies office duties, took inventory, and organized wine sales.
Oversaw all bar and restaurant operations including managing and motivating staff to provide exceptional service.
Developed marketing strategy for a national and multi-state franchise in the mobile food industry.
Directly influenced planning, design, construction, and operations of private residential and commercial properties.
Bar Manager
Primarily managed a group of eight individuals who were able to be molded into a team.
Cut cost in the bar by negotiating with vendors on the daily basis.
Set par levels that frequently changed, while being able to deliver consistent numbers during each period.
Applied credit management techniques to resolve financial problems experienced by clients while working as an accountant.
Managed small staff to reduce overhead and increase profitability.
Bar Manager
Hire and train new employees to ensure consistent quality service for members.
Established bar guidelines to be followed throughout service.
Ensured that bar environment is safe as per the required health standards.
Directed and coordinated staff to ensure proper functioning of operations.
Utilized strong communication skills to discourage fighting among customers while maintaining a friendly, helpful attitude.
Bar Manager
Answers guest questions about food, beverages, and our facilities accurately and in a friendly manner.
Maintained a sense of responsibility for alcohol cost and cost of bar goods.
Responsible for constant sanitation, organization, and proper food handling.
Maintained service well (server orders for entire restaurant) and managed a full bar top simultaneously.
Expressing a keen sense of comprehension, served as Bar Manager and Bartender for two bars, each accommodating a diverse clientele and holding various themed parties.
Bar Manager
Made sure that the business is fully compliant with the law by keeping in tabs of local, state and federal laws pertaining to the sales of distribution of liquors and cigarettes; health and sanitation requirements; labor laws, pertaining to discrimination; and other standards that bar / restaurant operator must adhere to in order to operate legally.
Managed cash flows and make sure that transactions are properly recorded and accounted.
Make sure that the bar maintain the quality of service it's known for by periodically organizing trainings in order to train staff to make them excellent service crews.
Took ownership of the bar to gain financial prosperity for investors; also enhanced reputation and clientele.
Evaluated client satisfaction and retention. The managed company marketing campaign for new products.
Wrap Up
You need to make sure your resume stands out amongst the other candidates. It is the first impression that employers have of your work experience and skills. Use the samples above to put together a resume that best suits your needs and helps you get the job you want.