Business Development Directors are in charge of building internal and external relationships to increase profit, sales, and efficiency within a company. They do research, seek opportunities, contact and attract potential clients, plan new marketing strategies, manage client relationships, and track new trends and markets. A Bachelor's degree in business or a related field is required, along with some years of experience. Negotiation, communication, creative, analytical, and organizational skills are needed to be successful, as is having knowledge of marketing and sales, project management, and data analysis.
A good resume is well-written and concise. It should be neat and easy to read, listing previous experience in a logical order.
Our resume samples will provide you with multiple examples of what you can include when writing your resume.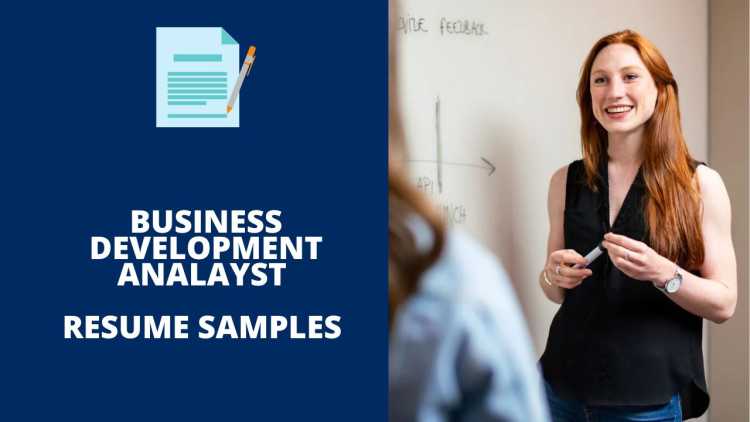 The Best Business Development Analayst Resume Samples
These are some examples of accomplishments we have handpicked from real Business Development Analayst resumes for your reference.
Business Development
Establish and maintain strong relationships with 11 new and 60 existing accounts by identifying, establishing, and partnering with customer representatives.
Identify and attend 10-12 various community and networking events per month to prospect for new accounts and promote the overall business.
Responsible for carrying out business development activities and strategies that promote growth of new accounts and coordinating the on- boarding process.
Performed in-depth research for potential customers to establish a strong pool of prospective new customers.
Business Development
Responsible for successful business development of an online study resource platform offering extensive learning resources in all aspects of academic learning, with basic and advanced course interaction options in math, science, engineering, social services, arts and humanities, history, and foreign languages.
Responsible for contacting students, inviting and initiating participation in the expansive social learning network.
Provided detailed and knowledgeable information on program qualities and advantages.
Utilized face-to-face interaction and advanced communication skills successfully expanding the business portfolio.
Business Development
Business Development Representative – consulted independent, multi-unit restaurants demonstrating operational management systems that provided meaningful data to proactively impact day to day decisions.
In Q1 identified qualified prospects five times versus average with double engagements per day compared to Company average.
Established new relationships with key decision-makers within these businesses.
Featured as social media employee thanks to territory presence, social media engagements and current client enhancements.
Business Development
Trained other sales representatives to obtain new customers and increase sales.
I discover ways to get through gate keepers and speak with decision makers.
Provided product knowledge to store associates so they will be knowledgeable in my products for them to increase sales.
Business Development
Joined as member of early-stage, bootstrapped start-up to pursue a new format of collective real estate investment.
Identified key product metrics and iterated improvements based on data and user research.
Led team from ideation through to the release of initial beta launch of core MVP.
Acted as the liaison between users and internal teams to prioritize user feedback and guide product direction.
Business Development
My focus was to Grow/establish business in the Southern California region at an aggressive pace ensuring the foundation is built for long-term success.
I determined the most attractive market segments and customers based on the value of the service.
Daily I would assist Area Managers in developing a strong relationship with our customers creating repeat revenue for the region.
I continued to expand the need for Hydrovac services through education, awareness and market development to provide sustained growth.
Business Development
Built relationships with community partners in Riverside, Hemet and Temecula.
Support current business in two Independent Living communities; grow client base.
Assisted office staff with collections, conduct client surveys and look for office space.
Business Development
Performed market research to gather additional information about prospects.
Utilized COMPAS CRM to generate and qualify leads to Account Executives.
Analyze business impact of sales and marketing campaigns using advanced statistical techniques.
Collaborated with cross-functional product and marketing teams to deliver customized solutions.
Business Development
Demonstrated products and services to existing/potential customers and assist them in selecting those products best suited to their needs.
Establish, develops and maintains business relationships with current and prospective.
Customers to generate new business for the organizations Title and Escrow products and services.
Makes telephone calls, emails and in-person visits and presentations to existing and prospective customers.
Business Development
Brought in 100% new business including revenue of $1.5million dollars in the first year.
Develop and cultivate strong relationships with broadcast, interactive, advertising, entertainment agencies, fortune 500 companies, and technology organizations.
Develop client and talent based referral system resulting in a 100% increase of client accounts and 70% increase of represented talent.
Excellent presenter, negotiator and exceptionally well organized with a track record that demonstrates self-motivation, creativity and solid leadership skills.
Business Development
Liaison between customers and packagers, maintaining relationships among all business partners.
Forecasted Sales projections for external packagers. Published monthly internal Sales report.
Monitored and Advocated for product quality and presentation.
Significant role helping Southwest Concrete Products division add a new product line.
Identified/facilitated resolutions of account issues in regards to billing, ticketing, invoicing, and credit.
Business Development
Responsible for establishing and developing new business leads, proposals, presentations, and renew or extend current units and accounts.
Renew, extend and/or maintain current units and accounts within territory at full capacity.
Establish and develop new business leads through professional contracts within the industry (i.e. vendor sales staff, radiology groups, existing partners etc.).
Wrap Up
You need to make sure your resume stands out amongst the other candidates. It is the first impression that employers have of your work experience and skills. Use the samples above to put together a resume that best suits your needs and helps you get the job you want.