Social Workers assess client needs, provide counseling, and make referrals to community resources. They work with people of all ages, backgrounds, races, and incomes across a broad range of life events. This role includes tasks like conducting assessments on children, the elderly, families, couples, groups; evaluating individual development; making recommendations; training staff; collaborating with other agencies, and ensuring ethical practice. Social workers must graduate from an accredited bachelor's program in social work (BSW) or a related field. Social workers need to be empathetic listeners who are good at assessing situations quickly and developing therapeutic relationships under stress
A good resume is well-written and concise. It should be neat and easy to read, listing previous experience in a logical order.
Our resume samples will provide you with multiple examples of what you can include when writing your resume.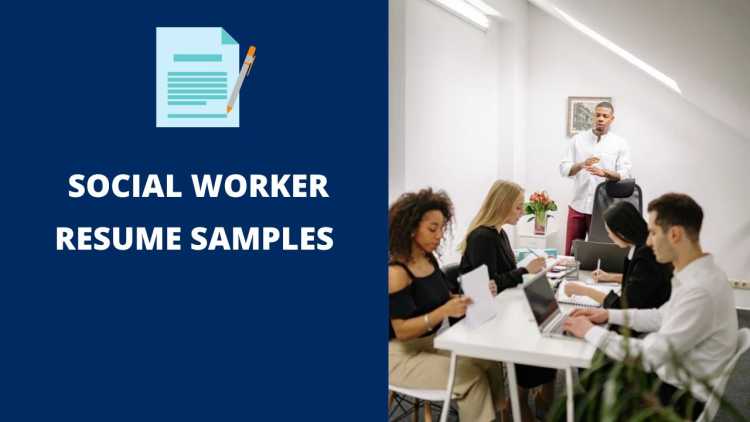 The Best Social Worker Resume Samples
These are some examples of accomplishments we have handpicked from real Social Worker resumes for your reference.
Social Worker
Worked with terminally ill or dying patients to help ensure their comfort and quality of life during their remaining days.
Compassion for patient and families, good communication skills and patience.
Collaborate with Doctor, Social Worker, and CNA for optimal patient care.
Provided assistance to low-income families through referrals to service providers and during interviews for benefits, employment, and housing.
Recognized as a go-to person for quality service and responsiveness of service providers; provided the highest level of customer satisfaction from the field.
Social Worker
Provided social work service within case management to physicians, patients, families, and interdisciplinary staff in the care of patients.
Worked collaboratively with nursing staff, case managers, external organizations and community resources to provide health services across the continuum of care.
Respond to immediate needs of patients and families in emergency situations.
Facilitated discharge activities and coordination in determining discharge disposition and transportation facilities.
Designed a new system to track and monitor individuals' past responses to program requirements; established criteria for rehabilitation services based on clients' needs; managed case review meetings, worked with personnel on timelines, and worked with funding sources at federal, state, and local levels.
Social Worker
Provided expert knowledge assessing patients, and their families who were affected by illness and dying. In particular those who might be considered to have complex needs.
Worked with clients who have both varied degrees of physical and mental impairments.
Demonstrated clinical excellence and a high standard of patient centered care.
Provided systematic interventions with patients, in a multi-disciplinary team, to ensure needs of patients are being met.
Landed grant funding to launch an innovation that would improve access to services in a variety of neighborhoods.
Social Worker
Help identify and provide for patient's social, emotional, and psychological needs.
Identify patient needs by developing social histories, social assessments and care plans.
Linking patients to community resources; maintaining current index of community resources.
Achieved award for outstanding performance; managed several program expansion projects.
Screened, tested, and evaluated homebound seniors for local Meals on Wheels program. Brought food to approximately thirty-seven elderly.
Social Worker
Conducted bio-psychosocial assessments information on social, educational, criminal, institutional, or drug history.
Provided information or referred individuals to public or private agencies or community services for assistance.
Assisted in locating housing for displaced individuals, Interviewed residents individually, in families, or in groups.
Assessing their situations, capabilities, and problems to determine what services are required to meet their needs.
Successfully mediated between warring neighbors who were family of a senior in need of care and rehabilitation.
Social Worker
Provided direct support and counseling by teaching family problem solving strategies and provide tools for families to address areas of need; advocate for families in the educational process; serve on the FAPT team.
Develop comprehensive assessments of strengths and needs of children and families.
Counsel families in the development of a responsible service plan based on various assessments.
Maintain professional confidential case records according to state and federal law.
Handled a sensitive scheduling issue with sensitivity and tact; arranged for proper medical care for a homeless woman who had been abandoned by her family.
Social Worker
Encourage social inclusion by mentoring and coaching individuals to realize the value in everyone.
Guide and support young people through personal, social and educational development.
Communicate with young people to asses problematic situations and help teach positive coping strategies to deal with issues related to health, drugs, violence, relationships, bullying etc.
Trained staff on federal government regulations regarding Medicaid eligibility; trained staff in consumer fraud prevention tips to protect the vulnerable community from exploitation by unscrupulous commercial interests.
Single handedly provided counseling services to over 1,000 children and 300 adults.
Social Worker
Provided social service assessment, resource referral, counseling, and multi-disciplinary team collaboration within two community-based programs.
Maintained cooperative relationship with team members, community programs.
Developed resources, provided grief counseling, supported family members in the community.
Fostered trust and rapport with parents whose children were involved in all manner of disciplinary issues, ranging from truancy to substance abuse.
Demonstrated how to communicate effectively with all types of clients, and was able to adapt to a variety of cultures; demonstrating flexibility and adaptability.
Social Worker
Formulated appropriate care plans for patients based on needs, and completed MDS assessments.
Assisted patient and relatives with assisted living (ALF), and skilled nursing (SNF) placement.
Referred patients to various community resources.
Conducted appropriate discharge planning based on the patient's needs.
Improved skills in public speaking and persuasion as a motivational speaker for youth clubs on drug awareness, healthy choices, safety in driving, and participation in sports.
Social Worker
Responsible for social work component of an interdisciplinary team approach in outpatient clinics with children and adolescents with various and complex biopsychosocial needs.
Provided psychosocial assessments by interviewing patients and their families.
Facilitated patients/families use of health care and community resources.
Actively participated in interdisciplinary team meetings to develop comprehensive treatment and transition plans for patients and to determine current psychosocial needs.
Researched and documented positive social outcomes, including: reintegration of disabled individuals or patients; development of new opportunities for young adults; and prevention of expanded substance abuse and dependency.
Social Worker
Complete initial and reassessment program intakes for new and established senior program participants to determine appropriate program recommendations.
Effectively manage daily Senior Center program of 60 plus clients.
Develop and execute daily therapeutic groups for senior program participants and monthly presentations to encourage continued independent living.
Recruited, screened, contacted, interviewed, and selected prospective clients from mental health agencies to service. Coordinated services amongst therapy groups to ensure proper support and encouragement.
Served as a crisis counselor during major events such as school closings due to threatening weather or other disasters.
Social Worker
Collaborate with other professionals to evaluate patients' medical or physical condition and to assess client needs.
Monitor, evaluate, and record client progress according to measurable goals described in treatment and care plan.
Utilized consultation data and social work experience to plan and coordinate client or patient care and rehabilitation, following through to ensure service efficacy.
Demonstrated an increase in referrals as a result of referrals from other counselors during the same time period that these referrals increased substantially.
Managed daily operations of a food bank for the homeless. Determined eligibility for services, obtained and distributed food to needy families.
Wrap Up
You need to make sure your resume stands out amongst the other candidates. It is the first impression that employers have of your work experience and skills. Use the samples above to put together a resume that best suits your needs and helps you get the job you want.