An animator uses technology to turn drawings into moving images to tell a story through production. Their duties include speaking with clients, developing animations from concepts, drawing sketches, creating story boards, designing characters, and designing models. An animator needs an educational background in computer animation or graphic arts. An animator must demonstrate creativity, drawing skills, patience, attention to small details, communication skills, and a vast imagination.
A good resume is well-written and concise. It should be neat and easy to read, listing previous experience in a logical order.
Our resume samples will provide you with multiple examples of what you can include when writing your resume.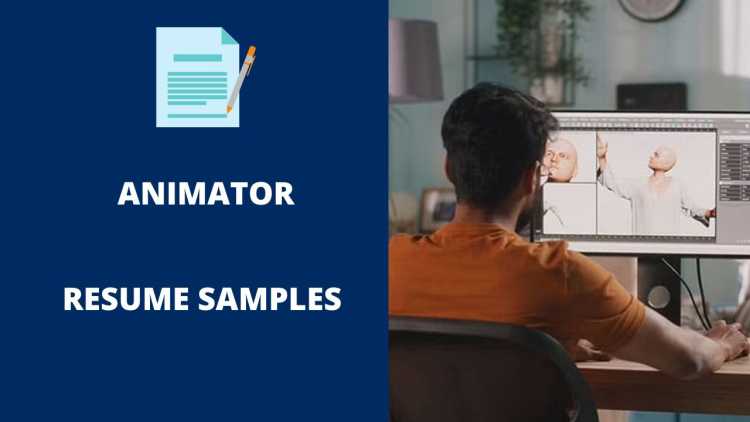 The Best Animator Resume Samples
These are some examples of accomplishments we have handpicked from real Animator resumes for your reference.
Animator
Created visuals that appeal to leaders in the big data and high-tech world.
Created the look and feel of the organization's online presence in social media forums.
Developed templates for e-newsletters, presentations and reports.
Altered the style of animations and video materials for company's YouTube channel and website.
Designed unique print materials, including advertisements, brochures and logo designs.
Animator
Creating medical graphics, animations, and instructional movies; using After effects, Maya and Photoshop.
Story-boarding ways to animate/display information in aesthetically pleasing ways.
Animating characters in various respiratory conditions and illnesses.
Improved academic performance in students from failing grades to passing freshman year, as measured by school evaluations.
Improved academic performance in students from failing grades to passing freshman year, as measured by school evaluations.
Animator
As part of an upper-level course, produced 15 to 30-second films combining multiple programs; Cinema 4d, After Effects, and Nuke.
Designed logo stings, film titles, and broadcast packaging; planned animation with thumbnails.
Modeled and UV textured characters, logos, environments and props; lit scenes; animated pose- to-pose.
Successfully prepared students for the Transition to High School Program.
Reclassified an in-school suspension program into a successful counseling workshop.
Animator
Worked side by side with riggers in constructing character rigs including IK/FK and facial rigs.
Experienced in working on multiple scenes for animations and meeting the deadline given.
Experienced in PreVis and meeting the Director's vision for all scenes.
Used heart-centered teaching methods and non-conventional teaching styles to attract students who were previously disengaged from learning.
Created several unique lesson plans, including how to utilize a personal computer and Excel spreadsheets, which were adopted district wide within two years of its introduction into the curriculum.
Animator
Plan and execute character animations of game ready assets for AR and VR experiences for education.
Prepared 2D animatics, final 3D animation, renders and composition of assets for company animation videos.
Provided and utilize feedback to improve and troubleshoot assets in game engine and promotional use.
Created digital animated backgrounds and characters for TV, film, and commercials.
Used 2D digital painting and compositing techniques to create animated characters in both 2D and 3D formats.
Animator
I created cartoons for their website, using their property, in fun and exciting ways that is meaningful for kids of all ages.
All cartoons are fully written, storyboarded, animated, and composited by me.
Storyboarded in Photoshop, Animation in Flash/Animate, editing in After Effects and Media Encoder.
Worked in a friendly environment with other employees, where we decide what next move we are going to make for cartoons and the fate of the company.
Maintained discipline to create master-pieces in a low-pressure environment; worked with senior artists to ensure quality final products.
Animator
Facilitated the collaborative team and adhered to project executions and deadlines.
Delegated the responsibilities among team members based on their strengths.
Supervised and reviewed the work produced by the animators, designers, modelers, lighters and texture artists.
Enthusiastically promoted the company culture by participating in projects as a team player.
Conducted an annual Dragon Ball Z marathon in which participants dressed up as their favorite characters from the series.
Animator
I develop ArchViz 3D design models for Animation with progressive studies of rendering with realistic attributes.
The integrative ability to multi-task with many facets of Science and Artwork.
Skills obtained by studying in classroom, online courses and on-site.
Created animated shorts for the University of Maryland's Educational Television Channel.
Collaborated with Art Department staff to work with students on concept, layout, and storyboards for live-action and animated short films.
Animator
Worked alongside 5 talented animators in a fast paced tech enviorment to produce high quality animations for Grovos learning product.
Played a key role to boost creativity and style in the ever evolving product guidelines.
In addition, served as an important asset to Grovo's in house film production team producing live action videos o site and editing video when needed.
Produced interactive video for University of Maryland students of all ages.
Designed and created marketing videos for businesses, agencies, and non-profits in the Washington D.C., Baltimore, and Annapolis area.
Animator
Created animations and special effects for casino games (social, mobile and land-based) Incorporated 2D and 3D effects in character and scene animations.
Developed effective techniques, streamlined workflow and maximize efficiency without sacrificing quality.
Consistently met deadlines on multiple, simultaneous projects.
Created virtual reality games from original concept art based on interactive demonstrations at UMD's Center for Digital Arts.
Trained Community College students in animation basics and computer digital art using Cinema 4D software.
Animator
Responsible for the rigging and animation of in game assets for the top grossing apps, Game of War and Mobile Strike.
This includes lighting, rendering, final adjustments and adding effects in Photoshop and After Effects.
Then manipulating the XML to adjust timing of rendered out png sequences.
Main point of contact for both projects and responsible for the multiple pipelines that both games required.
Taught children how to draw cartoon characters, using techniques such as framing and perspective.
Animator
Intern at Technical Innovations game design, modelling assets & environments for video game designer
Shot music videos & photography for bands at the Cobalt Café in Canoga Park, CA.
Instructor at LAORT design college at three Los Angeles locations.
Taught Premeire, AfterEffects, Flash, Illustrator, InDesign, DreamWeaver & Photoshop.
Created, managed & updated numerous websites for small and large businesses using DreamWeaver & other website software.
Created, designed, and directed all aspects of animation production for 3 years, including character design, backgrounds, animation, audio scoring and editing.
Wrap Up
You need to make sure your resume stands out amongst the other candidates. It is the first impression that employers have of your work experience and skills. Use the samples above to put together a resume that best suits your needs and helps you get the job you want.