Actuarial analysts examine data to created pricing models for businesses, so insurance companies can accurately charge clients dependent on demographics and risk factors. Their duties include finding data, compiling data, analyzing data, writing reports, creating models, and extrapolating new information based on the available data. To work as an actuarial analyst you need at least a bachelor's degree in actuarial science, math, or statistics, as well as a certification from either the Society of Actuaries (SOA) or the Casualty Actuarial Society (CAS). Actuarial analysts must demonstrate knowledge in mathematics, statistics, business, programming languages, statistical analysis programs, critical thinking, and communicating their findings to others.
A good resume is well-written and concise. It should be neat and easy to read, listing previous experience in a logical order.
Our resume samples will provide you with multiple examples of what you can include when writing your resume.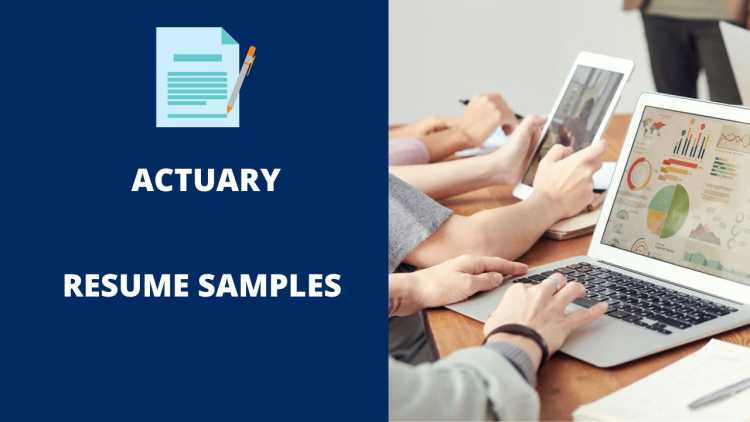 The Best Actuary Resume Samples
These are some examples of accomplishments we have handpicked from real Actuary resumes for your reference.
Actuarial Analyst
Gathered and analyzed medical cost data from company data warehouse to created monthly medical cost trend reports with several layers of categories of expense, including reports for catastrophic claims and pharmacy.
Built processes for trend reporting and data validation using SAS EG/SQL and Excel/VBA.
Adapted the processes when the company was combining two databases with different data tagging and groupings for categories of expense.
Analyzed and calculated the potential savings of Healthcare Initiatives used to reduce rising medical costs in specific regions and
Validated business, operational, and profit-and-loss projections for pension plans, employee benefit plans, and other services. categories of expense.
Actuarial Analyst
Assisting in the pricing of various professional liability products including Healthcare and Management Solutions.
Balancing simultaneous requests for data analysis and developed comprehensive reports using pivot tables.
Conducting trend analysis on loss severity and frequency by using Access and VBA programming to evaluate.
profitability, forecast costs and explain actuarial gains and losses due to plan and assumption changes.
Performing regularly occurring actuarial analyses on loss and premium, as well as ranging ad hoc analyses to support unique business needs.
Actuarial Analyst
Created, developed, customized, updated, and integrated models representing components of annuity and insurance products to created our clients' specific products using FAST's proprietary FAST 8x software.
Functioned in an agile software development cycle; collaborating with cross-functional teams and clients in daily scrum meetings to set and track clients' short term deliverables, long term goals, and to discuss strategies for improvement.
Acted as a product and model specialist by providing cross-functional teams with detailed instructions for testing new and existing models, as well as providing explanations for annuity and insurance features and their respective calculations.
Performed ad-hoc configuration, recalculation, testing, and system debugging to meet clients' deliverables and needs on a weekly or biweekly basis, and to determine the sources of new issues and bugs.
Performed thorough regression analysis of data to determine the most probable causes of variation in monthly fixed expense rates.
Actuarial Analyst
Predicted employer's cost sharing by estimating the probability of unintended and mistimed pregnancies in a commercially-insured population using multinomial logistic regressions(cleaned and transformed predictors to improve model predicting power with higher ROC), and calculating employers' average costs by applying the model to a large commercial claims database.
Predicted insurer's potential cost of ALS disease coverage by evaluating insured's survival function and cost profile, using Cox proportional hazards regression model.
Risk adjustment for high cost commercial insured population, built multiple linear regression models to generate member level risk scores, and to predict patients' future costs.
Predicted cost saving of client's specific product; built a predictive model for cost burden of diabetes patients; performed sensitivity simulation.
Analyzed historical data to compare current and forecasted performance.
Actuarial Analyst
Assisted in pricing Medicare Advantage plans bids to the Centers for Medicare and Medicaid Services.
Created reports summarizing plan benefits and responsible for plans meeting government guidelines.
Updated plan blueprints detailing costs and pricing consequences of benefits and member risk factors.
Responsible for creating and updating senior market monthly and quarterly reports.
Established forecasting methods; analyzed historical results; developed the final report.
Actuarial Analyst
Performed actuarial valuations to estimate employee postretirement benefit liabilities for companies under the accounting standard of FAS 106, FAS 112, and FAS 158.
Determine appropriate PMPM pricing on self-insured health plans.
Advise clients on choosing an appropriate discount rate based on various investment grade yield curves.
Estimate IBNR reserves for self insured plans, and perform actuarial equivalence tests on various postretirement medical plans relative to Part D.
Had outstanding attendance, demonstrated ability to learn new skills quickly and effectively, earned high marks on performance studies by coworkers, and was awarded for being an excellent learner.
Actuarial Analyst
Analyzed and manipulated data using Microsoft Excel spreadsheet skills, Microsoft Access, and basic SQL.
Developed actuarial pricing and analysis tools for numerous ad hoc projects.
Prepared and filed our companies' rates/rating programs with state departments of insurance to gain approval.
Maintained excel spreadsheets for models, tracked data regularly and accurately, completed reports accurately; served as a motivational leader for staff in areas where staff produced high-quality work.
Created innovative analyses and reports for specific company investment needs.
Actuarial Analyst
Conducted extensive data analysis for this group of companies that sold group health and individual health insurance products.
Reviewed the number of products sold and the amount of revenue collected.
Evaluated each company's solvency and capability of receiving payback.
Performed comparative analysis of year-versus-year revenue and data to determine embedded values.
Identified low-risk, non-GI assets for investment; procured high-risk assets for maximum yield.
Actuarial Analyst
Prepared large data files for pension actuarial valuations with data reconciliations, consolidated multiple records in Excel, and verified consistent formatting and asked data questions to confirm or clarify any data issues.
Calculated discount rate assumptions by using marketplace bonds for cash flow matching in Excel.
Analyzed historical data to find new and support current actuarial assumptions such as the retirement probability, withdrawal probability and election rates which were used to value the pension plan.
Projected plan cost and population in Towers Watson's valuation software which assisted clients with plan design and financial budgeting.
Ensured management's best interests were satisfied by directing investments in an effortless manner.
Actuarial Analyst
Model traditional and universal life insurance products, including regular quarter end IFRS projections, sensitivities analyses, budget planning, cash flow testing, and market consistent value projections using MoSes and AXIS actuarial modeling software.
Facilitated the conversion of a traditional life model from MoSes to AXIS.
Oversee and assist actuarial interns with the understanding and functionality of MoSes soft- ware as well as various quarterly projections.
Achieved award for outstanding performance from the Regional Manager after 12 weeks of work during the hardest working month at my place of employment.
Received excellent recommendations from co-workers which resulted in a job offer from another company in a different industry.
Actuarial Analyst
Worked with two other team members to complete State, Small Group, and Large Group rate filings to the state's Department of Insurance.
Develop monthly yield analysis for the State and Large Group blocks of business.
Develop new methodology to provide dual-option benefit plans to employee groups.
Analyzed, graded, and scored assigned exams; determined test score pass/fail criteria.
Peacefully resolved customers' concerns and complaints by speaking with the customer face-to-face, over the phone, and through letters.
Actuarial Analyst
Calculates weighted average of the margin and concession pools/underwriting adjustments for cases written across multiple markets with different assumptions.
Provided tool enhancements and training to underwriters improving calculation transparency and increasing understanding of output.
Coordinate with plan actuaries to obtain necessary data and incorporate updates to tool.
Received "Employee of the Year" award for outstanding customer service.
Verified that customers' accounts are properly maintained in accordance with company policy.
Wrap Up
You need to make sure your resume stands out amongst the other candidates. It is the first impression that employers have of your work experience and skills. Use the samples above to put together a resume that best suits your needs and helps you get the job you want.