Accounting Clerks perform administrative and clerical tasks for a company's accounting department. They update ledgers, enter data, resolve numerical discrepancies, sort checks and invoices, maintain monetary records, assist senior accountants, issue refunds, and write reports. At least a high school diploma is needed, although some go for an Associate's degree in accounting or business. Accounting Clerks must know how to use accounting and bookkeeping software, have excellent mathematical and analytical skills, and know how to produce income statements and balance sheets. They must be trustworthy, critical thinkers, good at communication, accurate, and organized.
A good resume is well-written and concise. It should be neat and easy to read, listing previous experience in a logical order.
Our resume samples will provide you with multiple examples of what you can include when writing your resume.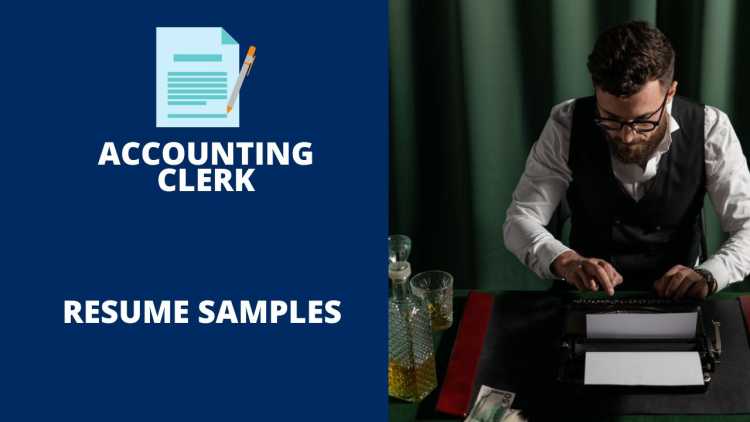 The Best Accounting Clerk Resume Samples
These are some examples of accomplishments we have handpicked from real Accounting Clerk resumes for your reference.
Accounting Clerk
Responsible for all areas of accounting for the company as well as backup scheduling and front desk clerk.
Process accounts receivable payments using Prism Accountmate for checks and Intuit online for processing credit card payments.
Set up and maintain all accounts payable using Peachtree Accounting and Quickbooks Pro 2016.
Set up, maintain and process all payroll transactions through Regions Bank using Intuit online payroll service.
Received outstanding suggestion award for improving the performance of a one-man department; implemented suggestions that saved more than $2,200 in annual operating costs.
Accounting Clerk
As an Accounting Clerk , my responsibilities were to verify payments through Allstate's payment tracking system.
While verifying payments, I also did research on payment information in an effort to recover losses and ensure the accuracy of records.
As a result of my research, I was tasked to handle both self-billed and list-billed accounts.
At home, tutored high school students in mathematics.
Accurately completed complex accounting tasks within required timeframes; earned recognition by accounting department head for exceptional performance.
Accounting Clerk
Facilitated payment transactions between the clients and company, while providing the utmost confidentiality.
Build and maintain strong customer relationships while serving as the lead point of contact for all customers.
Improve profits 18% through successful negotiation and renegotiation of contracts and agreements.
Ensured accurate and efficient accounting while managing all financial aspects of daily operations.
Created and implemented numerous systems within the financial department that significantly increased productivity, accuracy, and efficiency of accounting practices.
Accounting Clerk
Prepared weekly and monthly reports to Corporate on expenses, gross marginal profit, employee headcount and associated expenses.
Completed Monthly Balance sheet Reconciliation to ensure ending balance agrees with monthly transactions.
Prepared and posted Journal entries during the Month end Closing process.
Managed Company Fixed assets monthly by Adding or retiring assets in the GEAC system Based on the company Guidelines for adding and retiring assets.
Prepared Appropriate Fixed Asset journal entries to capture the monthly depreciation on assets, retirements or transfers made during the month.
Accounting Clerk
Processed account payables and account receivables through quick books and clear care.
Processed payroll, invoiced client's for services provided, filed Long Term Care, VA, United Health Care & other insurance claims, audit and reconciled several GL accounts and bank statements, assisted client's in billing questions and answered general phone calls.
Composed effective accounting reports summarizing accounts payable data.
Eliminated the need to hire additional employees by researching and implementing a new software application that advanced organizational efficiency and eliminated redundancy.
Received title as "Best Accounting Clerk" by Financial Manager for company recognition of 24-hour turnaround on complex journal entries.
Accounting Clerk
Responsible for processing all vendor payments via wire transfer, ACH or check after approved by upper management.
Communicate verbally and/or in writing with vendors regarding missing documents, changed orders or pricing, account charges, missing approval signatures and procedures.
Created vendor accounts in the bank in order to process payments via ACH or wire.
Participate in the monthly financial accounting closing process, including journal entries and account reconciliations.
Performed standard accounting, auditing, and administrative duties, such as reconciling accounts payable and receivable ledgers, monitoring cash receipts and disbursements, preparing work schedules and production reports, providing customer support for the firm's online credit card payment processing system, and performing data entry.
Accounting Clerk
Responsibilities supports Accounting operation by filing documents, reconciling statement, running software program.
Maintains accounting records, reconciles bank statement by comparing statement with general ledger.
Maintains accounting database by entering data into the computer, processing backups.
Accurately tabulated financial information, accurately entered data in computer systems, and accurately edited financial reports.
Achieved high level of accuracy and efficiency by ensuring timely processing of a wide range of documents and reports.
Accounting Clerk
I had entered Accounts Payable for those businesses and every week processed check run for vendors.
Quickbooks and excel was the main accounting software.
Other accounting duties consisted of reimbursement for expenses that were out of pocket for employees.
Reconciled daily AP logs along with weekly purchases or expenses made from employees business credit cards.
Brought a busy bookkeeping office to maximum productivity, which resulted in a profit increase of 46% from the previous year.
Accounting Clerk
Responsible for providing accounting support to accounting supervisors and other managers within the department.
Keys daily worksheets to the general ledger system, ensures files are complete and maintained as needed, handles accounts payable duties, and assists accounting personnel.
Input type vouchers, invoices, checks, account statements, reports, and other records.
Trained and taught to use the computerized payroll system to ensure accurate and timely distribution of paychecks to over two hundred employees.
Compiled data for accountant to prepare financial reports for lenders.
Accounting Clerk
I began my employment in an entry level position, as the service department receptionist.
I answered all incoming calls to the service center, setup appointments, filtered the calls to the correct service advisor to better assist the customers.
I was recently offered a position in the accounting department, I now work with billing and titles using a CDK computer system.
Compiled data for accountant to prepare financial reports for lenders.
Prioritized time-sensitive work in a team environment; met deadlines as well as quality standards by completing twelve hours of training to become certified in ProSystem fx software from the American Institute of Banking.
Accounting Clerk
I Provide cashier services to customers seeking information from the Clerk Of The Circuit Court regarding procedures, Forms, Court dates, Expungments process and any other procedures within the Family Law Department.
I prepare, process and maintain electronic legal documents and court files.
I Communicate & Document records once signed and approved by Judges.
Document, Scan and monitor Secured and Highly Confidential criminal record information.
Assisted in processing and submitting monthly reports for two years.
Accounting Clerk
Performed accounting and clerical functions to support supervisors.
Record business transactions and key daily worksheets to the general ledger system.
Input type vouchers, invoices, checks, account statements, reports, and other records.
Worked with adding machines, calculators, databases and bank accounts.
Performed various clerical duties and provided accounting support to the clients, from financial goals to currency exchange.
Wrap Up
You need to make sure your resume stands out amongst the other candidates. It is the first impression that employers have of your work experience and skills. Use the samples above to put together a resume that best suits your needs and helps you get the job you want.