Vet Techs provide assistance to veterinarians. Their duties include gathering samples, cleaning supply tools, reviewing the client's medical history, recommending and administering treatments, educating pet owners on proper animal care, and lifting animals that vary in size. To become a vet tech, you must obtain an associate's degree in the field from an AVMA-approved program. Vet Techs must demonstrate empathy, professionalism, an eye for detail, organizational skills, excellent communication skills, and the ability to multitask.
A good resume is well-written and concise. It should be neat and easy to read, listing previous experience in a logical order.
Our resume samples will provide you with multiple examples of what you can include when writing your resume.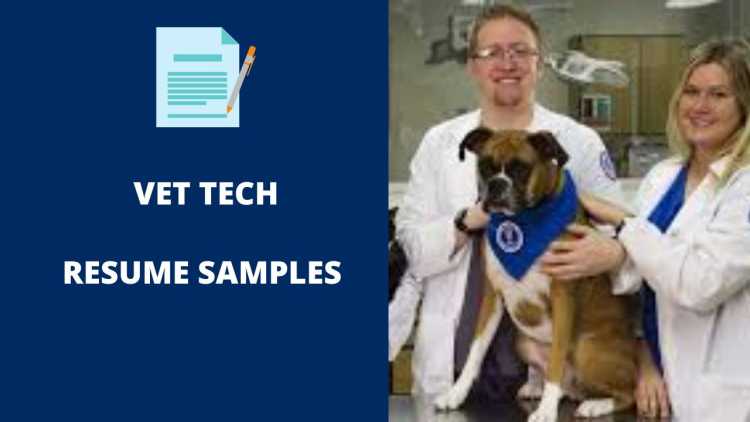 The Best Vet Tech Resume Samples
These are some examples of accomplishments we have handpicked from real Vet Tech resumes for your reference.
Vet Tech
Extensive work experience, totaling 18 years, with organizations and businesses providing animal rescue and placement, medical and surgical care, and pet sitting.
Experienced working in small and medium-sized veterinary clinics, numerous rescue organizations, as well as dog daycare facilities.
Expansion of my pet sitting experience into the creation of my own pet care business while continuing my full time employment in a veterinary clinic.
Enhanced safety and efficiency of animal housing, handling, care, sanitation, and equipment by collaborating with the veterinary team.
Trained veterinary team in phone protocol; returned calls on patient concerns to ensure a successful resolution.
Vet Tech
Prepares patients for surgeries (Blood work, Catheter, ECG, and/or Radiograph if needed).
Assisted doctors with surgeries and monitors patients' anesthesia.
Does solo dental work and occasionally extracts teeth.
Contacts patient owners and provides them with updated information on patients and surgery.
Designed and led recreation in the animal hospital to increase communication and enhance morale (organized sing-alongs, arts and crafts projects, cooking classes).
Vet Tech
Responsible for feeding all animals, keeping kennel rooms cleaned and sanitized, and keeping up with laundry.
Followed up on questions and concerns in a timely manner and immediately reported to the Doctor.
Performed clerical work including answering phones and filing paperwork.
Provided cost-effective care for animals without compromising health or welfare; balanced checkbook for medical supplies in absence of supervisor.
Chose compassion over financial gain when treating a large number of pets whose owners were unable to pay the bill.
Vet Tech
Answer telephone and assist clients with scheduling and checking out.
Help assist doctors withholding animals, drawing blood, anesthesia monitoring, and finding out how pets are doing.
Fill medications, log controlled substances, do surgery notes.
Call clients when patients have woken up from surgery with an update.
Answered telephones, screened clients on schedule, delivered therapy to clients, made rounds of the kennel, examined animals.
Vet Tech
Prepared processed and analyzed lab samples, set up and made follow-up calls/scheduled follow-up appts, update reminders.
Operated diagnostic equipment such as radiographic, ultrasound, laser therapy equipment.
Vaccinated animals and administered vaccines/subcutaneous, intramuscular and intravenously, and orally.
Gave injections to cats and dogs.
Wound, treat and bandage animals with cleanliness and efficiency.
Vet Tech
I assisted in the prepping of the animals for surgery, assisted the doctor in surgeries.
I worked appointment rooms took vitals and drew blood.
I mixed shots and gave them, took x-rays as needed filled prescriptions, and ran blood work.
Dressed wounds with care and attention to detail in order for an animal to be returned to the owner where applicable.
Proactively sought out client needs related to their pets' medical needs.
Vet Tech
Prepared processed and analyzed lab samples, set up and made follow-up calls/scheduled follow-up appts, update reminders.
Operated diagnostic equipment such as radiographic, ultrasound, laser therapy equipment.
Vaccinated animals and administered vaccines/subcutaneous, intramuscular and intravenously, and orally.
Monitored patients under sedation/tranquilization, pain, anesthesia, and hospitalization.
Recorded patient care notes and documented any changes or signs of improvement, medications prescribed as instructed by the veterinarian.
Vet Tech
Support the Head veterinary Doctor in Diagnosing and treating Animals.
Observe the Health Conditions of the animals, note the changes, manage their dietary requirements and medications.
Hold and Control Animals while administering medicines, inserting Feeding Tubes, Giving vaccinations, Recording temperatures, etc.
Implemented sterile protocol and purchased needed medical supplies, pharmaceuticals, and equipment for exam room and surgery.
Completed professional level training as Certified Veterinary Technician; concluded education requirements by exceeding entry standards.
Vet Tech
Using safe restraining techniques follows standard protocols, and maintains clean, sterile, and organized treatment areas and labs.
Acting as the extra eyes, ears, and hands for the veterinarian to ensure the best quality pet care and to maximize the veterinarian's productivity.
Assisting veterinarians and vet medical team through the day-to-day function of the hospital, and communicating with the team to maintain the flow of patients.
Assisted in the hospitalization of nine litters of cats and kittens; gained experience regarding diagnostic imaging, advanced surgical methods, anesthesia, critical care, and euthanasia.
Organized incoming animal necropsy specimens; conducted necropsy with an internal examination of organs and fluid samples for definitive diagnosis by a pathologist.
Vet Tech
Care and handling of all animals brought into the animal shelter, Initial exams, and vaccines administered.
monitor health and document in a computer program, Interacting with customers and rescue organizations to help place animals.
Make decisions on animals for adoptions and ensure all medical is complete.
Accurately recorded temperature, pulse rate, respiration on charts for selected species during routine blood pressure readings of dogs prior to surgery.
Maintained relationships with veterinarians and medical staff by completing routine tasks, such as filing medical records, preparing animals for surgery, and assisting in the recovery room.
Vet Tech
As a receptionist I was asked to answer phones, to check clients in and out for their appointments.
We dealt with scheduling appointments, calling other clinics for records, dealing with pharmacies, and answering any questions that the clients might have.
Since moving up to a technician I now deal with the clients and their pets on a one-on-one basis.
I am in charge of taking clients in discussing any issues about the pets, documenting the daily activities of the pets, and educating the clients on medical procedures and products that we offer.
Successfully completed a six-month internship at a veterinary hospital; demonstrated knowledge of proper equipment upkeep, animal specimen/rodent handling, and infection control measures.
Vet Tech
Promoted to Vet Tech and Assisted Veterinarians with sterile and non-sterile procedures.
Worked closely with the front office staff and other Vet Tech's to ensure the wellness of patient care.
Discharged patients to clients with detailed instructions of home care.
Effectively administered liquid, tablet, and injectable forms of medication, Monitored sedated and sick vital statuses.
Trained two new employees to current safety standards by presenting hands-on instruction on equipment maintenance protocols.
Wrap Up
You need to make sure your resume stands out amongst the other candidates. It is the first impression that employers have of your work experience and skills. Use the samples above to put together a resume that best suits your needs and helps you get the job you want.