Industrial engineers improve efficiency in industrial systems. They learn about industrial systems, look for waste, find ways to eliminate waste, integrate workers, materials, and technology to maximize efficiency, look for ways to manufacture goods and services with optimal efficiency, and develop quality controls. This position requires a bachelor's degree in industrial engineering or a closely related field. According to the Bureau of Labor Statistics, industrial engineers must be creative with strong critical thinking, listening, math, problem-solving, speaking, and writing skills.
A good resume is well-written and concise. It should be neat and easy to read, listing previous experience in a logical order.
Our resume samples will provide you with multiple examples of what you can include when writing your resume.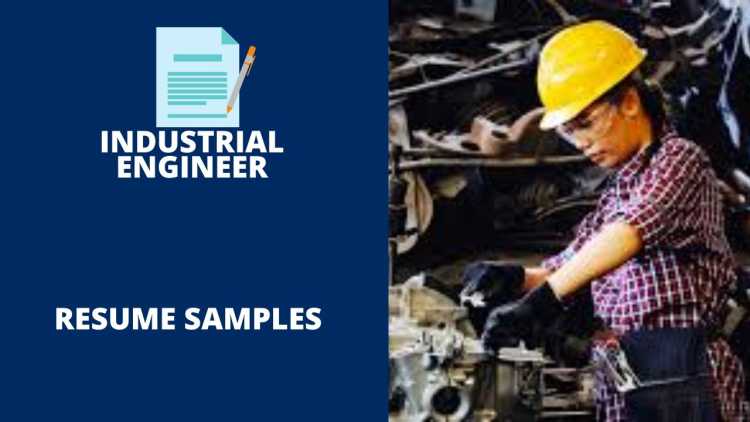 The Best Industrial Engineer Resume Samples
These are some examples of accomplishments we have handpicked from real Industrial Engineer resumes for your reference.
Industrial Engineer
Optimize manufacturing schedules for F/A-18 aircraft modifications while considering staffing & zone constraints.
Produce bar charts and EVM metrics for the shop floor to support aircraft cost & schedule targets.
Created and maintain manpower and capacity models to analyze and plan for site expansion.
Conduct Kaizen events to optimize the cost & schedule performance of start-up aircraft programs.
Constructed, modified, and maintained industrial equipment for industrial liquids and high-pressure liquids.
Industrial Engineer
Collaborated with senior management on business process reengineering efforts gain 7%increase in productivity and quality.
Established first preventive maintenance schedule, ensuring optimal equipment operation without costly downtime.
Created and implemented efficiency enhancements to generate more than 10% improvement through associated cost reductions.
Responsible for generating production documents like visual diagrams, material bills and work flow instructions and chart.
Developed specifications for equipment, diagrams of piping, and schematic diagrams of machinery.
Industrial Engineer
In charge of handling of portable equipment and providing them to various departments as and when needed.
Establish tools and applications in order to follow and analyze production, products and development performances Follow and analyze performances with indicators and initiate continuous improvement projects.
Developed Preventive Maintenance program for the Portable Equipment for the site.
The experiments conducted also helped in determining the Preventive Maintenance plan for the equipment.
Acted as liaison between the end-user company, engineering department, and tradesman's union.
Industrial Engineer
Implemented schematics and SOP's to effectively solve engineering project issues using 5s and Pareto analysis techniques and reduce scrap work by 20%.
Designed and analyzed mechanical systems and mechanisms including custom manifolds and plastic chippers, reducing shipping expenditures by 25%.
Reviewed processing schedules and production orders concerning inventory requirements, work procedures and duty assignments, considering budgetary limitations and time constraints.
Initiated projects for future research projects as head of the industrial engineering department in relation to a university research lab.
Saw plans through from initial stages to completion.
Industrial Engineer
Reduced cycle time for the product by 20% and inventory levels using lean manufacturing techniques.
Assisted and coordinated in grouping and standardizing machined components thus reduced overall component variety by 16%.
Played a key role in keeping the shop floor and related documents at ISO standards.
Participated in management team decisions to ensure that proper material was consumed on significant construction projects.
Revised budget when appropriate based on changes in materials prices.
Industrial Engineer
Develop standards for process design and product process control.
Improve current operations, and processes and elements influencing work flow by Lean Six Sigma.
Enact quality control procedures to resolve production problems or minimize costs.
Responsible for the day-to-day support of a large number of complex systems in a multi-national manufacturing environment while adhering to established procedures, equipment limitations, and company policies.
Contributed to the development of flow bench techniques to more accurately evaluate water quality.
Industrial Engineer
In charge of producing financial reports, cost optimization projects, economic analysis and budget control.
Designed systems to maximize company's capacity in a more efficient manner by balancing factors: time, work force and technology.
Worked in conjunction with the sales manager, our office in the United Kingdom and our factory in China to forecast demand, review production schedules, capacity planning and develop management control systems for a cost-effective production.
Participated in the development of the brand name ProTrace system.
Developed and implemented an effective internal logistics program for more than 150 vendors related to freight costs, time savings, and other elements that affect efficiency.
Industrial Engineer
Identify, research, and implement processes to improve direct labor utilization, saving the Brands $600k+ on their cost sheets.
Suggested cost reductions and cost avoidances equivalent to a savings of $900k+ by targeting changes in product and package design, unit pack and shipping quantities, and automating processes.
Provided capacity analyses essential to strategic resource planning highlighting resources that were over or underutilized.
Made recommendations to look at automation opportunities to attract more work to be brought to Melville saving $700+ in one year with less than a 2 year payback period.
Identified issues in communications and oversaw a change management plan to address concerns within an organization while remaining committed at all times.
Industrial Engineer
Created detailed Macro and Micro processes to assure efficient and effective manufacturing processes by interfacing with design documentation and breaking down into efficient subsets for industrial development instructions to the shop floor operators.
Performed concurrent engineering design reviews and analysis to assure manufacturability of product.
Ensured an effective return of experience by participating in the co-engineering efforts, implementing detailed industrial requirements into the design and effective follow up through the project life cycle.
Co-leadership of a team that collaborated with field supervisors to develop and implement a process improvement program.
Represented the department at several Industry Council meetings on issues related to automated assembly line technologies, quality control systems, and computer-aided process planning.
Industrial Engineer
Cohesively function as part of the southeast region's pioneering centralized team of engineers/analysts.
Provided efficient packaging solutions worth $30M of business for: Clorox, Burt's Bees, Jim Beam, Keurig.
Propose & Implement $500K worth of continuous improvements & cost saving initiatives per year.
Function as direct liaison to relay needs & solutions between internal warehousing staff & all customer staff.
Created and maintained an accurate record of defective products in accordance with corporate requirements.
Industrial Engineer
Worked with OEM client to shift from skid/corrugated packaging to CHEP containers resulting in a reduction of freight expenses of $54,000 annually.
Brought down employee accidents by 27% from 2015 to 2016 by facilitating training seminars, increasing awareness of potential hazards, and recommending corrective actions to management for improving safety.
Successfully proposed the purchase of a CNC Router justifying a payoff period of 11 months through savings from eliminating outsourcing fabrication costs for visor products.
Developed standardized documentation system for job set-up, preventative maintenance, and machine tooling.
Achieved excellent customer service rating for exceptional order processing; properly completed all tasks in accordance with the customer's request.
Industrial Engineer
Designed a system with better man, machine and information flow using Value Stream Mapping for the same product, thereby reduced its cycle time by 8% and inventory levels by 30%.
Coordinated the grouping of standard parts like sprockets, gears etc., reduced component variety by 16%.
Assisted in internal audits for keeping each department's engineering documents at ISO 9001:2008.
Implemented cycle inventory thus improved the inventory accuracy from 70% to 93%.
Achieved outstanding quality award for exceptional work performance; completed follow up on work completion date established by management.
Wrap Up
You need to make sure your resume stands out amongst the other candidates. It is the first impression that employers have of your work experience and skills. Use the samples above to put together a resume that best suits your needs and helps you get the job you want.