An industrial designer develops concepts for products such as electronics, cars, etc. Their duties include integrating workers, machines, materials, information; and eliminating waste in the production process. Industrial designers need a bachelor's degree in industrial design, engineering, or architecture. Industrial designers must demonstrate creativity, computer skills, artistic ability, problem-solving skills, critical thinking skills, and analytical skills.
A good resume is well-written and concise. It should be neat and easy to read, listing previous experience in a logical order.
Our resume samples will provide you with multiple examples of what you can include when writing your resume.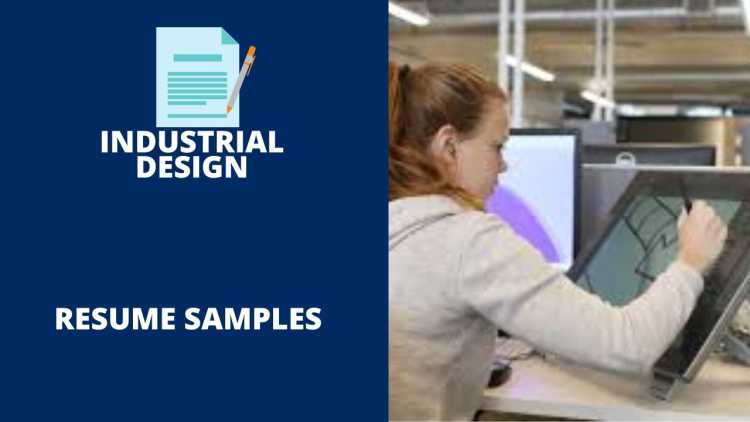 The Best Industrial Design Resume Samples
These are some examples of accomplishments we have handpicked from real Industrial Design resumes for your reference.
Industrial Designer
I was head of the design department, my responsibilities were to direct, organize and implement projects delivered by the commercial department, stipulating delivery times and thus fulfill them.
The projects were designed made ​​in 3d programs, delivering customer images close to reality, showing materials, human scale and functionality.
Also I have knowledge of materials in the manufacture and production of parts, mounting and dismantling of stands, stages.
Created twenty-six prototypes, including one functional prototype and two marketable prototypes, of a product to promote ergonomic balance and comfort in seated positions.
Developed production molds for five plastic products.
Industrial Designer
Develop products and collections meeting strict new product process goals.
Collaborate with the internal innovation team, product managers, marketing managers, engineering team, manufacturers/vendors and outside design-consulting firms.
Guide and implement the updating and cost reduction of currently existing products to aid in profitability.
Unified the design process through providing customers and buyers with knowledge of what their target demographic should be, details of the existing product marketplace, and future color and material predictions.
Promoted and assisted in the installation of a new machine that increased productivity by fifteen percent.
Industrial Designer
Created Industrial Design Curriculum with application to ME, EE, CS and Logistics Students.
Created prototype lab for creation of student models and curriculum based projects.
Instruction of 3D printing, laser cutting, CNC milling, and fabrication using metal, wood, foam, silicone and composite materials.
Established 2D workshops for students with beginner to levels focused on improving sketch and rendering technics.
Trained new production employees to mold products with efficiencies; empowered all members of the production team to pursue personal goals.
Industrial Designer
Function as group lead for a variety of high-profile product development projects in a fast paced, cross-cultural team environment working with Commercial, Marketing, and Engineering departments from initial concepts through to production.
Produce and help lead in the production of marketing materials including concepts, labels, renderings, animations, and presentation publications.
Led the implementation and procurement of render-farm servers to streamline workflow and maximize departmental efficiency.
Awarded employee of the year three years running based on profitability and employee satisfaction ratings.
Developed sketches and 3D CAD models, using SolidWorks, in order to improve the design of bicycle handlebars and accessories.
Industrial Designer
Developed numerous products from initial concept through to production.
Redesigned existing products to Strong sketching skills, a willingness to walk reduce costs.
Ensured that products meet industry safety a mile in someone else's shoes, combined standards.
Produced assembly instructions, with an eagerness to express great ideas.
Conceived and designed ergonomic assembly programs to decrease the use of manpower and increase efficiency within the workplace.
Industrial Designer
Recognized for developing a new internet presence for physicians within the sub- specialties of urology, dermatology and gastroenterology.
Individually created and designed the logo, website and all marketing material for our sister company, DermPrep.
I provided concept development and graphic design for all projects administrated by the General Manager.
Cultivated partnerships with our sales team to redesign and improve our marketing strategy that resulted in industry leading presentation material.
Created photo-realistic renderings of real-world products and environments.
Industrial Designer
Created prototype lab for creation of student models and curriculum based projects.
Instruction of 3D printing, laser cutting, CNC milling, and fabrication using metal, wood, foam, silicone and composite materials.
Established 2D workshops for students with beginner to levels focused on improving sketch and rendering technics.
Designed exteriors and interiors for businesses, residential properties, construction, industries, and schools.
Painted and restored buildings in various countries under conditions I had never seen before.
Industrial Designer
Created interactive public art installations. Worked directly with principal designers on conceptual development, prototyping and testing, manufacturing and final installation.
Produced working drawings and computer renderings for clients and manufacturers.
Built physical prototypes, mock-ups and works-like models.
Worked directly with clients and manufacturers to produce final products.
Created outdoor decorating ideas using natural materials.
Industrial Designer
Collaborated with the fabricator to prototype the first product through an iterative process of trial and error until the product was up to design specification.
Created technical / engineer drawings with detailed specifications to communicate deliverables clearly and efficiently.
Designed processes and tools for the fabricator to scale the production from prototyping phase to full scale manufacturing.
Completed projects within 6 months of approval by client and produced high-quality product at a low standard cost.
Designed and built a wheelchair that converts at a touch of a button into an office chair; recognized as the inspiration of several other designs.
Industrial Designer
Managed over a dozen multi-million dollar interior skyscrapers, hospitals, schools and other city facilities.
Designed blueprints with AutoCad for the infrastructure components of industrial structures.
Worked with both union and independent contractors to fulfill timeline and budget constraints for construction though the five boroughs.
Conceived and drafted working models of new products from beginning to end, including 3-D modeling software, prototyping, and materials research.
Sketched, developed, and produced product designs for eight diverse industries including small and large businesses, with a focus on consumer products.
Industrial Designer
Working in a fast-paced consultancy, developed a range of consumer products in multiple ends including housewares, packaging, beauty and electronics.
Alongside the president and senior designer, I worked on all aspects of the design process from initial research and concept generation through to detailed CAD and factory specifications.
In a client facing role, I ensured all project needs and business considerations were met.
Produced conceptual renderings of industrial space planning, materials, and equipment.
Professionally presented design concepts to clients in weekly meetings attended by as many as fifteen executives.
Industrial Designer
Designed quick concept sketches based on merchant requests and needs.
Communicate directly with overseas factories to improve the look and quality of products.
Worked collaboratively with other designers and merchants throughout design ideation process.
Created six illustrations for a technical manual and supervised the creation of two-dimensional drawings by a team of draftsmen.
Drafted floor plans for a commercial facility and remodeled design for a customer service center.
Wrap Up
You need to make sure your resume stands out amongst the other candidates. It is the first impression that employers have of your work experience and skills. Use the samples above to put together a resume that best suits your needs and helps you get the job you want.