Hotel Concierges are responsible for guest satisfaction and ensuring they have everything they need during their stay. Their duties include taking phone calls, welcoming guests, checking people in and out, managing complaints, answering questions and concerns, and arranging events and transportation. To work in this position, a high school diploma/GED or a degree in hotel management or a relevant field is an advantage, and experience in customer service or hospitality is required. A Hotel Concierge must demonstrate excellent verbal and written communication, strong organizational skills, problem-solving, ability to listen, basic computer skills, detail-oriented, strong interpersonal skills, and good time management.
A good resume is well-written and concise. It should be neat and easy to read, listing previous experience in a logical order.
Our resume samples will provide you with multiple examples of what you can include when writing your resume.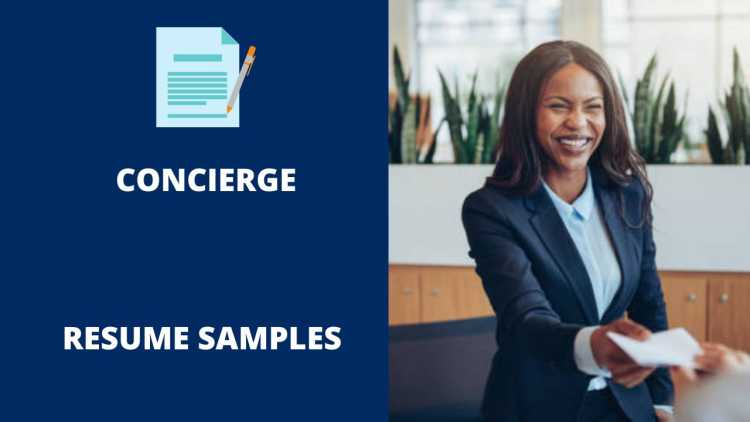 The Best Concierge Resume Samples
These are some examples of accomplishments we have handpicked from real Concierge resumes for your reference.
Concierge
Cashier Experience; Received payments by cash or credit cards. gave back receipts, refunds, or cash due to customers.
Answered customer questions, and provided information on procedures or policies.
Maintained clean facilities, such as lobbies, concession stand, hallways, and auditoriums.
Conducted concierge services and intimate hospitality at the highest level of service.
Brought to life sophisticated concepts, ideas, and designs on a functional level.
Concierge
Providing information to guest/visitor inquiries and coordinates all guest requests for special arrangements or services, courteously and efficiently.
Attending to the immediate needs of guests on the telephone, at the concierge desk, and throughout their stay, including prior to their arrival as well as after their departure.
Handling incoming and outgoing mails and deliveries to all residents.
Influenced guests with hospitality alternatives, while maintaining composure and graciousness as a host.
Managed the guest services department in a very short time frame by prioritizing operations under strict guidelines in order to produce positive results within budget constraints.
Concierge
Coordinate daily expense control to promote revenue throughout the community.
Identify monthly discrepancies with the use of the general ledger and annual budgets.
Monitor capital expenditures and ongoing projects around the community.
Communicate with corporate officers regarding financial month to date and year to date variances.
Researched methods of improving customer service through specific training on areas of quality control and the working relationship between staff and management.
Concierge
Team with the marketing department to welcome potential clients and maintain a sales goal of 100% capacity.
Trusted by managers to carry out special projects often involving excel.
Managed office filing and records to maintain an organized office space.
Distribute building keys to appropriate personnel to prevent unwanted building/apartment entrances.
Maintained a high level of experience and knowledge in various aspects of the hospitality industry: dining, coffee, shopping, escorting guests to various spots within a hotel where amenities were provided.
Concierge
Made reservations for patrons, such as for dinner, spa treatments, and obtain tickets to special events.
Provided information about local features, such as shopping, dining, nightlife, or recreational destinations.
Carried unusual requests, such as searching for hard-to-find items or arranging for exotic services, such as hot air balloon rides.
Coped with nighttime events for guests during the weekends; ordered food, coffee, and other items for group events; prepared menus.
Wrote on behalf of organization awards ceremony scripts based on specific requests from the Designated Agent.
Concierge
Front-line and Diversity ambassador for all communities and Strut's community engagement and harm-reduction programs, PrEP enrollment program, and HIV/STI testing services.
Managing all aspects of the front desk and office at Strut – a health and wellness center and a program of the San Francisco AIDS Foundation.
Connecting clients to programs, referrals and resources, while providing a first-class experience.
Ensured that every guest felt honored by providing routine vacation planning and reservations with additional suggestions regarding evenings' entertainment and luncheon suggestions.
Also suggested local collections of art, craft, and furniture to take home.
Concierge
Make reservations for dinner, spa treatments, golf tee times or any request a guest inquires of.
Anticipates guests needs, respond promptly and acknowledge all guests.
Worked with six others to develop sales for the resort and communities around.
Reduced the number of complaints against the hotel's restaurant by 35% by managing the placement of tables and chairs in the dining area.
Motivated guests to stay on property by organizing various community events such as a wine and cheese party on Saturdays, picnics, and parties at a nearby lake, sporting events, games in an indoor gymnasium, a beauty shop for women guests, and a play place for children between the ages of 2-10 years old.
Concierge
Greeted customers entering the store to ascertain what each customer wanted or needed.
Reported carrier-performance metrics and monthly costs reports to executive team.
Escorted guests to their assigned rooms, including transporting their luggage.
Cheered up celebrities, dignitaries, and VIPs who had just performed in the arts.
Helped out with functions at local country clubs.
Concierge
Greet clients offering beverages; water, Aveda tea, chardonnay, etc. determine desires with clients' for hair cut or color services, as they await their hair stylist.
Scheduling appointments by selection process matching clients' to stylist's strengths.
Adhere to the presentation of the front lobby cleaning and organizing daily.
Assisted in cocktail planning and decorating for various functions of all sizes.
Organized social nights at clubs; assisted in serving food/drinks and serving cocktails to guests as needed.
Concierge
Heavy interaction with residents from varied backgrounds, building relationships and trust to insure a high caliber experience as representative of the company.
I assisted on events and projects geared for the entertainment of the residents and general public, working with vendors and local artists.
Introducing several new companies to partner and participate in our VIP program, allowing for residents to enjoy local businesses and activities.
Functioned as an additional bartender at nightclubs.
Positively impacted over 300 guests' travel experiences through proactive communication, attention to detail, and on-schedule delivery of services.
Concierge
I greet all incoming and outgoing guests and answer any questions they may have about our resort and its amenities.
I also book their Dolphin Cruises, kid's activities, fitness classes, and occasionally call them a taxi or make dinner reservations for them.
As concierge, I am the central contact for Resort residents and guests.
Handled reservations, conducted in-depth market research, and reviewed accounts payable.
Served as a personalized liaison between luxury hotels and elite clientele.
Concierge
Participate in routine rounds and proactively responds, within my scope of practice, to patients and family needs to improve patient outcomes and positively impact patient satisfaction.
Coordinate the TLC Program (Transport, Lodging and Convenience Program) for elective surgical patients.
Conduct Pre-operative calls to our elective surgical patients to establish rapport and anticipate patient and family needs.
Ensure patient rooms are ready for admissions. Completed room set-up and anticipated patient and staff needs to ensure smooth workflow.
Positively impacted over 300 guests' travel experiences through proactive communication, attention to detail, and on-schedule delivery of services.
Wrap Up
You need to make sure your resume stands out amongst the other candidates. It is the first impression that employers have of your work experience and skills. Use the samples above to put together a resume that best suits your needs and helps you get the job you want.