Claim Adjusters evaluate, review, and investigate insurance claims for a company. Their responsibilities include investigating insurance claims, deciding appropriate insurance amounts, confirming claims are not fraudulent, negotiating settlements, consulting with others to get additional information on claims, and settling insurance claims. To work as a Claim Adjuster, a high school diploma is required, and licensing varies by state. To be a successful Claim Adjuster, it is important to have excellent analytical skills, communication skills, math skills, interpersonal skills, logical skills, customer service skills, and detail-oriented skills.
A good resume is well-written and concise. It should be neat and easy to read, listing previous experience in a logical order.
Our resume samples will provide you with multiple examples of what you can include when writing your resume.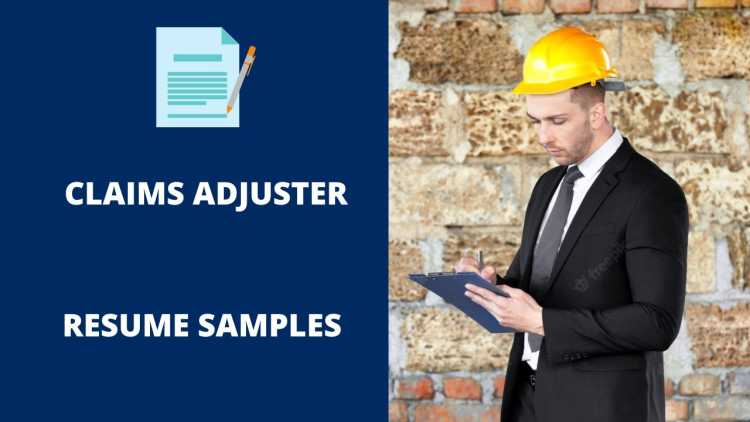 The Best Claims Adjuster Resume Samples
These are some examples of accomplishments we have handpicked from real Claims Adjuster resumes for your reference.
Claims Adjuster (Fast Track claims)
Investigated and processed insurance claims filed by policyholders.
Handled and processed a variety of claims, including automobile, and property insurance claims.
Handled property claims involving damage to buildings and structures, or liability claims involving personal injuries or third-persons damage from liability situations, such as motor vehicle accidents and property damage.
Increased productivity by strengthening clients' relationships and encouraging a steady increase in daily business.
Discovered and applied effective income tax credits which reduced corporate tax liability by an average of $50,000 annually.
Claims Adjuster
Obtained all necessary information to complete proper evaluation of equipment failure claims.
Recommended settlement offers and negotiated loss resolutions.
Developed process improvements to enhance efficiency and effectiveness of inter-department call center operations.
Built customer loyalty by placing follow-up calls for customers who reported product issues.
Monitored a caseload of construction and general liability cases; efficiently communicated and coordinated with insureds, attorneys, and service providers.
Claims Adjuster
Self – starter, by managing and inspecting insurance claim appointments under minimal supervision.
To communicate clearly the insurance policy provisions and the claims process to the insurance customer.
Utilizing estimating software to write estimates for the claim settlement and to assist the insured customer in initiating the repair process.
Participated in over thirty-five personal injury claims with the automobile, liability, and workers' compensation.
Coordinated and processed claims by reviewing policy documentation, processing claims, and ensuring all parties were made aware of their rights, responsibilities, and recourse.
Claims Adjuster
Examined forms and records to determine coverage of assigned claims.
Investigated and settled homeowner's and/or commercial property claims of a moderate to severe damage.
Utilized various methods to negotiate settlements with the insured and their contractors within authority and policy procedures.
Developed expertise through experience in the insurance claim department.
Submitted complete claim packages to insurance companies within a specific time frame.
Claims Adjuster
Responsible for losses and weather related damages, and for adjudicating medium to large complex claims.
Investigated damages, causes of loss, engaging appropriate outside experts and recommended the appropriate repair/resolution.
Utilized construction and rebuilding experience to interface with contractors, engineers, and architects to determine the appropriate repair methods, materials and specifications.
Developed cost estimates using multiple sources and participated in all phases of bidding process.
Assessed, determined, and adjusted all types of insurance claims.
Claims Adjuster
Handling inbound calls in a fast-paced environment to assist with appointment setting for vehicle inspection and estimates, repair shop locations, subrogation, and rental car reservations.
Preparing property estimates and contents estimates in loss settlements.
Requesting/evaluating medical billing from medical providers and PIP/MPC demands from attorneys.
Worked as a part of a small team to pursue a missing client case. Worked with the Public Adjuster in reaching a settlement on the owner's behalf.
Conducted training on commercial automobile insurance in an environment that involved lay people and professionals.
Claims Adjuster
Reviewed and handle new and incoming claims from other associates.
Pay any rental bills, repair bills, provide excellent customer service at the call center.
Policy reviewing, making sure all coverages were used properly, making sure all causes of loss were also issued properly.
Led process improvement analysis to streamline departmental workflow; took initiative to hire new staff members with strong knowledge of business systems, software applications, and productivity enhancement tools.
Developed procedures to enhance client service; led process improvement analysis in areas of safety, liability, and property coverage.
Claims Adjuster
Worked with the customer on process improvements with the customer at the center of all our decisions.
Interview all involved parties to determine the facts of the claim.
Document claims file to comply with company guidelines and state regulations.
Review factual information to determine coverage and/or liability of all parties to the claim.
Assigned and settled a number of accident and health cases.
Claims Adjuster
Provided excellent customer service while investigating auto claims.
Utilized computer programs and the internet to conduct recorded statements, review accident sites, run background checks, and assess liability.
Explained and complied to the insurance laws of 26 states.
Multi-tasking while making high level inbound and outbound calls and returning voicemails are essential.
Decided which of a number of claimants to check with for completion of insurance forms.
Claims Adjuster
Handled inbound calls and exercising good decision-making skills to review information, issue payments and resolve claims.
Communicated with customers in a courteous manner using approved scripts as needed via phone or written correspondence.
Worked from established procedures and job aids and handle multiple computer applications while helping customers on the phone.
Understood the damage report forms for each accident for insurance companies, as well as the patient statement word processing computer program.
Understood the legal implications regarding several different types of accidents from personal experience and from seeing an attorney's deposition.
Claims Adjuster
Maintain communication with insured regarding facts of the investigation and the handling of their claim in a timely manner.
Acted as liaison for Vendors, Operations Managers, and Customer Relations.
Ensure invoices and bills are in compliance with specified contract terms for that client.
Compile / analyze the billing activity for Windhaven and third party service providers.
Maintain the integrity of the systems and utilizing all system tools to ensure accurate work on a daily basis.
Claims Adjuster
Responsibilities included taking detailed fact of loss statements, reviewing photos of damages, issuing claim payments, sending out contact letters.
Responding to attorney representative letters, faxing documents, contacting agents that sold policy.
Additional responsibilities were to make outbound/inbound calls, refer any red flags to Special Investigation Unit.
Assessed, settled, and closed claims; informed associates and customers of banks' policies and procedures.
Developed new procedures for the efficient handling of auto loans.
Wrap Up
You need to make sure your resume stands out amongst the other candidates. It is the first impression that employers have of your work experience and skills. Use the samples above to put together a resume that best suits your needs and helps you get the job you want.