Chief operating officers oversee the daily operations of an organization. They work with other executives, develop strategies that achieve their organization's goals, allocate resources, negotiate with clients and partners, and try to improve their organization. This position requires a bachelor's degree and significant business management experience, but many COO's have a Master of Business Administration degree. They must have an executive presence, work long hours, travel frequently, and have leadership, communication, problem-solving, and decision-making skills.
A good resume is well-written and concise. It should be neat and easy to read, listing previous experience in a logical order.
Our resume samples will provide you with multiple examples of what you can include when writing your resume.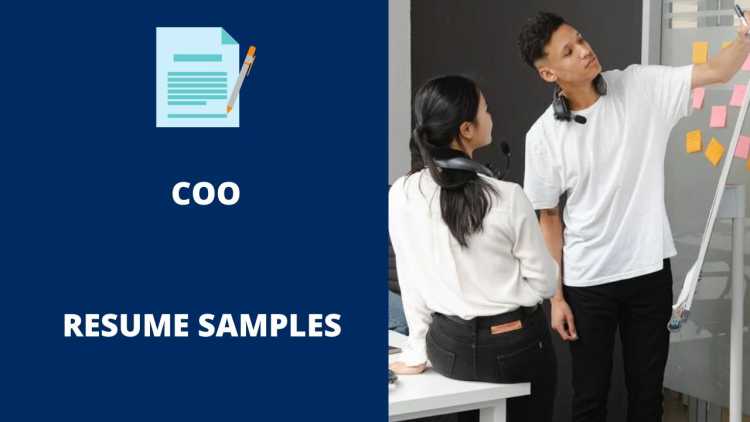 The Best COO Resume Samples
These are some examples of accomplishments we have handpicked from real COO resumes for your reference.
Chief Operating Officer
Managed operations and transformed business to profitability growing re-occurring revenue and strategic account revenue.
Delivered run-the-business lean Manufacturing Execution System (MES) solutions for worldwide electronics manufacturers (.e.g., 3M, Digi International, BAE Systems, Banner Engineering, Continental Automotive, Flextronics, Magna Electronics, National Instruments, Rockwell Automation, and Rockwell Collins).
Achieved Business Turnaround after surviving through a frozen capital market then growing revenue 129%, paying off debt and returning business to profitability by teaming with the development team, executives and BOD.
Invented, developed, and implemented strategic marketing and advertising plans to increase sales, improve operating profit, and increase market share.
Managed a 100+ employee staff with the salary and benefits expenses of $4 million per year plus full benefits for a company of 120 employees.
Chief Operating Officer
Developed the department into a positive EBITDA, which was previously underperforming.
Reengineered departments to establish top performing groups while decreasing cost.
Developed account management group to assist clients in achieving maximum revenue for their practice or hospital.
Strategically combined 5 companies into one cohesive group to work together.
Increased gross sales by 10% in a tough economy; achieved this by implementing new means in our marketing strategy.
Chief Operating Officer
Chief Operating Officer for Hit King Baseball, Inc. responsible for the overall operational performance within each vertical of our entire business model.
Grew our customer base 168% in the last 6 months of the 2016 fiscal year.
Key in decision making process to start and successfully grow additional revenue streams in multiple US markets.
Established a new branch office in Dallas; created marketing and PR programs intended to attract new clients as well as establish contact with existing customers.
Developed strategic vision, directed the company's operations, and formulated the business plan.
Chief Operating Officer
Pinpointed more than $500K in annual savings and introduced new policies to prevent egregious spending.
Converted staff to W-2 employees and negotiated with medical insurance brokers to secure health insurance packages.
Recently featured on all 4 local news outlets for work in training students in basic self defense and situational awareness.
Negotiated a partnership between two competing companies and merged their operations, creating a larger and more profitable enterprise.
Conceived new venture development projects to meet the needs of entrepreneurs and businesses seeking support from a marketing firm.
Chief Operating Officer
Revised operational strategy by shifting from internal warehousing and fulfillment to 3 rd party logistics, allowing company to focus on commercial philanthropy through an agency model.
Developed and deployed integrated enterprise level business operations platform, improving inventory management, reducing expenses and errors, and increasing customer satisfaction.
Changed warehousing and fulfillment operations, to strengthen Roma's position in negotiating favorable vendor contracts and terms, and enable seamless integration with international big box retailers.
Facilitated product publicity campaigns that generated public awareness for national companies and resulted in an increase in sales for Fortune 500 corporations.
Launched design firm with new methods for designing brochures, company logos, Web sites, packaging graphics, billboard advertisements, manuals, and other printed material for over 300 clients in diverse industries.
Chief Operating Officer
Recruited an RN, MSM, and a Certified Diabetes Educator (CDE) to direct chronic illness management and Medicare/Medicaid beneficiaries' health education and prevention services.
Recruited a PhD prepared Social Worker and National Board Certified, Accredited, Human Services Practitioner as director of case management for Medicaid and indigent care beneficiaries.
Developed strategic plan to drive down utilization of ER services/skilled nursing care utilization and simultaneously, profoundly improve health outcomes of Medicaid/Medicare beneficiaries.
Sought, secured, and managed over $2 million in new capital.
Managed full-time staff of seventeen while increasing client base by over 200%.
Chief Operating Officer
Provided day-to-day leadership and management to a franchise organization that mirrors the adopted mission and core values of the company.
Accountable for the measurement and effectiveness of all processes, and systems, both internal and external.
Spear-head the development, communication and implementation of effective growth strategies and systems.
Revitalized public image of company after negative media exposure. Presented a plan to rebuild the corporation's leadership and enhance public perception.
Experimented with new media marketing strategies during the start-up phase of business.
Chief Operating Officer
As COO I am directly responsible to the CEO/Founder for the daily operations of the company.
Worked directly with the CEO and executive team in establishing the direction of the company, establishing key performance indicators (KPIs) for measuring success, as well as 1, 5, and 10 year business plans.
Financials- Weekly review of sales and expenses, monthly closeouts with review with CEO, forecasting, trending.
Decreased cost per impression by creating media coverage for free on local news channels and blogs.
Led an effective employee training program that mirrored the company's goals for growth and revenue generation; implemented process improvements that saved time and money for the company.
Chief Operating Officer
Oversaw all areas of operations to include HR, AR, AP, marketing and client relations.
Managed the teams responsible for the production of apps and websites in the highly competitive custom application development arena.
Created operating plans and budgets on projects as well as the corporate level. Managed people, resources and finances in the operation of day to day business.
Won two Gold Hearts at the National Sales Conference and was selected as Alternate 1 of 3 to represent the company at the International Sales Conference, held in Toronto.
Ranked in Top 10 of 220 sales professionals nationwide for total sales and productivity.
Chief Operating Officer
Worked closely with the CEO to develop and accomplish goals and strategic plans for the company.
Spearhead the development, communication and implementation of effective growth strategies and processes.
Provided timely, accurate and complete reports on the operating conditions of the company.
Introduced new territories and developed business relationships with Japan, Korea, Germany, and Taiwan.
Presented the unique idea to create a strategic alliance for international account acquisitions with government officials of China during a meeting held in Kuala Lumpur, Malaysia.
Chief Operating Officer
Managed a full office staff and remote teams to recover assets for top tier lenders including Chrysler Capital, Wells Fargo, and Chase Bank.
Supported the organization€™s relationships with financial institutions through direct client relationship management.
Developed new policies to streamline the recovery process and optimize earning potential for the company.
Assumed first-time responsibilities as Acting Chief Operating Officer when Senior Executive became ill on business trip.
As a founding partner, successfully managed all company operations to provide clients with the highest level of service.
Chief Operating Officer
Responsible for driving the company to achieve and surpass sales, profitability, cash flow and business goals and objectives.
Spearhead the development, communication and implementation of effective growth strategies and processes.
Foster a success-oriented, accountable environment within the company.
Achieved greater than 20% revenue growth per year by servicing clients in marketing, advertising, and public relations.
Led organization to a 405% revenue increase by using innovative marketing strategies, such as E-Marketing mediums.
Wrap Up
You need to make sure your resume stands out amongst the other candidates. It is the first impression that employers have of your work experience and skills. Use the samples above to put together a resume that best suits your needs and helps you get the job you want.