A Chief Information Officer manages the information technology needs of a company. Their duties include managing the technology budget, managing risk to information, establishing policies and procedures related to information and technology, synchronizing tech systems with the business' goals, managing the information technology team and communicating at the C level of an organization. To work as a Chief Information Officer most people have a Bachelor's degree in software development, computer science or information systems and many CIOs have a Master's degree in business administration (MBA). CIOs must demonstrate management, communication, leadership, technological, business, strategic and information systems skills.
A good resume is well-written and concise. It should be neat and easy to read, listing previous experience in a logical order.
Our resume samples will provide you with multiple examples of what you can include when writing your resume.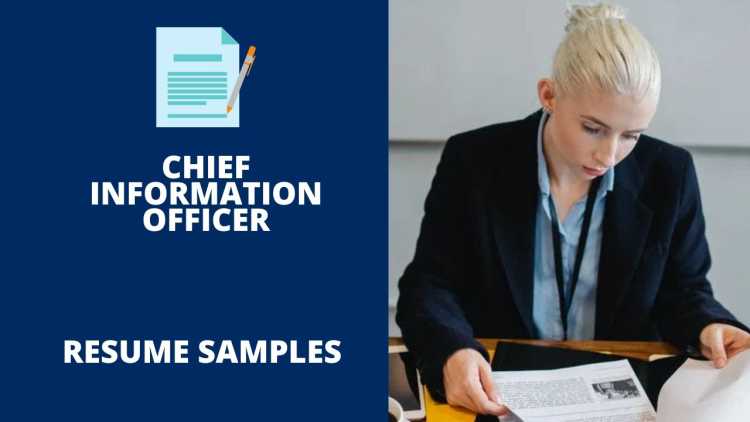 The Best Chief Information Officer Resume Samples
These are some examples of accomplishments we have handpicked from real Chief Information Officer resumes for your reference.
Chief Information Officer
IT engagement with functional and operational leaders improving alignment with business objectives.
Production support and implementation of Oracle EBS in the U.S., Canada, Australia/New Zealand and Italy.
Global instance: Financials, Inventory, Warehouse Management, Procurement, Projects, Transportation, Tax.
Designed and implementation of Business Intelligence platform and custom content in Oracle Business Intelligence Enterprise Edition (OBIEE), cross-functional/regional.
Developed, designed, and implemented a single global corporate 24×7 graphical control panel for an enterprise computer system.
Chief Information Officer
Led for IT oversight committee of the YPO Board of Directors. Responsible for logistics, agenda, and meeting execution for 6 global conference calls, and 2 in-person meetings.
Initiated multi-year technology refresh to reduce operational costs by 30%.
Reformed IT financial management processes, improving expense management within 2% variance.
Improved data quality by 30% across the organization reducing help desk tickets and related costs.
Redesigned solutions for two major problems facing enterprise computer users: increased speed in response to user requests, and user security in multi-user environments.
Chief Information Officer
Responsible for establishing and maintaining the enterprise vision, strategy and program to ensure information assets and technologies are properly managed and protected.
This includes cyber security, PCI compliance, data security, risk assessment and compliance with data usage polices.
Takes the lead in assessing operations capability and security strategy in order to develop and implement a plan to ensure that security strategy is aligned with business strategy.
Accountable for organization-wide results in this area and puts in place the necessary processes and metrics to ensure sensitive.
The consultant recommended redesigned solution after review of systems development life cycle (SDLC) plans.
Chief Information Officer
Responsible for the IT team at 3 separate locations including; hiring, training, and management.
Worked with other Senior Managers to created and implement solutions for various company-wide problems.
Designing, implementing and updating systems and hardware protections to meet HIPAA & HITECH IT Compliance.
Researched and work with reputable vendors on behalf of the company for purchasing services and equipment, signing extensive contracts, and ensuring a BAA is obtained if possible.
Developed software to enhance customer experience, increase customer loyalty to the organization and increase customer satisfaction.
Chief Information Officer
Responsible for the overall planning, evaluation and execution of the company's technology functions.
Directed the strategic design, acquisition, management, and implementation of an enterprise-wide technology infrastructure.
Directed the activities necessary to keep the technology infrastructure running seamlessly, efficiently, and effectively while ensuring compliance with established standards and policies.
Developed a multifaceted web-based system that would allow each of the company's employees to easily keep track of their duties and tasks and it would permit them to view their own performance.
Collaborated with IT Manager to create the foundation for an end-to-end system for Employee Performance Management.
Chief Information Officer
Managed all departmental information technology projects and work with Project Managers on goal attainment.
Oversee all aspects of the design and deployment of corporate information systems.
Research, negotiate and prepare IT consulting contracts for third-party applications and vendors.
Migrated the organization to Microsoft Office 365, upgraded servers to Microsoft Server 2016 and all seven sites to one single domain.
A led project team with a new business focus; created new methodologies, processes, and procedures for product development.
Chief Information Officer
Responsible for managing Cloud & Development Operations, Corporate IT Infrastructure, Help Desk Operations, ERP (Lead to Provisioning), Business Intelligence and Security Operations.
Formed Cloud & Dev. Operations organization, as well as formed a BI Team and Security team from grounds up.
Leveraged AWS infrastructure and 16 IBM data centers to support high computing SaaS platform.
Deployed a SaaS BI Platform for cloud and corporate dashboards along with Log Query Platform for monitoring.
A created performance management system that incorporated self-assessment tools with employee feedback that included a satisfaction survey.
Chief Information Officer
Hired by the new CEO to be part of a new Executive team tasked with turning around the company and returning it to growth.
Reversed 5+ years of major service delivery issues and outages by orchestrating a complete transformation of the mission critical systems, IT infrastructure, compliance standards, team composition, IT culture, and perception of IT within the company.
Had full P & L responsibility and maintained an IT budget of <2.4% of revenue.
Maintained an average 99.99% uptime on all mission critical systems after my first year with the company.
Architected and wrote an application system to perform over 500 functions in accounting, payroll, billing, inventory control, purchasing, and financial reporting.
Chief Information Officer
Successfully deploy IT groundwork to enable expansion into rural health arenas.
Led team in defining business processes and procedures that support the mission of the department.
Define vision for local staff while working across service lines to ensure interoperability amongst systems.
Responsible for the recruitment and management of IT and telephony employees and operations for the West Texas VA Health Care System.
Took responsibility for the development of a table-driven database.
Chief Information Officer
Progressively led the creation and oversight of the design and process improvement of XL Parts ERP, Network, and VoIP systems.
Promoted the use of innovative IT as a key business enabler, continually seeking new ways to streamline business processes and improve information flows.
Pioneered and implemented a strategic plan and roadmap for Business Continuance and Disaster Recovery.
Submitted applications for salary increases based on productivity; received salary increases as result.
Developed equipment to be used by user support/customer service department with specifications approved by management.
Chief Information Officer
Designed, implemented, and maintained all computers, network, infrastructure, internet, telephony, wireless, diagnostic equipment, digital media and signage.
Responsible for purchasing all office supplies, printing supplies, software, pc's and network hardware.
Responsible for contacting, interviewing, negotiating with and overseeing Electrical contractors, Plumbing Contractors, Telephony. Contractors, Network Cabling Contractors and Sign and Lighting Contractors.
Created requirements for a new computer system including staff training materials to be developed and implemented by the department.
Led major projects effectively, anticipating and identifying obstacles.
Chief Information Officer
Coordinated design of a prototype for an IOT business that monitors swimming pool water including parts of the device hardware, the user apps, server software, APIs and software for the on-board controller.
Moved an organization from selling workbooks to their customers to an app-based program thus saving them almost all of their printing and delivery costs and allowing them to reach more customers with a wider set of features.
Trained the staff to manage in-house 90% of their ongoing design, development and maintenance needs for their new online and mobile system.
Supervised team members, motivating their productivity and building their confidence and motivation.
Understood individual strengths and weaknesses to motivate performance.
Wrap Up
You need to make sure your resume stands out amongst the other candidates. It is the first impression that employers have of your work experience and skills. Use the samples above to put together a resume that best suits your needs and helps you get the job you want.