Carpenter Helpers build, repair, and install wooden structures such as bridge supports, doorways, building frameworks, rafters, stairways, and kitchen cabinets. They install fixtures, follow blueprints, replace damaged structures, and measure, cut, and shape materials. A high school diploma and an apprenticeship is needed for this field. Skills needed include: physical fitness, dexterity, basic and algebraic math, and communication. Applicants must be team players, problem-solvers, accurate, and have an eye for detail.
A good resume is well-written and concise. It should be neat and easy to read, listing previous experience in a logical order.
Our resume samples will provide you with multiple examples of what you can include when writing your resume.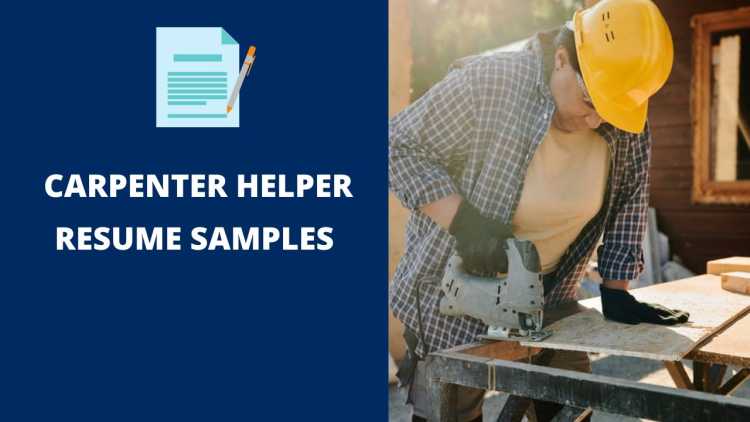 The Best Carpenter Helper Resume Samples
These are some examples of accomplishments we have handpicked from real Resume Helper Free resumes for your reference.
Carpenter Helper
I am tasked with heading my own home improvement projects with the use of various power tools.
Working diligently and efficiently to finish such projects on time and tailor to the customer's needs.
I also drove our company truck to and from various job sites.
Advanced in the capacity of Carpenter Helper for the Northern California branch office of Shippy/Dusseault Contractors, Inc.
Served as a member of a two-man carpenter crew involving extensive renovation and remodeling projects on private residences and businesses.
Carpenter Helper
Followed established safety rules and regulations and maintained a safe and clean environment.
Measured and marked cutting lines on materials, using a ruler, pencil, chalk, and marking gauge.
Cut and installed insulation into metal studs in new construction.
Applied fire and water proof caulking to wall edges and corners as per the instructions of the site supervisor.
Enhanced productivity through my innovative use of power tools; implemented new carpentry techniques that I had learned from an instructional demonstration at the hardware store.
Carpenter Helper
Shaped or cut materials to specified measurements, using hand tools, machines, or power saws.
Followed established safety rules and regulations and maintained a safe and clean environment.
Measured and marked cutting lines on materials, using a ruler, pencil, chalk, and marking gauge.
Installed structures or fixtures, such as windows, frames, floorings, trim, or hardware, using carpenters' hand or power tools.
Contributed to a successful conclusion on all projects by leading my crew in daily safety inspections, equipment maintenance, procurement, and material preparation.
Carpenter Helper
Fit and fasten wall board or drywall into position on wood or metal framework using nails and screws.
Position and hold timbers, lumber or paneling in place for fastening and cutting.
Coordinate work with drywall finishers who cover the seams between drywall panel.
Received workers compensation award for presence as a safety officer at a construction site; zero recordable incidents resulted in 6 months.
Prepared forms as required for frames, sills, headers, girders, and beams.
Carpenter Helper
Applied protective coverings such as masking tape to articles or areas that could be damaged or stained by work processes.
Smoothed surfaces of articles to be painted, using sanding and buffing tools and equipment.
Cleaned work areas, machines, or equipment, to maintain a clean and safe job site.
Fastened timbers or lumber with glue, screws, pegs or nails and installed hardware.
Helped erect scaffolding on a concrete job.
Carpenter Helper
Assisted the Lead Man and Carpenter in building, revising, and dismantling scaffolds.
Functioned as a member of a team when passing and sorting scaffold materials.
Assisted the Foreman and Lead Man in obtaining permits and keeping proper Job Hazard Analysis paperwork.
Ensured that all necessary safety protocols are followed when functioning as part of a team.
Measured depth of foundation on several occasions and made appropriate adjustments to ensure that the building would be level with the sidewalk.
Carpenter Helper
Performs physical activities that requires arms, legs, and moving your whole body, such as climbing, lifting, balancing, walking, stooping, and handling of materials.
Inspects equipment, structures, or materials to identify the cause of errors or other problems or defects.
Fasten timbers or lumber with glue, screws, pegs, or nails and install hardware.
Readily completed all assignments in a neat and timely fashion; recognized by my Supervisor for superior performance.
Received recognition for outstanding work ethic when I completed my work ahead of schedule during high-volume commercial Jobsite construction activities.
Carpenter Helper
Performing physical activities that require considerable use of your arms and legs and moving your whole body, such as climbing, lifting, balancing, walking, stooping, and handling of materials.
Works safely and with teamwork by building mutual trust, respect and cooperation.
Developing specific goals and plans to prioritize, organize, and accomplish work.
Graduated from the first workforce training class for unskilled laborers; performed a variety of tasks within construction, including millwright, carpenter, and painter.
Assembled prefabricated housing units; assisted in constructing large-scale housing projects for veterans.
Carpenter Helper
Set up jacks, move around plyer wood, as well as cutting, shaping, framing, plus building box units to set in the frames.
As measuring to making sure that it was right as becoming a carpenter.
While still being a team member and helping out my co-workers if needed on fixing things, or squaring them away right.
Accurately measured, planned, and constructed structures for structures in excess of 4 stories tall.
Accurately measured and constructed doors for new perimeter doors to complement existing security measures.
Carpenter Helper
I moved most of our tools or materials wherever we needed them.
I moved dirt, nailed down boards, used a variety of power tools, made measurements and whatever else they asked of me.
They also taught me different things about carpentry while i worked with them.
Accurately measured, planned, and constructed the frame of a steel building; resulting in a collapse that required complex rescue operation by fire crews.
Successfully completed a highly productive day of roofing for a roofing company.
Carpenter Helper
Assisted the lead carpenter in projects that required heavy manual lifting.
Installed doors, interior trim and crown molding under minimal supervision.
Was required to insure all equipment and materials were returned to the trailer before leaving a job site.
Performed over 300 hours of the construction labor on custom homes to include framing and finish work.
Slowed a dangerous fire breakout during a 2-alarm fire by quickly extinguishing flames with limited water.
Carpenter Helper
Repaired roofs and flooring and remodeled bathrooms and kitchens.
Operated electric cordless and hammer drills and cutting torches.
Followed established job site safety regulations and maintained a safe and clean work area.
Installed interior finish items, including wall protection, doors and hardware, toilet accessories, cubicle curtain tracks and TV brackets.
Efficiently installed energy-efficient windows in homes; gained knowledge of the building and construction industry via homes I framed.
Wrap Up
You need to make sure your resume stands out amongst the other candidates. It is the first impression that employers have of your work experience and skills. Use the samples above to put together a resume that best suits your needs and helps you get the job you want.