General Laborers are those who do the physical work and supportive tasks at construction sites, warehouses, and factories. They prepare the site, clean and remove hazards, load and unload materials, operate equipment, mix cement, and build scaffolding. There are no education requirements for this job. General Laborers must be problem-solvers, organized, team players, and possess good stamina, physical health, and communication skills.
A good resume is well-written and concise. It should be neat and easy to read, listing previous experience in a logical order.
Our resume samples will provide you with multiple examples of what you can include when writing your resume.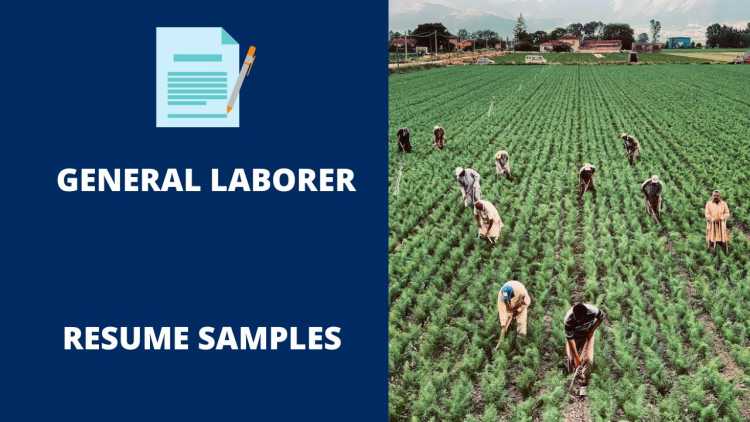 The Best General Laborer Resume Samples
These are some examples of accomplishments we have handpicked from real General Laborer resumes for your reference.
General Laborer
I was hired as a laborer to do miscellaneous duties on job sites.
Due to my ability to adapt and learn quickly, I was chosen to be trained to learn the following jobs: restore concrete foundations, sidewalks, and walls; repair cracks using different types of epoxy and sealants; epoxy injection on tilt- up walls; sack and patch, spall repair, and expansion joint repair, small asphalt repair, and cold storage patch repair.
Other duties have included trench shoring, confined space entry, job site safety monitor, fire watch, tile and grout installation, install and set paving stones, demo work, clean up, pickup and delivery of material to be used on job sites.
Installed hinged and tempered glass in the lobby and conference rooms of a 42-story building.
Completed a weeklong project for an industrial company by assisting six co-workers with the construction of a $1,000,000 machine.
General Laborer
Hoist tar and roofing materials to roofs, using ropes and pulleys, or carry materials up ladders.
Performed emergency leak repairs and general maintenance for a variety of roof types.
Clear drains and downspouts and clean gutters.
Cover roofs with layers of roofing felt or asphalt strips before installing tile, slate, or composition materials.
Ran department floor machines to provide essential services to business tenants in the facility.
General Laborer
Inspected plastic panels for proper part identification.
Manufactured solutions, media and agar plates using the aseptic technique.
Evaluated production processes and equipment to find opportunities for improvement.
Operated manufacturing equipment to maximize product output and minimize downtime.
Assisted manager and workers with the construction of a new wing at a local government center.
General Laborer
Read work orders or received instructions from supervisors or homeowners to determine work requirements.
Removed fixtures and plates, taped around edges, filled in holes, flattened wall surface, and applied new coats of paint.
Filled in holes, flattened wall surface, and applied new coats of paint.
Operated a variety of hand and power tools, following safety procedures.
Performed general labor in various construction and maintenance jobs within the private and public sectors.
General Laborer
Build and position forms for pouring concrete, and dismantle forms after use, using saws, hammers, nails, or bolts.
Operate jackhammers and drills to break up concrete or pavement.
Clean and prepare construction sites to eliminate possible hazards.
Dig ditches or trenches, backfill excavations and compact and level earth to grade specifications, using picks, shovels, pneumatic tampers, and rakes.
Completed renovation projects on time, on budget, and without incident.
General Laborer
Dedicated to make sure the customer was satisfied with cleanness of the compartment.
Fire watched that no fired would occur on ship and helped handle equipment materials.
perform duties as a fire watch and welder's helper as well as install electric cable when needed.
Performed physical labor and project management duties for the construction of a two-story office building.
Senior-level work assignments required experience with blueprints, blueprint reading, blueprint maintenance, coordination, and cooperation within a large team environment.
General Laborer
Proper packing, labeling and tagging of the inventory in the warehouse.
Coordinate work with fellow workers and other team members.
Proper packing, labeling and tagging of the inventory in the warehouse.
Ensure the cleanliness and proper stocking of inventory in the work area.
Worked as a lead hand on various project crews; accomplished projects with multiple subcontractors including concrete formwork/concrete pouring, excavation, framing, and wiring.
General Laborer
Dig ditches or trenches, backfill excavations, or compact and level earth to grade specifications, using picks, shovels, pneumatic tampers, or rakes.
Load, unload, or identify building materials, machinery, or tools, distributing them to the appropriate locations, according to project plans or specifications.
Erect or dismantle scaffolding, shoring, braces, traffic barricades, ramps, or other temporary structures.
Responsible for the planning, organizing, and scheduling of daily construction activities.
Completed over 200-hour course in general carpentry instruction outlined by the State of Maryland.
General Laborer
Performed daily maintenance and safety checks on garbage trucks.
Collected garbage from businesses residential buildings and various other facilities.
Reported repair requirements and truck malfunctions to supervisor as needed.
Adhered to scheduled route unless modified and authorized by supervisor.
Taught fellow employees how to use power and hand tools in preparation for pre-apprenticeship apprenticeship training.
General Laborer
Performed tasks involving physical labor at construction sites.
May operate hand and power tools of all types: air hammers, earth tampers, cement mixers, small mechanical hoists, surveying and measuring equipment, and a variety of other equipment and instruments.
May clean and prepare sites, dig trenches, set braces to support the sides of excavations, erect scaffolding, and clean up rubble, debris and other waste materials.
Completed a basic masonry workshop outlining proper concrete layout and formwork practices.
Participated in the rebuilding of New Orleans after hurricane Katrina.
General Laborer
Cooperated with ten other team members to perform construction work using tools, electrical equipment, and heavy machinery in a variety of projects.
Performed scheduled preventive maintenance, such as checking, cleaning, or repairing equipment, to detect and prevent problems.
Performed minor repairs and general facility maintenance tasks as required by supervisor.
Prepared market ready apartments, which may include general repairs, housekeeping duties, and any necessary duties to provide our residents with that quality move in experience.
Entirely restored the Pride of Place Condominium, a $10 million development on Bourbon Street.
General Laborer
Assisted operation of general site vehicles and tools for example water trucks, pick up trucks, sweepers, mowers, trimming equipment, etc.
Performed general office maintenance such as minor repairs and changing light bulbs.
Directed traffic, Performed painting and janitorial work, Fueled vehicles and equipment.
Additional projects included French Quarter Façade Restoration, historic renovations at The Presbytere and The Cabildo, and several commercial developments.
Erected and dismantled two buildings for a commercial construction company.
Wrap Up
You need to make sure your resume stands out amongst the other candidates. It is the first impression that employers have of your work experience and skills. Use the samples above to put together a resume that best suits your needs and helps you get the job you want.