Front Desk Receptionists greet and support clients of doctors, hotels, and businesses by offering customer service. The job requirements include answering phones, routing calls, directing visitors, taking messages, processing payments, managing the calendar for one or more employees/clients, and performing general office duties. To be a front desk receptionist you need a high school diploma or equivalent with a strong focus on customer service skills.
A good resume is well-written and concise. It should be neat and easy to read, listing previous experience in a logical order.
Our resume samples will provide you with multiple examples of what you can include when writing your resume.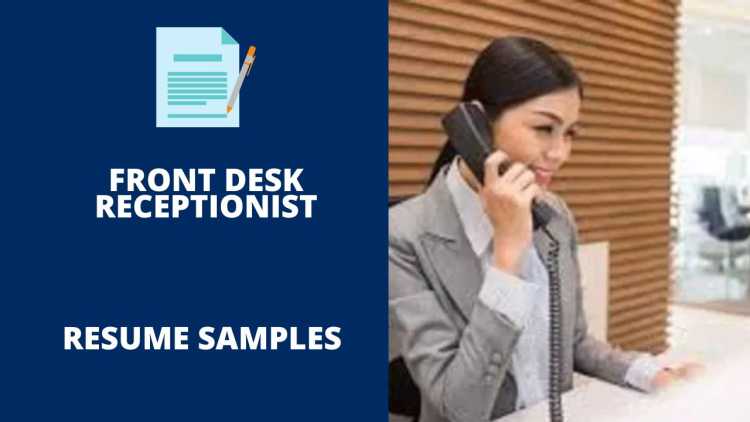 The Best Front Desk Receptionist Resume Samples
These are some examples of accomplishments we have handpicked from real Front Desk Receptionist (general) resumes for your reference.
Front Desk Receptionist
Attend to visitors and deal with inquiries on the phone and face to face.
Supply information regarding the organization to the general public, clients and customers.
Answer telephone, screen and direct calls, take and deliver messages. Provide information to callers.
Accurately answered multi-line phone system. Organized and filed incoming mail.
Distributed packages and parcels, prepared daily mailings, and scheduled deliveries for FedEx, UPS, and mail carriers.
Front Desk Receptionist
Deal with any customer account issues, i.e. payments, missing classes, package adjustments.
Collect weights during each class for clients and store properly.
Close and lock up studio ensuring the condition of the studio is ready for the next class as well as stocked for front desk.
Complete daily checklist and detailed shift report that is sent via email to Studio Manager, Owner and all other deskers.
Identified miscellaneous items on daily reports and prepare appropriate documentation for staff to complete.
Front Desk Receptionist
Greeted customers and provided friendly customer service support, distributed mail, faxes and e-mails.
Received title, escrow and real estate documents and prepared them for recordation at various counties in California and processed the confirmations.
Worked with Sacramento County and Synrgo's accounting departments, processed and data entered the recording fees for the documents.
Assisted in rent pick-up, collections, and other administrative procedures by obtaining information from clients and their property managers.
Maintained outgoing fax transmissions with the photocopy service.
Front Desk Receptionist
Customer service support including, scheduling daycare/boarding of animals and coordinating with personnel.
Ability to work on multiple projects, answer telephone calls, as well as filing and keeping track of paperwork.
Giving tours of the facility, working with customers and customer accounts, keeping records up to date.
Fostered relationships with tenants by answering inquiries regarding their rights as leaseholders, providing a link to the office manager when needed, and encouraging positive interaction between the tenants and office staff.
Maintained client files by copying various documents, updating existing files as needed, and preparing information for new clients.
Front Desk Receptionist
Answer telephones and give information to callers, take messages, or transfer calls to appropriate individuals.
Greet visitors and callers, handle their inquiries, and direct them to the appropriate persons according to their needs.
Review work done by others to check for correct spelling and grammar, ensure that company format policies are followed, and recommend revisions.
Submitted daily reports to office manager; maintained an accurate system of accounting records to ensure proper billing of services rendered.
Focused and maintained a positive work environment with all customers, vendors, and fellow staff based on cooperation, trust, and respect.
Front Desk Receptionist
Answered and disbursed all incoming phone calls, screen calls and refer call to voicemail system when necessary.
Assisted callers with inquiries on properties and directed callers to the listing.
Sent outgoing FAX correspondence, included monitoring status of faxes to insure receipt.
Assisted with putting together presentation packages, gathering marketing materials and other company provided handouts and preparing notices.
Handled outbound calls to the customer and answers inbound calls from customers.
Front Desk Receptionist
Ensuring knowledge of personnel whereabouts and maintaining exact and complete sign-out/sign-in procedures for consumers and on-site staff.
Dealing with queries or requests from the customers and public.
Providing general clerical and administrative support to all levels of professionals.
Scheduling appointments, organizing meetings, maintaining appointment diary either electronically or manually.
Assisted with the preparation of financial statements and reports for the office manager.
Front Desk Receptionist
Undertake front of house duties, including meeting, greeting and attending to the needs of guests, to ensure a superb customer service experience.
Assisted in dealing with customer complaints in an effective and courteous manner, providing or seeking solutions as quickly as possible.
Responsible for accurate and efficient accounts and guest billing processes.
Purchased, maintained, and repaired office supplies.
Became supervisor for handling incoming telephone calls within the agency's sound-proof room, which was private and secure.
Front Desk Receptionist
Making sure every client is being greeted and helped in a timely manner.
Able to pick up multi-line phone calls (up to 7) and transferring them to the appropriate location/person.
Knowledgeable on Microsoft outlook as well as AppFolio in order to send emails and respond to inquiries on properties.
Able to translate as well as speak and write both English and Spanish.
Extended total quality customer service 100% of the time; actively solicited feedback from customers and employees.
Front Desk Receptionist
Provided exceptional customer service, while welcoming, checking in/out guests, answering and transferring phone calls.
Provided information to guests about hotel policies, services and amenities.
Post charges to guest accounts, prepare invoices, process payments, and operate cash register.
Book rooms, services, enter/change reservation information on the computer system.
Patiently answered phone calls and assisted others with their needs.
Front Desk Receptionist
Maintaining accurate and up to date customer files, including using Microsoft Word to assist the owner with keeping current information.
Aid in updating and maintaining the computer database of client information using Microsoft Excel.
Assisting with getting the website up to date with current store information.
Provided exceptional customer service to all callers, including those with special needs.
Responsible for the efficient and timely handling of daily functions at a busy business office.
Front Desk Receptionist
Operate telephone switchboard to answer, screen, or forward calls, providing information, taking messages, or scheduling appointments.
Greet persons entering establishment, determine nature and purpose of visit, and direct or escort them to specific destinations.
Schedule appointments and maintain and update appointment calendars.
Resolves issues with superior customer service by anticipating clients' needs and wishes through logical analysis of information.
Personally deals with stress by exercising regularly, consuming healthy foods such as fruit, vegetables, lean meats, and avoiding frying fats, etc.
Wrap Up
You need to make sure your resume stands out amongst the other candidates. It is the first impression that employers have of your work experience and skills. Use the samples above to put together a resume that best suits your needs and helps you get the job you want.