Dishwashers are responsible for cleaning and organizing dishes and tableware. They are required to clean dishes, utensils, pots and pans manually or by machine as well as organize them, take out the trash, and maintain a safe and clean workspace. Dishwashers usually have experience working in kitchens and may receive a food handler certification card. They must be organized, clean, hard-working, detail-oriented, quick and have the ability to stand for long periods of time and lift heavy objects.
A good resume is well-written and concise. It should be neat and easy to read, listing previous experience in a logical order.
Our resume samples will provide you with multiple examples of what you can include when writing your resume.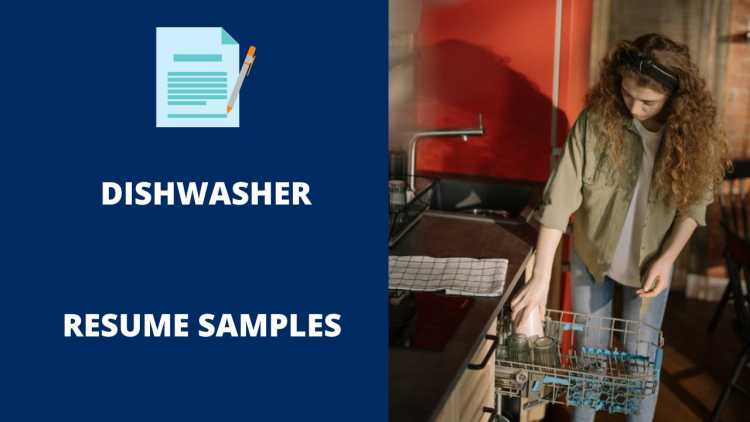 The Best Dishwasher Resume Samples
These are some examples of accomplishments we have handpicked from real Dishwasher (restaurants) resumes for your reference.
Dishwasher
Duties included emptying leftover food from patients trays off the food carts.
Cleaned, sanitized, and dried food carts.
Washed dirty dishes and utensils and placed them in dishwasher to be sanitized.
Placed sanitized dishes in proper areas for staff.
Cleansed cafeterias, banquet halls, and other service areas daily to maintain a high-quality environment.
Dishwasher
Wash dishes, glassware, flatware, pots, or pans, using dishwashers or by hand.
Maintain kitchen work areas, equipment, or utensils in clean and orderly condition.
Place clean dishes, utensils, or cooking equipment in storage areas.
Operated dish machines, washed pots and pans, cleaned food compartments, and maintained an impeccable work area.
Attained departmental leadership positions in which he supervised a staff of ten.
Dishwasher
Cleaned dishes, utensils, and equipment by hand and use of automatic dishwasher.
Demonstrated proper use of equipment and accurate cleaning procedures for other employees.
Performed and Demonstrated Appropriate Routine Janitorial Maintenance.
Managed the preparation of catering for various functions and special events.
Conducted food safety programs for guests and the staff alike; ensured that all employees had a regular break time.
Dishwasher
Demonstrated integrity and honesty while interaction with guests, team members and managers.
Maintained high standards of customer service during high-volume, fast- paced operations.
Followed food safety procedures according to company policies and health and sanitation regulations.
Maintained clean and safe environment, including in the kitchen, bathrooms, building exterior, parking lot, dumpster and sidewalk.
Financially promoted the restaurant by regularly receiving commissions on sales.
Dishwasher
Food Preparation and cooking the wide variety of food we offer involves using a broad range of equipment and tools.
They need to produce orders to a consistently high standard and understand that quality control is vital.
Cleanliness and Hygiene requires thorough training in order to maintain our high standards.
Before they start, they learn to use a variety of cleaning utensils and chemical cleaning products along with the correct protective equipment.
Developed a good working relationship with cooks, servers, hosts/hostesses, and managers.
Dishwasher
Clean dishes, kitchen, food preparation equipment, or utensils.
Wash dishes, glassware, flatware, pots, or pans, using dishwashers or by hand.
Maintain kitchen work areas, equipment, or utensils in clean and orderly condition.
His work ethic created awareness of his skills among other employees while improving their efforts towards success too.
Performed duties of dishwashing machine operator for fine dining restaurant.
Dishwasher
Transfer supplies and equipment between storage and work areas.
Maintain kitchen work areas, equipment and utensils in a clean and orderly fashion.
Sweep and mop kitchen and utility closet floors.
Collect soiled dishes from dining areas and transport them to the kitchen.
Ensured complete cleanliness of all dishes, utensils, and equipment.
Dishwasher
Keep the dish room and dish machine in clean and working order.
Stocking the establishment with clean supplies for customers, such as napkins and condiments.
Notify manager any time dish machine wash or rinse cycle falls below safety standard temperatures.
Assisted in maintaining coolers, freezers, and storage areas.
Received award for exceptional performance; high volume of quality food service delivered with superior sanitation standards to 1000 customers per day.
Dishwasher
Keep the dish machine clean and report any functional or mechanical problems to the kitchen manager immediately.
Monitor dish machine water temperature and chemically levels to ensure sanitary wash cycle.
Closes the kitchen properly and follows the closing checklist for kitchen stations.
Adapted job duties to meet the needs of a busy hotel; worked all areas of the restaurant, including serving station and buffet line.
Earned regular customer appreciation by providing prompt and courteous service; developed a positive rapport with customers and other employees.
Dishwasher
Wash dishes, glassware, flatware, pots, or pans, using dishwashers or by hand.
Place clean dishes, utensils, or cooking equipment in storage areas.
Maintain kitchen work areas, equipment, or utensils in clean and orderly condition.
Adhered to health department safety regulations and served as a liaison between management and staff.
Guided new employees in the proper completion of work assignments; provided leadership for a successful training period for a group of new hires.
Dishwasher
Transfer supplies or equipment between storage and work areas, by hand or using hand trucks.
Follow procedures for the use of chemical cleaners and power equipment to prevent damage to floors and fixtures.
Mix water and detergents or acids in containers to prepare cleaning solutions, according to specifications.
Promoted employee morale through fostering relationships with co-workers in hotel kitchen operations.
Achieved recognition as the best dishwasher; achieved a goal of being promoted to Assistant Manager in less than 2 years.
Dishwasher
Hired as Dishwasher to wash dishes, silverware, and pots and pans; managed dishwasher operations and organized and transferred dishes to food service areas.
Stocked and prepared food services: vegetable and salad preparation, sandwich preparation, and plate setups.
Prepared a variety of meats and sides: chicken, fish, steak, and deep-fried onion rings, zucchini, etc.
Served breakfast, lunch, and dinner to the public in our fine dining restaurant. Maintained proper sanitation of the equipment and facility.
Maintained the kitchen clean by following housekeeping procedures.
Wrap Up
You need to make sure your resume stands out amongst the other candidates. It is the first impression that employers have of your work experience and skills. Use the samples above to put together a resume that best suits your needs and helps you get the job you want.