Dentists diagnose, prevent, and treat diseases of the mouth. They conduct exams, take x-rays, apply sealants or fluorides, teach patients about home oral care, prescribe medications like antibiotics or painkillers when necessary, place fillings when required, and extract teeth when needed. To become a dentist in most states (all but California), you must graduate from an accredited dental school in the United States where you will complete 4 years of postgraduate training in an accredited dental program. You must also pass both written and practical examinations to become licensed in your state. Dentists must be detail-oriented individuals who can multitask with ease while maintaining excellent communication skills.
A good resume is well-written and concise. It should be neat and easy to read, listing previous experience in a logical order.
Our resume samples will provide you with multiple examples of what you can include when writing your resume.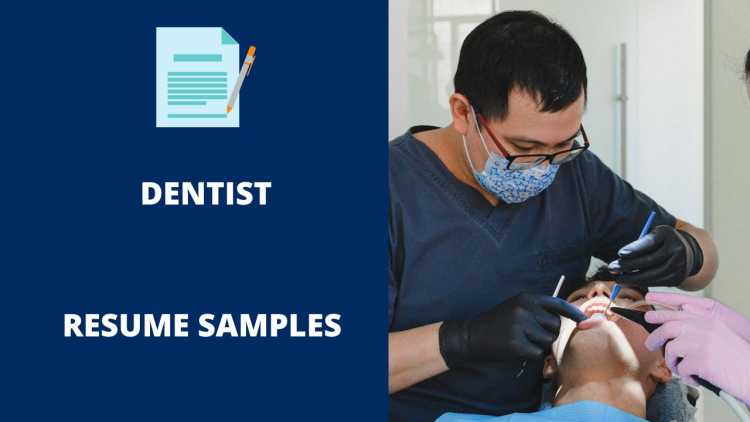 The Best Dentist Resume Samples
These are some examples of accomplishments we have handpicked from real Dentist resumes for your reference.
Dentist
Currently in private practice since 1999 providing dental services to the community in all phases of clinical dentistry.
Our practice has a high-tech and pain-free philosophy which is most pertinent to the treatment of all our patients.
I keep myself updated with the fast-paced world of clinical dentistry by taking multiple seminars, conferences, and hands-on courses to keep up with the rapid changes in the dental materials, equipment, and dental technology.
Patient care and professional development are the core values of my profession.
Fostered patient relations and professionalism by developing a positive atmosphere in which patients felt comfortable, relaxed, and confident about the quality of care they would receive.
Dentist
Completed comprehensive full mouth exams and performed expertise in all the clinical fields of Dentistry.
Treated anxious patients with care and making their experience joyful.
Carried out treatment planning with skill and professionalism.
Documented evidence of ethical conduct as well as professional responsibility; provided excellent oral health care to patients requiring numerous complex procedures.
Developed malocclusion training utilizing prosthodontic technology to improve facial and oral function for over twenty surgery cases; mentored an assistant for two months.
Dentist
Accurately complete and obtain information in a courteous and respectful manner to determine a treatment plan.
Performed examinations and treatments quickly, accurately, and efficiently.
Communicate effectively with dental staff, providers, and patients.
Ensure that written and verbal instructions are clear and concise.
Completed complex surgical extractions of partially and fully impacted teeth that required a surgical hand piece for sectioning of teeth and ostectomy.
Dentist
I was a dentist working in a non-profit facility, doing all phases of dentistry including preventive, restorative, prosthetics, oral surgery, and emergency root canals.
My patients ranged in age, starting from the age of 3.
Most of these patients immigrated from countries where comprehensive dental care was not available.
A Master's degree in Dental Hygiene from Georgia State University has prepared me for continued education in a variety of areas like orthodontics and maxillofacial surgery etc.
Treated patients of all ages with a variety of physical and dental conditions.
Dentist
Provided Comprehensive dental care including treatment planning, operative, fixed prosthodontics, removable prosthodontics, endodontics, oral surgery and periodontal therapy in a high volume, fast paced clinic.
Provided leadership for front office staff, clinical staff and on site lab technician in an effort to drive efficiencies and profitability.
Created and fostered a fun, upbeat and productive atmosphere where employees thrived and patients enjoyed their experience.
Discovered, developed, and implemented new protocols for patients with oral cancer.
Treated and maintained the oral health of 4,000 patients by providing regular cleanings, root canals, endodontics, periodontics.
Dentist
I've attended CE courses & weekly doctor meetings where focus topics cover patient care, advancements in dentistry, the business of dentistry and learning from other dentists & specialists.
While working in both offices percent profitability & percent collections increased.
Surgery, molar endo, Invisalign certification, sleep apnea, and orthotain/myobrace CE completed and utilized in practice.
Performed routine and emergency oral surgeries including advanced cavity treatment, wisdom tooth removal, cosmetic surgery, complete dental exams.
Assisted in the orientation of dentists such as patient care procedures, x-rays, and other procedures that would benefit the patient.
Dentist
Worked with a wide variety of cases, including crown & bridge work, cosmetic dentistry, Endo and All-on-4 cases.
Worked with an orthodontist and periodontist 1-2 days/month to provider comprehensive care to patients.
Attended new doctor orientation, including 3 days of CE courses.
CE courses provided by company include 12 hours of laser training.
Provided advice regarding diagnosis and treatment options for patients.
Dentist
Treated pediatric patients age 3-19, including Medically Compromised, Autistic, and Mentally Challenged Children.
Dental Treatments include but not limited to, Restoration of Simple and Compound Cavities, Surgical and Non Surgical Extraction Of Single and Multi rooted teeth, Placement of Prefabricated Space Maintainer, Core Built up, Porcelain Crown Restoration, Pulpotomy, Placement of SS Crown, Debridement and Non Surgical Treatment of Periodontal Disease.
Replantaion of Avulsed Tooth and Orthodontic Evaluation and do referral accordingly.
Developed close professional working relationships with fellow dentists and staff members.
Developed a network of extended family members/special friends who could provide support during stressful times in clinical practice or personal life.
Dentist
Diagnosed patient's dental conditions and educated patients on oral health.
Assessed treatment options and effective treatment plans and successfully carried out agreed clinical treatments.
Personable nature allowing children and parents to feel comfortable.
Successfully helped children overcome dental fears by displaying kindness, patience, and compassion.
Born and raised in the Midwest, I'm equally comfortable in large cities or small towns.
Dentist
Travel to different sites, build rapport with different school staff and promoted team work with rotating dental staff.
Promoting oral health and disease prevention.
Created treatment plans to maintain or restore the oral health of patients.
Interpreted x-rays, Safe administration of anesthetics.
I graduated from the University of Illinois Dental School a year early and graduated Cum Laude.
Dentist
Highly skilled dental professional who is well presented and articulate.
Has experience with infection control and sterilization procedures.
Excellent patient communication and education skills.
Able to anticipate dentist needs and act accordingly.
I've performed over 300 root canals, crowns, implants, bridges, and dentures.
Dentist
Our Dental Assistants sterilize and disinfect instruments and equipment, prepare the instruments and materials required to treat each patient, and obtain patients' dental records.
During dental procedures, assistants provide aid by working alongside the dentist.
They hand instruments and materials to the provider and keep patients' mouths dry and clear by using suction or other devices.
I enjoy fast-paced environments where my skills are constantly challenged. I've worked for several companies in the medical field that specialize in different procedures where I've been able to gain new skills and knowledge.
Although Dentistry is my primary focus, I also have professional expertise in Biology, Physics/Chemistry, Mathematics/Statistics, Computer Science, Electronics/Engineering, and Business Management.
Wrap Up
You need to make sure your resume stands out amongst the other candidates. It is the first impression that employers have of your work experience and skills. Use the samples above to put together a resume that best suits your needs and helps you get the job you want.