CNC Machinists cut, drill, and grind materials using computer numeric controlled machinery. Their duties are preparing CNC machines, operating the machines, programming, correcting any issues, measuring with tools, and following instructions. You will need a high school diploma or GED to work as a CNC Machinist and on the job training. CNC Machinists must be able to read blueprints, be detail-oriented, lift up to 70 lbs, work efficiently, have schedule flexibility, be organized, and keep machines well maintained to be successful.
A good resume is well-written and concise. It should be neat and easy to read, listing previous experience in a logical order.
Our resume samples will provide you with multiple examples of what you can include when writing your resume.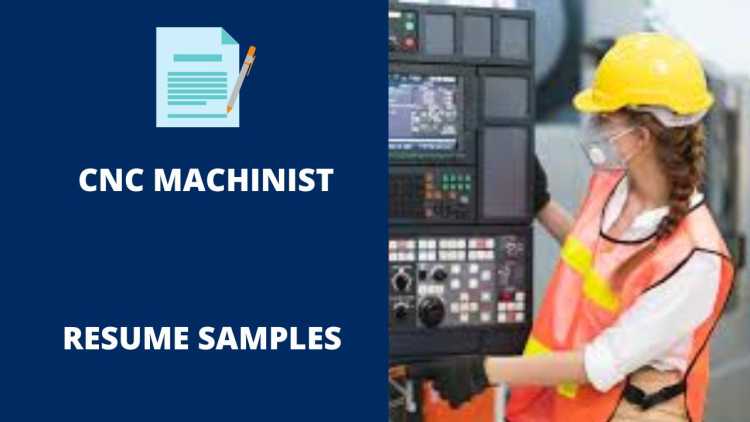 The Best CNC Machinist Resume Samples
These are some examples of accomplishments we have handpicked from real CNC Machinist resumes for your reference.
CNC Machinist
Conducted work operations in the manufacturing machine shop, adhering to company safety and quality policies and standards.
Operated machine tools as needed including CNC and manual lathes and mills.
Met customer demands on quality and safety.
Achieved one of the highest performance evaluations in company history.
Received top-ten ranking for a job well done from peers and supervisor.
CNC Machinist
I set up machine and operate a larger sized CNC vertical mill with a 4th axis on it.
I am use to switching from the 4th axis to more flat table work.
I could go from cutting splines on s sleeve to an angle radius part in 6inch vise whatever they wanted.
I also set up and operate 5th axis horizontal machines for precise drilling and fluting.
Studied at DeVry University in a two-year program, earning four certificates and an Associate's degree as a machinist.
CNC Machinist
Assembling/repairing electronic controllers and assembling them, keeping up with inventory, flashing chips, soldering, crimping etc..
Machining parts daily and getting orders out on time, also assembling while machining.
Maintain Relationship With customers and supervisors and co-workers, always willing to lend a hand and help out whenever needed, also love doing new things on different machines and learning new skills.
The only employee in the shop of an international manufacturer to be awarded an "Operations Excellence" award by the CEO for total production per month.
Improving machine performance even when not scheduled for maintenance due to exceptional problem-solving capabilities.
CNC Machinist
Worked directly from blueprints, patterns, sketches and specifications.
Operated heavy duty lathes, boring machines and mills, planers, shapers and grinders.
Operated forklifts, hoists and other material handling equipment.
Studied blueprints, work instruction, sketches, drawings and manuals to determine dimensions and tolerances.
Served as estimating and costing clerk; earned appreciation from management for accuracy in addition to accurate reporting.
CNC Machinist
Measure dimensions of finished workpieces to ensure conformance to specifications, using precision measuring instruments, templates, and fixtures.
Listen to machines during operation to detect sounds such as those made by dull cutting tools or excessive vibration and adjust machines to compensate for problems.
Maintain machines and remove and replace broken or worn machine tools, using hand tools.
Trained and instructed in CAD fundamentals, pattern making, 3D2F, and programming software including CNC, SCAD, and CATIA. Received an award of excellence in producing precision parts.
Searched for and purchased CNC milling equipment for manufacturing wood products.
CNC Machinist
Measured, marked and scribed dimensions and reference points on materials and subsequent machining.
Manufactures parts in accordance with safety, quality and production best practices and requirements.
Experienced with stub acme, acme, API, NPT and national standard threads.
Established the programs, procedures, and tools necessary to successfully run a precise machine shop.
Developed and simulated programs for producing custom cutting tools.
CNC Machinist
Operate CNC machines in a safe and efficient manner to produce prototype and production parts to specifications.
Inspected first-run and in-process part using precision measuring equipment.
Kept tolerance level of all material on standard (+/-.001) thousands of an inch.
Produced components that measured tolerance in excess of 0.0001″ (0.0004″/inch).
Answered PLC alarm conditions and entered appropriate part program changes.
CNC Machinist
Ability to read print and setup and operate machine to manufacture parts to specification as call out on different jobs.
Able to multitasks and operate more than one machine when required.
Ability to use inspection equipment to inspect finished parts and knowledge of all associated precision measuring tools of the shop.
CNC Mill machining experience has been mostly related to machining parts for the oil and gas industry.
Planned and implemented alterations to ensure safety to improve operator ergonomics and to increase machine productivity.
CNC Machinist
Select tooling, and secures fixtures and other holding devices for the work to be performed.
Study drawings and sketches for dimensions and tolerances of the work piece.
Adjust speeds and feeds on the CNC machine to produce parts and inspect parts using precision measuring tools.
Produced parts within the specified tooling, material, cycle time, and overall capabilities of machines.
Completed changeovers to full production within the specified tolerances on multiple shifts; completed the whole job on a 24-hour schedule.
CNC Machinist
Produce machined parts by verifying program, setting up, making offset adjustments, scanning in and out of work orders and operating a computer numerical control (CNC) Lathe machine.
Analyzed finished products to ensure effectiveness and detect any possible defects in design.
Loaded parts, made simple edits, deburred and inspected the quality of parts for conformance to print.
Correctly machined a variety of components needed for industrial manufacturing.
Handed rough-cut end parts directly to the CNC machine operator and pressed the first cut.
CNC Machinist
I won gold medals at both the regional and state competitions.
I use inspection equipment all day at work.
I am responsible for making sure first article is 100% conforming to Blueprint and/or Inspection Planning engineering sheets.
As well as, changing feeds and/or speeds in program to ensure maximum efficiency and economy.
Read, interpreted, and applied FMS [Flexible Manufacturing Standards] instructions to machine parts.
CNC Machinist
In depth knowledge of drawing interpretation.
Hands on experience in calculating and setting up machine controls according to production type.
Able to read and interpret blueprints effectively.
Proven ability to develop and implement ideas that are resourceful, gainful and quality orientated.
Researched and implemented safety procedures in order to correctly complete the job specifications.
Wrap Up
You need to make sure your resume stands out amongst the other candidates. It is the first impression that employers have of your work experience and skills. Use the samples above to put together a resume that best suits your needs and helps you get the job you want.