Machine Operators run machines that manufacture products in a factory setting. These employees are responsible for safely operating the machine and monitoring the progress of production, as well as performing quality checks throughout the product's creation. Machine Operators must have experience operating heavy machinery and demonstrate excellent customer service skills, organizational abilities, physical strength, concentration, attention to detail, focus on the task at hand, and good work ethic.
A good resume is well-written and concise. It should be neat and easy to read, listing previous experience in a logical order.
Our resume samples will provide you with multiple examples of what you can include when writing your resume.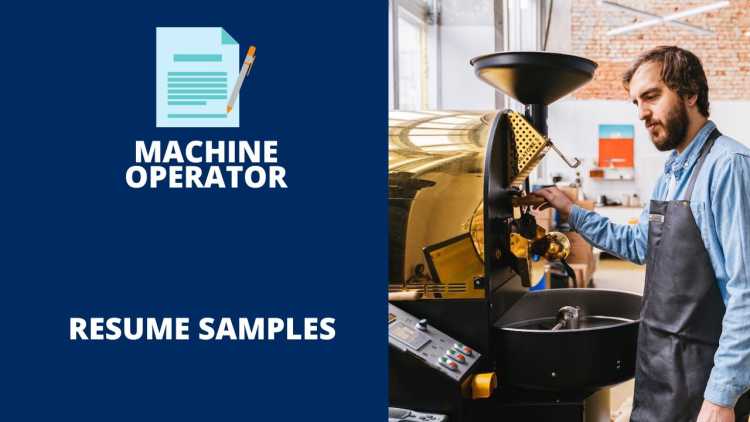 The Best Machine Operator Resume Samples
These are some examples of accomplishments we have handpicked from real Machine Operator (manufacturing) resumes for your reference.
Machine Operator
Performed all in process testing according to the batch master record "BMR".
Performed product set ups on different tablet presses.
Set up & operates Pharmaceutical packaging equipment in accordance with established SOP's and current good manufacturing practices (cGMP's).
Ensures package quantity, quality and labeling are accurate.
Conduct finish product inspection to ensure final package meets established guidelines.
Machine Operator
Observe machine's operation to ensure quality and conformity to required standards.
Performed visual inspection for legibility and correctness of codes on carton flaps.
Monitor the assembly line, watching for problems such as jams, misprints.
Communicate and assist Maintenance Technician with preventive maintenance.
Performed miscellaneous job-related duties as assigned.
Machine Operator
Operate sewing machine to join sections of fur garments and other articles into finished products on a work-piece or production basis.
Operate sewing machines to join fur pelt strips to required size and shape and join pelts into garment sections or shells.
Operate sewing machines to sew and overcast edges of material simultaneously.
Examine garments and operate sewing machines to repair garments and other articles during the manufacturing process.
Controlled and maintained online equipment with a watch-man system.
Machine Operator
Heat treat and anneal, set up hardner change and choose right coil adjust settings and water and rollers and check on meter.
Straightner press and automatic, adjust rollers to length of shafts and adjust travel and pressure.
Automatic straightner, change blades adjust rollers for pressure on shaft.
Cut off stone saw, adjust to length to be cut and change blades.
Completed required paperwork in a timely manner without mistakes.
Machine Operator
As a machine operator I worked in the manufacturing industry my responsibilities included running equipment in a safe and effective manner.
Knowledgeable in packaging, making sure that the machine is properly stocked and solves in any minor problems, also making sure the floor is safe before working on the machines.
The ability to understand how the machine works, possible problems and how to perform basic maintenance and repairs are very important in the job.
Reading machine blueprints that refer the inner working of the machines, parts and mechanisms.
Maintained equipment and completed assignments efficiently, while meeting deadlines.
Machine Operator
Measure instruments to verify compliance with precise specifications.
Dismantle and inspect components, while adjusting and repairing them as necessary.
Fabricate tools, jigs, and fixtures to meet manufacturing and engineering needs.
Calculate and send controls to regulate machining factors like part speed, feed, coolant flow, depth and angle of cut and clamping methods.
Awarded with rewards for exceeding productivity targets by 70%.
Machine Operator
Operate packaging lines per prescribed methods , maintaining production flow and efficient operation.
Managed multiple equipment modules simultaneously ( i.e fillers, cappers, car-toners, case packer).
Oversee training for new hires in areas of machine operation, safety, productivity, quality, ISO procedures.
Handle troubleshooting of equipment (i.e clearing jams, weight and capper adjustments).
Assign staff to position on line, explain responsibility associated with daily role, and monitor to ensure work is operating safely.
Machine Operator
Worked on high speed machine equipment and precision machinery used in mass production.
Prepared machine for production process by equipping it with the required tools and parts.
Assured the constant availability of raw materials and inputs so that the machine could function at all times.
Earned excellent reviews from Customer Service Manager for performance during the last 7 months. "He was very professional friendly, a great team player."
Served along with the Division Supervisor, Trainers, and Line Supervisors as a critical member of the manufacturing department.
Machine Operator
Operate vial filling, fabrication, packaging, and/or packing equipment such as labelers and cartoners.
Communicate with IPC Operator and Supervisor on all issues concerning quality, components and machine performance.
Palletize completed work and transport to warehouse as necessary.
Assure that all labeling documentation; e.g. samples, waste is properly identified.
Trained several individuals to operate the machine within a day's time.
Machine Operator
Determined sequence of operations by reading and understanding written and Verbal instructions and specifications in the related work orders.
Prepared Machine for productions by positioning and securing dies, stops, guides setting and adjusting controls.
Planned work assignments by studying and clarifying instructions, calculating Requirements, gathering aerials and supplies.
Prepared equipment for operation by conducting operator inspections, performing preventive maintenance checks.
Maintained safety and efficiency of the machine by using proper procedures during demonstrations and training.
Machine Operator
Set up, operate, or tend grinding and related tools that remove excess material or burrs from surfaces, sharpen edges or corners, or buff, hone, or polish metal pieces.
Observe machine operations to detect any problems, making necessary adjustments to correct problems.
Set and adjust machine controls according to product specification, using knowledge of machine operation.
Measure work-pieces and layout work, using precision measuring devices.
Proven experience as a leader in the manufacturing department by successfully developing, implementing, and sustaining an effective work environment through strong communication with management.
Machine Operator
Operated Encapsulation Machine to manufacture capsules within specification.
Operated compression machine to manufactured bi-layered and triple layered tablets within specification.
Operated compression machine to manufacture tablets within specification and within cGMP environment.
Performed weight variation, hardness and friability test to make sure the product meets the quality and standard requirements.
Adapted to fast-paced environment by training efficiently in order to properly fulfill the needs of all employees.
Wrap Up
You need to make sure your resume stands out amongst the other candidates. It is the first impression that employers have of your work experience and skills. Use the samples above to put together a resume that best suits your needs and helps you get the job you want.