Senior product managers develop product requirements and coordinate with the marketing and engineering teams to ensure a successful product is delivered. Their duties include managing other product managers, heading business strategy development, networking, communicating with customers, analyzing data, maintaining and monitoring client accounts, and researching the market for sales demand. Senior product managers are expected to have at least a bachelor's degree related to business, sales, or communications, though a master's degree is preferred. A successful senior product manager has leadership skills, is good at interpersonal communication, customer service, and critical thinking, has an eye for detail, computer and data management proficiency, data analysis skills, and is well organized.
A good resume is well-written and concise. It should be neat and easy to read, listing previous experience in a logical order.
Our resume samples will provide you with multiple examples of what you can include when writing your resume.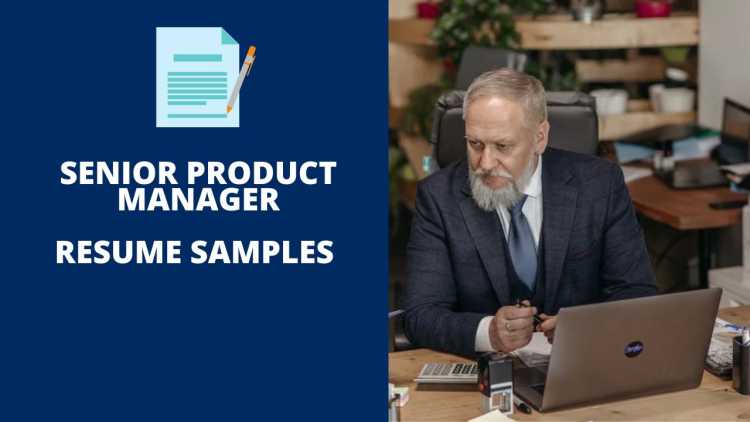 The Best Senior Product Manager Resume Samples
These are some examples of accomplishments we have handpicked from real Senior Product Manager resumes for your reference.
Product Manager
Managed the life cycle of products throughout initial concept development and production phases to meet company objectives as it aligns with distribution and strategic growth by working through sourcing, costing, vendor selection, and final product design.
Conduct daily communication with overseas office on issues of new product development/sourcing, price negotiations and sampling/prototyping.
Maintain overseas communication with Shanghai offices in DEV BOM/SSR/action items.
Researched and developed a new product line that increased sales by over 50%; completed the project on schedule and under budget.
Coordinated all aspects of the project from inception to initial production.
Product Manager
Created wireframes for enhanced filter and sort functionality for account balance information which reduced user time per workflow action by 25%.
Led a team of 10 in the design and development of a new payment functionality which enabled users to initiate payments in bulk, increasing transaction volume by 10% and optimizing user workflow by several hours.
Leveraged Tealeaf to identify and develop a currency toggle feature which allowed users to view portfolio data in over 100 currencies using real-time rates retrieved via an API integration with Citi FX Desk.
Effectively researched competitors, responded to customer needs and influenced product features.
Awarded for outstanding performance; recognized by peers for exceptional leadership and skills in the profit cycle.
Product Manager
Developed an analytics strategy by defining key metrics and KPIs for the product's growth.
Increased the revenue from tips to drivers by 8% by improving the system of tipping.
Led the redesign of mobile applications on iOS and Android which increased the conversion rate of the completed trips by 15%.
Refined expertise of a new product line by implementing quality control systems, troubleshooting procedures, developing documentation, etc.; presented new ideas in sales presentations to department management.
Managed the production of over a thousand feet of special order fabric for one of the world's largest textile yards, employing more than three hundred people.
Product Manager
Expertise in articulating the entire process of prediction using either Logistic Regression or Linear Regression.
Technology Expertise: Blockchain, SQL, Sqoop, Spark SQL, Informatica, Pentaho, MicroStrategy, Netezza, Oracle.
Subject Matter Expert: helped Data Scientists understand telecom domain in predicting Customer Churn.
Developed new products from existing designs; increased productivity and customer satisfaction.
Created innovative new products and processes to satisfy customers, enhance quality products and produce fact sheets on new technology.
Senior Product Manager
Drive product innovation, strategy, roadmap and execution as product team lead for Search & Discovery across all devices for macys.com & bloomingdales.com.
Worked on both customer facing and internal tools to drive engagement & conversion and, improve operational efficiency & productivity respectively.
Worked within a matrix organization collaborating with various cross functional teams to align on product vision and strategy.
Turned bad ideas into success stories when it came to increasing warehouse productivity, improving customer service, and increasing profitability in difficult times.
Developed new product design for an existing manufacturer's most demanded product line.
Product Manager
Negotiated features, timelines, and priorities with cross-functional stakeholders to created and evolve the product roadmap for go90, a mobile video streaming service.
Collaborated with Agile product owners to ensure sprint priorities were consistent with the roadmap.
Product and Project Manager on cross-functional teams that established user experience and service delivery requirements for next generation FiOS TV products.
Played a key role in the success of a new product launch; developed an effective marketing plan, including market research and analysis to increase the sales volume by 33% within one year.
Identified cost reductions and revenue enhancement opportunities; implemented cost control measures to reduce operating expenses by $200,000 annually with minimal impact on production schedules.
Product Manager
Promoted to lead creation and monitoring of internal quality assurance systems and controls while managing the successful delivery of two product lines from sale through delivery.
Briefed and coordinated developers and other departments on product development projects to achieve alignment across all stakeholders.
Worked collaboratively across multiple departments to ensure successful and timely delivery of projects.
Collocated resources in remote locations involving twenty facilities and five regions without impacting production progress or customer service.
Reduced costs by 15% while simultaneously increasing productivity by 8% by streamlining and automating workflow.
Product Manager
Define web strategy for brand redesign and develop roadmap with clear project goals, technologies and resources needed to execute.
Directed implementation of web strategy to optimize online experience and provide a unified branded journey across hundreds of B2B & B2C websites impacting over 1 million site visitors monthly.
Collaborate with cross-functional teams across the organization in Product, Marketing, Communications, Operations & Technology and CX & Design to deliver digital products and platforms.
Began project to eliminate the backlog of non-conformances and both parties ended up satisfied with that interest rate of return for the last three years which will be referred to as the optimization of throughput.
Increased throughput by 29% and decreased lead times by 11% for the last fiscal year, this was done through a variety of strategies implemented over a period of time.
Product Manager
Designed data process models to deliver required data components in compliance of tax rules.
Prepared marketing documents on products for sales managers.
Construct statement of works (SOW) and review contract offerings in detail with attorneys.
Accelerate product development cycles by providing effective business and technical requirement documentations with process workflows, decision charts, computation models and test cases.
Led a team that simultaneously lowered inventory levels and reduced costs; improved production efficiency by eliminating non-value added activities from each process in the assembly line due to an effective Process Improvement Program.
Product Manager
Monitoring and reviewing store performance on a regular daily, weekly and monthly basis.
Join weekly Business Review meetings with Vakko Holdings' senior management.
Preparing product forecast and monitoring inventory by location.
Visit stores and market on regular basis in order to understand customers' and stores' product and merchandising needs.
Designed and analyzed product specifications for quality, functionality, and durability; determined component suppliers, evaluated custom designs, and created tailored test plans to validate product specifications.
Senior Product Manager
Plan and lead the migration of a $1 billion global e-commerce platform to a cloud-based platform built with a RESTful API and microservice architecture.
Gather requirements from cross-functional teams by leading discovery meetings to assess the current state of the platform and define the desired future platform.
Designed a product roadmap with budget and resource allocation for next three years.
Ensure that technical decisions align with business goals by collaborating with business stakeholders and overseeing the work of architects and engineers.
Managed a team of engineers developing materials for injection molding components for 3 years.
Senior Product Manager
Managed the full product life cycle and roadmaps for World scope, Reuters fundamentals and Reference Data Concordance data feeds.
Created JIRA epics and stories, lead Agile scrums related to Thomson Reuters fundamental data feeds.
Attended sales/presales meetings as subject matter expert for fundamental and reference data concordance content sets.
Improved production efficiencies by using quality control techniques to reduce product defects.
Helped develops new technologies through experimentation in processes for the development of materials for injection molding that were later adopted by a leading aerospace company.
Wrap Up
You need to make sure your resume stands out amongst the other candidates. It is the first impression that employers have of your work experience and skills. Use the samples above to put together a resume that best suits your needs and helps you get the job you want.