Manufacturing Operations Manager leads production efforts in a variety of different industries. Their duties include leading the manufacturing team, responsible for meeting production goals, managing inventory, communicating progress reports, quality control, managing schedules, hiring and training employees. To work as a Manufacturing Operations Manager you need a bachelor's degree in a related field and have eight or more years of experience. Manufacturing Operations Managers must demonstrate organization, be goal oriented, leadership, management, planning, communication and be team oriented.
A good resume is well-written and concise. It should be neat and easy to read, listing previous experience in a logical order.
Our resume samples will provide you with multiple examples of what you can include when writing your resume.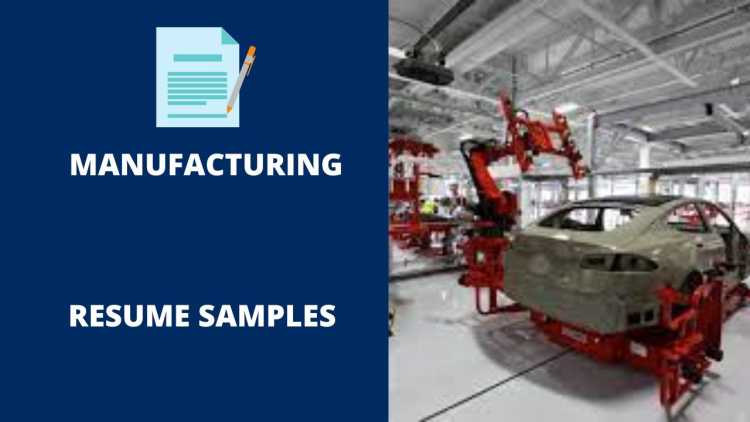 The Best Manufacturing Resume Samples
These are some examples of accomplishments we have handpicked from real Manufacturing resumes for your reference.
Operations Manager
Developed a foremans report for all supervisors to increase visibility on current machine capacity and work loads in order to determine employee scheduling.
Held weekly production meetings to discuss progress on all jobs with Sales team.
Was part of the cost reduction team and continual improvement program.
Identified, developed, and implemented many improvements and innovations in CAD/CAM, ERP software, and work instructions; leading to a reduction in the lead time of 15 days by 6 months.
Streamlined logistic processes, improved quality control to meet customer needs.
Operations Manager
Hired as operations manager to oversee daily production of both conventional print and box manufacturing.
Responsibilities included scheduling jobs, holding production meetings, overseeing pre-press operations.
Also handled ordering supplies and paper and purchasing new equipment to help in streamlining production.
Improved profit margins through the elimination of waste, increased personnel effectiveness through new training programs.
Restructured entire workload and quality control inspection processes resulting in a new level of customer satisfaction, no rework, and no scrap.
Operations Manager
Given duties of managing the production life cycle from end to end.
Led improvement project in shipping that eliminated non value added positions of one auditor and one expediter and placed them into value added positions in other areas of the plant.
Implemented hour by hour boards in all departments to track doors to load by hour and downtime.
Established daily plant wide communication on leading indicators for load day.
Report includes % of schedule unavailable, sequences still incomplete and quantity of cell sequences incomplete.
Operations Manager
Responsible for managing all daily operations including scheduling, manufacturing engineering, & fabrication departments.
Championed production management team meetings to identify and implement best practices, provide consistency between production areas, and improve direct labor flexibility through cross training.
Audit all departments to ensure our facility maintained ISO 9001:2008 compliance.
Plan and conduct on-going training for employees in customer service skills, technical skills, and safety policies and procedures to ensure that a safe workplace was provided.
Reduced the number of facilities from five to three by operating the company-wide laser cutting department from one centralized location.
Operations Manager
Contribute to overall change management strategies of Eaton Corporation by carefully managing, monitoring and reporting on the business impacts across multiple projects and jurisdictions.
Promoted and encourage system collaborations to develop and broker knowledge insights between the front line and back office in order to strengthen the quality of the product put to market.
Led a management team of eight in driving the operation to exceed key metric goals for safety, productivity, inventory management, customer fill rates, cost management and product quality.
Organized employees, facilities, and equipment to increase the output of complex manufacturing machines.
Managed a staff of several hundred hourly and salaried employees in an efficient manner.
Operations Manager
Created and implemented a complete support infrastructure, including importing, exporting, finance, logistics, recruiting and training to achieve 100% independence.
Increased the productivity/efficiency/accuracy by 90% via a web based in-house professional management system (RFQ to resource assignment, knowledge retention, asset control, expense approval, time off tracking).
Removed showstopper roadblocks by establishing and maintaining a strong relationship with the local government.
Scheduled and supervised the work of eighty people.
Performed all related responsibilities with inventory control skills while maintaining company standards, cost policies, and employee satisfaction.
Operations Manager
Managed refurbishment and refinishing processes and procedures of antiques and collectables for retail location and online sales.
Developed scope of work per piece to ensure retail abilities and maintain defined profits.
Managed preventive maintenance program and 5S for refurbishment location.
Developed safety and production processes for the refurbishment process.
Managed logistics of antiques and collectibles to customers and retail location.
Operations Manager
Selected manager for the companies first Chrysler posting and later the first US. General Motors assignment.
Awarded authority to launch the expansion of business into the state of Pennsylvania and later Texas.
Senior member of operations team responsible to implement state wide operation strategy, technology enhancements, risk analysis, field policy changes, leadership development and multiple site P&L responsibilities related to as many as 32 coexisting projects at multiple sites.
Deployed production personnel to maintain production schedules with speed, accuracy and productivity while performing relationship building skills with customers.
Reduced processing times for customer orders from 15 minutes to 3 minutes by improving workflow, optimizing workflow stations, and inventing new systems.
Operations Manager
Directed the breeding and raising of livestock using recognized breeding practices to ensure stock improvement.
Aggressively promote a safe working environment by supervising daily pre-task safety planning.
Provided mentorship, direction and technical support to all craftsmen and field personnel.
Restructured department by merging two departments into one and eliminating second shift position.
Saved company $36,000 by negotiating a new contract with third-party delivery service for company trucks.
Operations Manager
Maintained and organized financial paperwork, made deposits, handled all cash duties and ordered inventory.
Managed customer satisfaction and fostered return-customer activity; responded to customer requests.
Presented bills, collected customer payments, issued receipts; assisted with special functions.
Provided leadership and management for a sales team of three employees; assisted with planning and scheduling.
Introduced corporate-wide e-commerce software that streamlined order flow through the entire organization; increased sales in the first year from $7 million to $8 million.
Operations Manager
Ensured jobs are completed according to company quality standards, client job specifications and customer requested deadline, by effectively supervising assigned personnel, equipment operation and workflow.
Managed total production labor percentages by achieving percentage of production worker labor and quality control labor established by the senior management.
Maintained efficient workflow by holding direct reports accountable for quality and efficiency of their work.
Earned "Employee of the Year" award for providing exemplary customer service(winning the global competition).
Designed and implemented a system for managing production and inventory that resulted in an increase of 22% in productivity.
Operations Manager
Created a quality system within the team to address customer complaints and trained the team on the use of root cause/counter measure to find the corrective action needed.
Managed operations budget of 15.5M, ensuring spending was on track, and developing controls when spend was over.
Created an employee goal tracker for team members to help them track their goals and the action items associated with those goals.
Help them track all of the accomplishments they had through the course of the year that were above and beyond their everyday responsibilities.
Launched a new product from the initial concept to a $250,000 annual revenue generator within 18 months.
Wrap Up
You need to make sure your resume stands out amongst the other candidates. It is the first impression that employers have of your work experience and skills. Use the samples above to put together a resume that best suits your needs and helps you get the job you want.