Production Supervisors oversee and organize workers and equipment at a factory or company. They hire and train employees, supervise them, take care of scheduling, enforce policies, evaluate results, and keep stock of materials and equipment needed. An Associate's degree in office administration or business is preferred. Production Supervisors must have communication, analytical, and time management skills. They must be organized, decisive, confident, and effective planners.
A good resume is well-written and concise. It should be neat and easy to read, listing previous experience in a logical order.
Our resume samples will provide you with multiple examples of what you can include when writing your resume.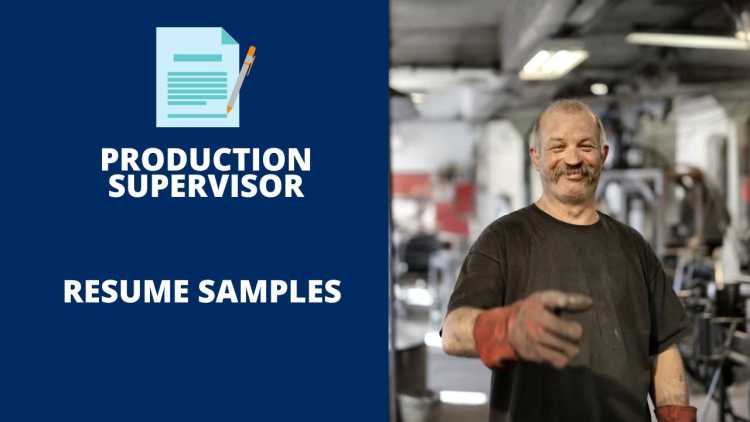 The Best Production Supervisor Resume Samples
These are some examples of accomplishments we have handpicked from real Production Supervisor (manufacturing) resumes for your reference.
Production Supervisor
Accountable for overseeing the Wilmington Plant's manufacturing operations, production and personnel on their assigned shift.
Directly responsible for achieving defined operational performance metrics.
Supervises the department's hourly personnel, administers policies and procedures, and manages personnel management initiatives.
Organized, supervised and controlled the operations of the entire production department, ensuring that each department performed at acceptable levels.
Gathered, analyzed and verified information for various reports.
Production Supervisor
Works with plant management and other supervisory staff to assign, direct, review and monitor work of supervised staff to maximize productivity in the plant.
Ensures proper procedures are in place and being followed for production efficiency, quality of product, employee safety, and state and federal guidelines.
Inspects products to verify conformance to specifications and directs setup and adjustments to machines.
Coordinates production schedules and estimates worker hour requirements for completion of job assignments.
Directed a team to help implement an automated production line by training new employees and implementing automation in several areas.
Production Supervisor
Train every new employee for daily PM and keeping track of each machine maintenance and PM log.
Runs whole factory from inner to outer layer department on weekend rotation which includes every machine start up and ready for production before employees start work.
Makes daily schedule for all 30+ employees, set up their daily goals and follow up at the end of 1st shift.
Make schedule and set goals for 2nd shift as well.
Participated in manufacturing processes in the areas of material selection, manufacturing, quality control and safety.
Production Supervisor
Designed and manufacture of injection molding machines for the automotive industry.
Mechanical, electrical assembly and testing of gear burnishing and gear analyzing machines for the automotive industry.
Mechanical, electrical assembly and testing of Paslode strip nail collators, along with Hi-Cone bottling machines.
Performed duties as a quality supervisor on several jobsites over an 11-month period.
Supervised the accumulation of materials from raw materials to finished goods.
Production Supervisor
Forming Department supervisor at a glass manufacturing plant in charge of a total of forty employees (ten employees per shift).
Aggregating an array of information from multiple sources to make real-time decisions.
Performing routine safety inspections; making corrections as necessary; document and report.
Properly handled incoming and outgoing supplies, inventory checks, and records of all materials.
Managed the quality control of products from raw to finished goods.
Production Supervisor
Led team of 10-20 employees in the manufacturing of 15,000-20,000 cases per week of 46 ounce and 1 liter size aseptic juices.
Responsible for all quality assurance tests performed hourly throughout production, including documenting and maintaining quality test results, and assuring quality and safety throughout the process end to end.
Responsible for all weekly sanitation of equipment from receiving to finished goods, including maintaining and documenting all sanitation procedures performed.
Effectively communicated with co-workers to respond to requirements and questions without sacrificing quality control or safety.
Became a Team Leader for Production for six consecutive months before transitioning into Production Supervisor by June 2006.
Production Supervisor
Re-energized and lead a team of 53 bearings manufacturing employees between three shifts in 7 departments.
Educated myself of the process of manufacturing bearings from start to finish adhering to all necessary specifications by using blueprints and measuring devices.
Gained knowledge of all manufacturing equipment in a short period of time and be able to change certain processes to make production more efficient.
Deployed a rigorous quality assurance program to ensure that products were consistently manufactured according to company standards.
Oversaw two hundred employees and ensured that each produced at 80% of their maximum output.
Production Supervisor
Implemented Quality improvement program including spot audits, root-cause analysis, and implementation of 6.
Performs 5S and continuous improvement to increase output and quality of product.
Maintained a schedule for equipment and tools so PM and calibration are done in a timely manner which resulted to minimal to zero production down time.
Consolidated 180 hardware and software suppliers into one streamlined network to streamline purchasing, production, and delivery of goods and services.
Improved decision-making processes by 50% in a department of three employees by utilizing effective prioritization techniques; recognized for outstanding achievements by the Vice President of Sales.
Production Supervisor
Daily supervising and performing on-the-floor operations pertaining to biologics manufacture in a cGMP environment.
Developing and delivering training materials; defining criteria for qualifications to perform operations; ensuring that training is documented completely and correctly.
Coaching, counseling, training/development, discipline and recognition of direct staff of 8 direct reports, including performing annual performance reviews.
Generating SOPs, MPRs, and SPRs for equipment and procedures used in routine biologics manufacture.
Provided training opportunities in cost reduction techniques while overseeing $6 million annual budget; recognized as an exemplary leader by the Regional Manager.
Production Supervisor
Effective communication skills both verbally and written, clear and concise with directions.
Competency to meet expected targeted objectives and resolve challenges encountered.
Worked through equipment breakdowns to minimize downtime and maintain efficiency.
Execute and manage employee training through Alchemy program.
Barkeled the production process by setting up and maintaining materials flow with goal driven objectives.
Production Supervisor
Planned, directed and coordinated a ten departmental operation to maximize output and minimize labor cost.
Maintained an overall 93% on time efficiencies for monthly production goals, while ensuring quality standards are met.
Responsible for planning and preparing the master production schedule by verifying the timely completion and receipt of planning work packets, tooling, materials, details and sub-assemblies for entire production facility and customer service call center response teams.
Certified quality engineer; documented new product development process to provide continuity for future manufacturing needs.
Advanced through production planning to increase output by 20% while decreasing defects in a product line by 30%.
Production Supervisor
Made recommendations for promotions, transfers, discharges, and disciplinary measures.
Implemented and maintained quality improvements plans, policies procedures, and programs.
Developed and implemented corrective action plans when required.
Handled customer complaints including physically visiting customer plants and collaborating with production team to identify and solve issues.
Trained and mentored a group of nine employees to pass on technical knowledge to new staff members.
Wrap Up
You need to make sure your resume stands out amongst the other candidates. It is the first impression that employers have of your work experience and skills. Use the samples above to put together a resume that best suits your needs and helps you get the job you want.