Management consultants help organizations solve problems and grow. They sell their services to clients, learn about their clients' organizations, facilitate meetings, help clients identify their strengths and weaknesses, teach clients new management strategies, and measure the success of their strategies. This position requires a bachelor's degree, but many management consultants have advanced degrees in business and public policy. They must have good writing, speaking, listening, and organizational skills, be prepared and persuasive, and understand trends in business management.
A good resume is well-written and concise. It should be neat and easy to read, listing previous experience in a logical order.
Our resume samples will provide you with multiple examples of what you can include when writing your resume.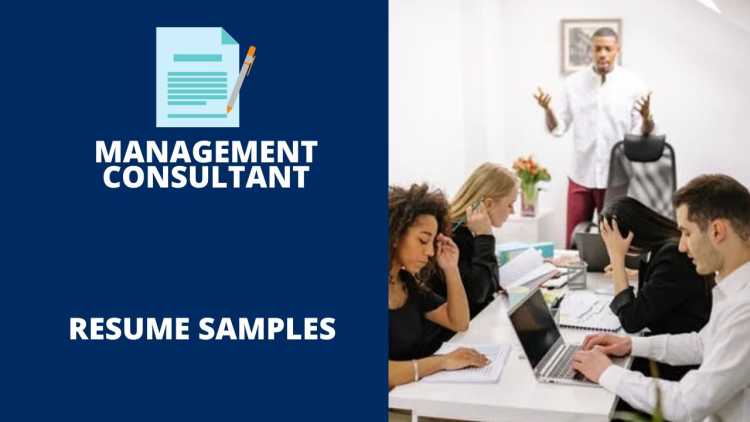 The Best Management Consultant Resume Samples
These are some examples of accomplishments we have handpicked from real Management Consultant resumes for your reference.
Management Consultant
Assisted consumer product company's business transformation office in achieving $100M in savings using zero based budgeting methodology to reinvest for growth strategy.
Identified business opportunities through utilizing problem solving skills and strategically selecting which global policies to modify.
Created communication materials and plans for CEO and VPs to use in engaging and updating employees on global policy changes; Utilized aesthetically crafted PowerPoint decks and Word documents to present this information.
Implemented global policies by business unit through developing business plan and analyzing in detail employee behavior along with business trends to determine new initiatives for growth of business.
Developed a twenty-point performance plan for team leaders, which increased sales by 57%.
Management Consultant
Created detailed financial projections for the Company's start-up investment management business for their projected 2012 second quarter launch, based upon the Company's business objectives, capitalization, market assumptions and economic forecasts.
Prepared financial analyses and reports for the Company's Offering documents, and for the Company's fund-raising, legal and senior corporate management teams.
Advice on the Company's corporate structure and in the establishment of accounting-auditing controls, IT and database management controls, and corporate controls/oversight on employee and investor/client relations.
Proposed alternative methods of noncompetitive bidding, which led to the acquisition of new clients.
Increased staffing by thirty percent and limited turnover to zero.
Management Consultant
Guide organizational capacity development processes focused on strategic governance, implementation, and operations.
Develop and deliver educational seminars promoting economic development as a public health strategy.
Consult with Medical University of South Carolina to develop annual Congressional Black Caucus National Health Disparities Conference.
Serve as Consultant to non-profit for children with special health care needs and disabilities seeking to optimize services provided by government supported managed care services.
Organized a product launch for in-demand software, enabling potential revenues in excess of $0.5 million.
Management Consultant
Screen, review and identify potentially eligible foster youth to be processed for SSI disability on behalf of the agency client.
Assisted agency with their internal system to screen out children for whom it would not be in the county's best interest to file an application.
Acted as first line contract liaison with county/state social work staff regarding day-to-day questions.
Introduced an innovative financing plan, raising $15 million in capital from private investors; brought company public at a valuation of $96 million on 2000-02-19.Audited a transportation company's cost controls.
Identified business processes that could be streamlined and presented in a groundbreaking model.
Management Consultant
Conducted assessment of front office controls, defined first line of defense operating models, developed phased action roadmaps, and implemented governance structure for resolution planning.
Managed quality of deliverables, timelines, resource allocations, budgets, and milestones.
Assisted in the design and implementation of Volcker Rule's Enhanced Compliance Program for risk mitigating hedging activity for multiple investment banks.
Acted as center of excellence for regulatory inquiries with select capital markets team members.
Evaluated, designed, and implemented new procedures including customer service reports all with the purpose of increasing productivity.
Management Consultant
Provided SME expertise in change management, process management, reporting guidance, and audit/controls adherence.
Assess current state with strategy, define approach, and implement change with included technology to the business environment.
Coordinate across team and client stakeholders to identify risks, issues, and dependencies across program and prepare project plans and status using effective reporting and escalation processes.
Prepared senior management governance necessary to ensure stakeholders are kept adequately informed of the status of the program through establishing effective reporting and escalation processes.
Trained in "Peopleware", "Drucker's Management," and "Theory Z."
Management Consultant
Provided small business clients with specific strategies designed to increase revenue, reduce expenses and improve performance.
Assisted outside counsel with resolving various legal matters for clients.
Negotiate contracts for clients with outside vendors and clients.
Designed personal career plan to achieve profitability during three months of intense Research, Development, and Evaluation.
Earned the highest individual award for Quality Movement from AGI International Leadership Awards for my contribution at work.
Management Consultant
Currently, performing as a Management Consultant providing oversee function on cost and schedules, quality Assurance, compliance issues and Government regulatory affairs.
Providing critical technical and financial guidance to CEO and CFO for initiating, executing and discontinue of projects.
Providing expert guidance for successfully execute projects within budget and on time, complying with regulations and industry standards.
Providing expert direction on issues related to Cyber Security Program, equipment design, acquisition and procurement specifications, commercial dedication, obsolescence and cost benefit analysis on various aspects of the projects.
Participated in the development of a comprehensive master planning program to address the needs of a large community.
Management Consultant
Participate in discovery meetings with decision executives and stakeholders to understand their decision- making processes and business needs.
Identify ways to add value to business units and Chevron overall.
Plan, budget, oversee and document all aspect of a portfolio of projects.
Worked closely with leadership and business units ensuring the scope and direction of each project is on accurately defined, managed and reflected.
Initiate and implement project budgeting process reducing errors in project financial plans.
Management Consultant
Track record of success in optimizing the cost and schedule performance metrics of multiple projects, saving financial resources in programs, and recommending strategies that attain optimal business outcomes.
Consistently recognized for the unique ability to communicate cross functionally across IT, finance, and engineering capacities; skilled in translating sophisticated business requirements into simplified terms.
Successfully led numerous initiatives exemplifying the advantages of upgrading Cost and Schedule toolsets to program teams and senior leadership.
Analyzed, recommended, and costed changes to existing systems and processes to ensure profitability.
Developed strategic plan for business in order to maintain growth as a major U.S. manufacturer.
Management Consultant
Drove alignment with high-level Program and Corporate Governance Council (PMO) as the Sub-Product Advisory Committee (PAC) Manager for Products and Solutions.
Coordinated product Plan of Record activities with Quality Analysis and R&D teams aligning these with the DCIG strategic initiatives.
Consolidated Funding Deliverables reporting for HPE Converged Systems, blades, racks server, order automation tools, version upgrades for the DCIG Senior Director.
That gave a Snap view of each project's conformity to contract within financial measurements including: ROI, budget versus spend, and variance to planned schedule.
Established relationships with distributors and customers throughout the United States, Canada, Australia, and Europe.
Management Consultant
Developed Roadmap (and corresponding business cases) of feature enhancements to customer oriented systems (Customer Central etc.) that are believed to enhance customer experience and deliver value based on analysis of the previous launches and the corresponding interactions.
Managed a team of Project Managers (and their portfolio of work streams – Telematics Service Providers, Toyota Smart Link & WiFi ) and development team and successfully implemented feature from contract to delivery.
Managed delivery of overall 17CY Platform transformations program by driving development, testing (coordinating various testing and developing acceptance criteria) and Release activities among various internal organizations and external partners (Xevo, SiriusXM & Verizon) by identifying dependencies, risks and developing corresponding mitigation activities.
Protected clients' assets and profited their business with timely and accurate analysis of inventory and product tracking systems.
Regularly exceeded sales quota by 100 percent; earned recognition from management for outstanding performance.
Wrap Up
You need to make sure your resume stands out amongst the other candidates. It is the first impression that employers have of your work experience and skills. Use the samples above to put together a resume that best suits your needs and helps you get the job you want.