Live-in nannies provide round-the-clock care for young children. This role includes tasks like preparing meals, snacks, and lunches; helping with homework; providing transportation to and from school; playing games; entertaining children; getting them dressed in the morning; administering medication if needed; doing household chores like ironing, laundry, dishwashing, or vacuuming; walking pets; maintaining daily logs of activities and events that take place throughout the day. To be a live-in nanny you must have childcare experience (nanny preferred), valid driver's license (personal vehicle preferred), good communication skills, enjoy working in large groups/families with multiple children of various ages, be comfortable around pets, and possess good organizational skills.
A good resume is well-written and concise. It should be neat and easy to read, listing previous experience in a logical order.
Our resume samples will provide you with multiple examples of what you can include when writing your resume.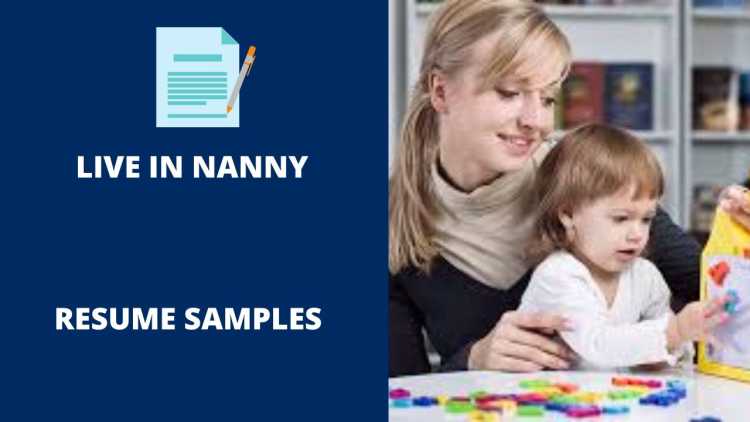 The Best Live In Nanny Resume Samples
These are some examples of accomplishments we have handpicked from real Live In Nanny resumes for your reference.
Live In Nanny
I began each day waking the children up and getting them ready for school, while they were away I cleaned and prepared for them to finish with school.
Once done with school, I helped with homework, baths and bedtime.
Giving full attention to what other people are saying, taking time to understand the points being made, asking questions as appropriate, and not interrupting at inappropriate times.
Provided a safe and fun environment for children to play by leading activities with trucks, dolls, blocks, and balls.
Ensured participating children were prepared for bedtime by washing faces, brushing teeth, and changing into pajamas.
Live In Nanny
Assisted full-time on weekends for outings and extracurricular activities.
Responsible for preparing children's items each day for school and activities, light laundry and cooking; grocery shopping.
Traveled and assisted on vacations with the family; required to attend and help the mother with children at Houston Rockets games for two seasons.
Helped chaperon children during field trips to the circus and zoo.
Aided the family by preparing meals for the children and adults after school hours.
Live In Nanny
I helped with choruses around the house as well as helped the little girl get ready for school in the mornings.
I watched the little boy during the day fed bathed and did outside activities with him than picked up his sister when she got out of school.
Watched both kids until the parents got off than did more choruses around the house.
Trained the children to be life-long learners by teaching them Spanish words; received appreciation from the parents for their efforts.
Committed to the health and well-being of the children under my care.
Live In Nanny
I cared for two kids one of whom was in school and the toddler was home with me.
I made sure school clothes were laid out, breakfast cooked and lunchbox ready to go.
Then I would clean the toddler up, ,feed him then take him for a stroll in his stroller and then back to the house to do my house duties which was cleaning from top to bottom then the laundry.
Coached and taught children to assist in taking care of daily necessities as well as activities such as sports, arts, and crafts.
Polite, responsible, creative, and attentive to detail while working with families in my community.
Live In Nanny
Take care of a 8 year old boy with A.D.H.D and a younger sister 6 year old .
My routine with them would be to take them to school and after school take them to their after school activities prepare snacks for them and help them with their homework or school projects.
Keep up with their laundry and picking up after there toys.
Sometimes would do things with them on the weekends when Grandfather would have to go in on Saturday.
Trained relevant skills in post-secondary education for helping children develop appropriate personal characteristics.
Live In Nanny
Meet regularly with parents to discuss children's activities and development.
Help prepare and serve nutrionally balanced meals and snacks for child.
Observe children's behavior for irregularities, take temperature, transport child to doctor, or administer medications, as directed, to maintain children's health.
Contributed tremendously to the development of my home community by rendering service through positive contributions from those I have served.
Provided around-the-clock care for infant twins and toddlers during the period of 8:00 A.M. to 8:00 P.M., including early morning feedings, living room playtime, school preparation, lunch preparation, and afternoon playtime.
Live In Nanny
I get up in the mornings with a 15 month old boy whenever he wakes.
I feed him breakfast, dress him for the day and take care of him through out the day.
I feed him lunch, dinner, late night snack and put him to bed.
I do all the laundry in the home on top of cleaning.
Provided discipline and nurtured the growth of preschoolers in core areas of learning such as reading, writing, math, motor skills, behavior management, manners, and socialization.
Live In Nanny
Regularly traveled with the family to help with vacation activities and childcare.
Safely transported children to and from school, medical appointments and extra-curricular activities.
Prepared dinner for family, Assisted in teaching children to swim, walk, talk, potty training.
Stocked refrigerator with healthy snacks; planned nutritious meals according to children's preferences; made approved shopping list and followed through with major grocery stores for weekly deliveries.
Assured safety of children by adhering to home rules. Exhibited mature judgment in dealing with children.
Live In Nanny
Provided in home child care, which included nutritious meals, fun-filled activities, and house work.
Made bottles and baby food for a toddler and a preschooler's meal plans.
Planned grocery shopping and helped to organize the house.
Prepared and organized a summer learning program for a 5 year old as well as planning 'field trips'.
Planned activities for daily entertainment and play, which included walks in the park, trips to museums, games, and sports events.
Live In Nanny
Knowledge of first aid and CPR and able to provide medical care as necessary.
Transportation related to school, social outings, medical appointments, and extracurricular activities.
Assign appropriate chores and praise targeted behaviors to encourage development of self-control, self-confidence, and responsibility.
Provided nutritional meals by cooking gourmet dishes according to family recipe cards, ensuring cleanliness by using a designated sink and dishwasher at all times.
Discussed child's problems with a parent prior to contacting doctor or teacher; maintained healthy communication between parent and child.
Live In Nanny
I cared for two girls, ages 4 and 7 from morning until evening while parents were away, and/or working.
I assisted the girls during their morning routines, prepared breakfast and packed lunch for the oldest, and took them to and from school, where around lunchtime I would pick up the youngest and prepared her lunch for her.
Two days out of the week, the youngest would come with me to pick up her older sister to go to the library with us to work on homework and practice reading.
Stood witness to the best and worst of children and parents. Reflected God's unfailing love and grace during the hardest lessons, most bittersweet moments, and the sweetest of moments.
Recognized as a creative soul who channels positive energy into creative endeavors.
Live In Nanny
Teach and perform age-appropriate activities, such as lap play, reading, games, and arts and crafts, to encourage development of child.
Regularly discuss with parents the child's activities, development and concerns.
Model appropriate social behaviors and encourage concern for others to cultivate development of interpersonal relationships and communication skills.
Regularly observed, documented and discussed with parents child development stages through observations in their homes and interaction with children.
Recognized as an innovative parenting innovator by other parents for having successfully implemented what they had learned from me in their own homes.
Wrap Up
You need to make sure your resume stands out amongst the other candidates. It is the first impression that employers have of your work experience and skills. Use the samples above to put together a resume that best suits your needs and helps you get the job you want.