Child care providers take care of children while parents go to work. Their tasks include supervision of children, creating lesson plans, arts and crafts, physical activity, meal preparation and sometimes diaper changing for younger children. Most facilities require at least a high school diploma or GED and licensure for this position. Child care providers must have excellent communication skills, instructional skills, the ability to stay active for long periods of time, group control, patience, adaptability and logical reasoning skills.
A good resume is well-written and concise. It should be neat and easy to read, listing previous experience in a logical order.
Our resume samples will provide you with multiple examples of what you can include when writing your resume.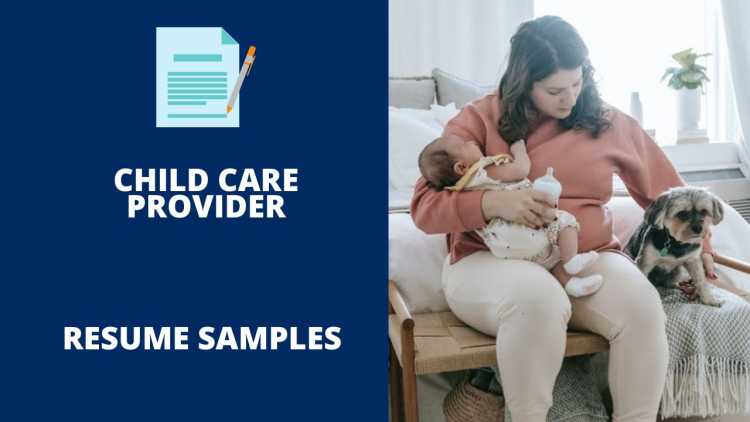 The Best Child Care Provider Resume Samples
These are some examples of accomplishments we have handpicked from real Child Care Provider resumes for your reference.
Child Care Provider
Demonstrated patience and understanding while managing difficult children.
Fostered effective, ongoing communication with parents by providing verbal reports and written notes.
Collaborated with co-workers, supervisors and parents to maintain a "partnership" environment.
Hands-on the task of caring for children ages six weeks to six years, providing a safe and fun environment for children to develop social skills.
Energetic, enthusiastic, and athletic in interacting with children.
Child Care Provider
Assists in caring for an infant to grow in a healthy, safe, and loving environment from birth to 48 months (bathing, dressing, feeding, changing diapers, etc.).
Teaches basic words in American Sign Language (ASL) as a means of communication between the infant and the family.
Engages the child in reading, playing, music, and other home activities.
Experienced taking care of infants and toddlers at the toddler stage. Have a great experience with infants and toddlers in a daycare setting.
Excellent communication skills while coordinating playgroup activities with the other instructors.
Child Care Provider
Managed and oversaw baby's activity in absence of parents.
Designed creative games and activities to keep baby engaged.
Prepared meals to ensure that the baby ate fully and on time.
Maintained a safe and healthy environment for children in all respects.
Ensured only authorized visitors entered premises in absence of parents.
Child Care Provider
Provided and maintain a safe and fun environment with continuous supervision to children during all activities.
Lead, encourage, and organize activities so that children can learn about the world and explore interest.
Develop schedules and routines to ensure that children have enough physical activity, rest, and playtime.
Experience caring for infants from birth through 12 months old (1-3 years old).
Have experience with ages 0-3 year old's in a childcare center environment.
Child Care Provider
Provided care for a 2 month old and a 2 yr old, adhered to a schedule to manage time properly.
Handled problems and came up with solutions, multi-tasking several different projects.
Maintained a clean and safe environment, created and served a nutritional meal plan.
Laid out a child care provider manual with over 3,000 hints and tips to enhance the child care experience.
Provided care to 105 children in various environments as a preschool, daycare, and summer camp counselor.
Child Care Provider
Provided high level of care for 1 child throughout various stages of his infant, toddler & young child life.
Consulted child's mother to provide highest level of infant and child care.
Assisted baby with daily living activities: grooming, bathing, dressing & meal preparation.
Mixing fresh products daily for lunch served 24 different recipes.
Educated parents on the importance of providing stimulating activities for children's growth and development.
Child Care Provider
Support children's emotional, physical, and social development, encouraging understanding of others and positive self-concept.
Dress children and change diapers and observe and monitor children's play activities.
Organize and participate in recreational activities and outings, such as game and field trips.
Help children with homework and school work.
Documented workers based on their productivity through the "Kindergarten Coordinator" questionnaire.
Child Care Provider
Provided care and enrichment to three children ages new born to six years of age and two children ages six months to three years.
Fostered and facilitated customized child care plans for families with multiple children.
Prepared meals, guided homework, completed evening and bedtime routines, laundry, and supervision enrichment activities outside the home.
Gained trust amongst clients through ethical decision making, emotional maturity, and conscientiousness.
Trained participants to work according to the "already booked" culture by reinforcing the importance of scheduling early in-class time.
Child Care Provider
Duties included providing a safe, loving, educational environment for two children ages 2 & 3 on a daily basis while their parents worked.
Responsible for preparing breakfast, snack & lunch for the children.
Also created fun learning activities that were age appropriate as well as daily art activities.
Maintained a positive working relationship with the children and their family members.
Provided childcare in a licensed center.
Child Care Provider
Communicate with children's parents about daily activities, behaviors, and related issues.
Instructed children in health and personal habits, such as eating, resting, and toilet habits.
Discipline children and recommend or initiate other measures to control behavior, such as caring for own clothing and picking up toys and books.
Organize and store toys and materials to ensure order in activity areas.
Managed a small group of children aged 13 months to 17 years old by age grouping, feeding, and cleaning up.
Child Care Provider
Keep records on individual children, including daily observations and information about activities, meals severed, and medications administered.
Instructed in health and personal habits such as eating, resting and toilet habits.
Support children's emotional and social development, encouraging understanding of caring for own clothing and picking up toys and books.
Worked individually with four children who required individualized teaching, care planning, and development.
Developed group activities that promoted peer interaction while encouraging self-confidence in all participants.
Child Care Provider
Took the children out for walks, played games with them and kept a watchful eye while they were entertaining themselves to make sure they were safe.
Maintaining a safe environment, creating a positive child care climate, preparing various activities, playing games.
Performed various duties including preparing, serving and feeding meals to the children, bathing and dressing the children, and assisting them with daily activities.
Recognized as a resource person for children's services on behalf of the community center through educational presentations at local stores and daycare centers.
Provided a safe environment for the children of financially disadvantaged parents.
Wrap Up
You need to make sure your resume stands out amongst the other candidates. It is the first impression that employers have of your work experience and skills. Use the samples above to put together a resume that best suits your needs and helps you get the job you want.