A Communication Coordinator works in the marketing department of a company making sure marketing messages are coordinated between print, electronic media, and other marketing outlets. Their duties include developing marketing campaigns, creating press releases, writings blogs, writing newsletters, building media lists, assessing the success of a campaign, and planning marketing events. Educational requirements for this position are a bachelor's degree in marketing, communications, journalism, or advertising. Skills needed for this position are sales skills, creativity, speaking skills, presentation skills, problem-solving, effective communication skills, and stress tolerance.
A good resume is well-written and concise. It should be neat and easy to read, listing previous experience in a logical order.
Our resume samples will provide you with multiple examples of what you can include when writing your resume.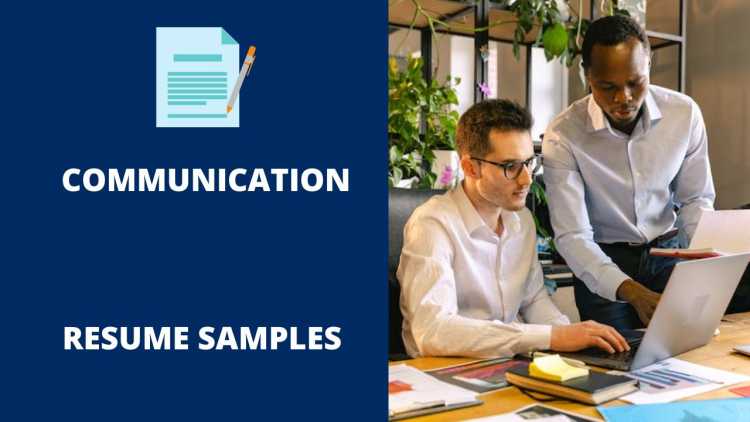 The Best Communication Resume Samples
These are some examples of accomplishments we have handpicked from real Communication resumes for your reference.
Communication Coordinator
Integrates with other communication resources to ensure message alignment and process consistency.
May participate in Communicator Network or similar internal communication-focused teams intended to share best practices and align communication efforts across the company.
Aids in preparing print and electronic communication deliverables including presentations, communications guides, handbooks, scripts, posters, signage, websites, flyers, manuals, and similar media.
Assists in researching and developing content for internal communication channels.
Managed the communication department for the community outreach program.
Communication Coordinator
Maintained and created the schedules for all corporate office meetings, while providing necessary set ups for scheduled events.
Maintaining databases of all staff development trainings, creating all training certificates and distribute to all 500 employees for Professional Development office.
Purchased, and maintained all office supplies for over 100 employees, including FedEx, while maintaining a monthly log for all departmental usage and negotiated with vendors on pricing.
Oversaw the development of all media, including flyers, newsletters, and website updates.
Added to the functionality of an already existing grant writer. Conducted weekly meetings with grant writers to discuss objectives and strategies as well as to forward ideas for accomplishments and goals.
Communication Coordinator
Communicate with Managers regarding invoice costs allocated to their branches.
Maintain excellent communication with vendors to resolve invoice and cost issues.
Respond and resolve inquiries of difficult accounting problems or for information from third parties.
Responsible for maintaining communication agreements for Dynamex drivers and deductions.
As Communication Coordinator of a large computer reseller helped to develop and implement comprehensive customer relations through effective written, verbal, and visual communication.
Communication Coordinator
Develop and implement effective communication strategies between the district, its campuses, students, parents, staff, and community.
Engage internal and external customers to spotlight opportunities for continuous system improvements.
Designed communication tools including brochures, flyers, presentations, and webpages.
Handled incoming and outgoing correspondence for non-profit organizations.
Assisted in the preparation of required financial statements, and had responsibility for completing year-end financial statements.
Communication Coordinator
Liaison between association and local media, including sending out press releases, calling press conferences and speaking with media on non-controversial matters.
Provided insight into new strategies and methods of engagement with public, media, and membership.
Acted as main hub of information for all committees to send information so it maybe shared with proper audience.
Keep informed on new trends, new technology and current city events to allow for planning of all future endeavors.
Maintained organizational records by entering data into spreadsheets, mailing lists, and maintaining computerized files.
Communication Coordinator
Responsible for managing daily internal guest feedback and data tracking and reporting.
Managed system's email through Microsoft Office 365, all restaurants online menus and company's intranet.
Responsible for new restaurant opening set up: partner with online ordering, POS and rewards program vendors.
Handled incoming correspondence in a courteous and efficient manner with follow-up on all received letters.
Developed office procedures to ensure accuracy of records and efficiency in handling of correspondence.
Communication Coordinator
Organized events from marketing materials, staffing, keynote speakers, and multimedia to catering services.
Supported and created website content using campus content management system.
Developed key messaging, branding and positioning statements for Technology Services group.
Planned and executed innovative, creative and effective communication campaigns.
Drafted and managed print, online and social media communications designed to promote brand, image and values.
Communication Coordinator
Wrote communication policy and procedures for handling sensitive information or media contact.
Help solve impact of negative public opinion by writing material and suggesting the communication forum and media.
Contact media representatives to initiate articles and news releases about District programs; communicate with media representatives about sensitive or controversial information; created press kits and other media information.
Noted superior customer service skills; received excellent feedback from customers on their interactions with office staff members.
Reconciled database discrepancies; ensured database integrity.
Communication Coordinator
Wrote and publish all outgoing written material: thank you letters, press releases, pitch letters, feature stories; external and internal newsletters, event invitations.
Assisted with grant writing and their subsequent project implementation, completion and reporting.
Updated the webpage, social media and generate new material to be published.
Supervise all internal and external communication within the organization including newsletters.
Captured and maintained daily database incidents through proper documentation.
Communication Coordinator
Collaborate with Resident Life Manager on designing, programming, and implementing the social, educational, and recreational activities for active senior population.
Assisted Resident Life Manager with preparation and management of department budget.
Assisted and oversee the production of campus communication, publications, and campus television to meet branding needs and accuracy.
Demonstrated extraordinary customer service skills. Handled hundreds of calls per day, prioritizing the flow of communication and forward movement of issues.
Communicated effectively with our clients and employees by distributing client correspondence, arranging travel arrangements, and scheduling appointments.
Communication Coordinator
Responsible for company-wide press releases, communication with industry magazines and local news.
Tracked 150+ vendors' product/general news; wrote monthly retailer newsletters; quarterly company newsletters, website product maintenance and price change maintenance.
Proofed monthly retailer promotions, initial stocking offers and all catalog updates.
Managed customer, vendor and employee database within Constant Contact, as well as e-blasts.
Supervised upwards of 10–20 volunteers in the recruitment, orientation, and training of new administrative employees with a particular focus on the hiring of new clients and the advancement of existing clients.
Communication Coordinator
Responsible for designing, creating and distributing both internal and external communications materials for marketing, developmental and administrative purposes.
Individually oversee and design all aspects of marketing and communications including the conceptual, creative and timely execution.
Oversee new product launches, including both marketing and training oriented goals.
Partner with distributors, representatives and outside printing services to serve as the point of communication between the organization and all outside resources.
Compiled statistics to track the performance of professional staff members; prepared reports for management regarding specific staff member performance standards.
Wrap Up
You need to make sure your resume stands out amongst the other candidates. It is the first impression that employers have of your work experience and skills. Use the samples above to put together a resume that best suits your needs and helps you get the job you want.