Dispatchers are responsible for receiving, prioritizing, and responding to emergency calls from their supervisors. They also provide information by radio or phone to emergency responders, such as paramedics and firefighters. Dispatchers must have a high school diploma or equivalent. They must be able to work well under pressure, communicate clearly over the phone and in writing, use technology well, maintain the confidentiality of sensitive information, prioritize tasks effectively in busy environments, be punctual and reliable employees that respond quickly when they receive an emergency call.
A good resume is well-written and concise. It should be neat and easy to read, listing previous experience in a logical order.
Our resume samples will provide you with multiple examples of what you can include when writing your resume.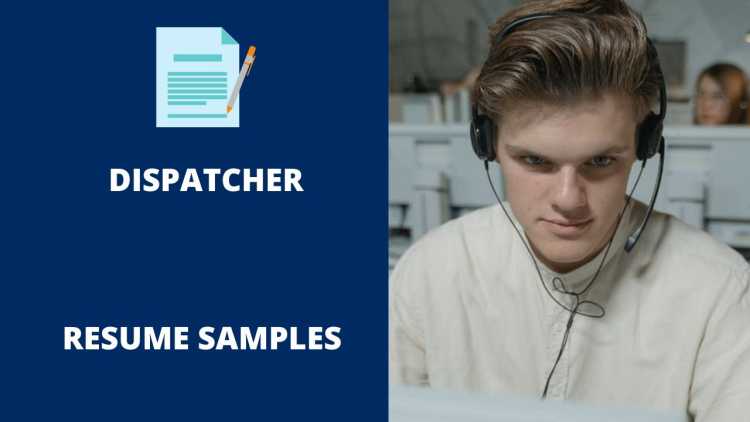 The Best Dispatcher Resume Samples
These are some examples of accomplishments we have handpicked from real Dispatcher (taxi, emergency or industrial services) resumes for your reference.
Dispatcher
Answered between 60 and 80 calls a day, booking taxi rides for customers.
Relayed information for repeat callers if a driver had accepted their trip, such as ETA, cab number and other relevant information.
Maintained calm, pleasant and firm demeanor with concerned callers who had yet to receive service, assuring them that a driver would be on the way as soon as they became available.
If necessary, routed calls to supervisor or other departments, especially when drivers called in.
Ensured a smooth, efficient delivery of emergency medical technicians (EMT) and fire department personnel's equipment and emergency response equipment that would have otherwise been delayed or lost.
Dispatcher
Reviewing the dispatch portal daily to ensure that all tickets scheduled from the previous day are completed and if not, rescheduling or reassigning.
In depth knowledge of the operation of telephone, radio, computer assisted dispatch and other communications equipment.
Maintaining productivity of company resources with GPS management of large vehicle fleet.
Heavy data entry of customer database, account database, supply tracking lists, and driver information.
Assigned EMTs to the appropriate response unit on time and verified that they arrived at their post in a timely manner.
Dispatcher
Schedules and dispatchers workers, work crews and service vehicles for conveyance of materials, freight and passengers based on established priority to meet customer expectations.
Organize and prioritize delivery schedule to ensure that highest priority items are handled promptly and expeditiously.
Worked within and contribute to a leading edge Personnel and Material Safety Program in coordination with Site Safety Manager and the tunnel Logistics Manager.
Develop and actively manage daily schedules (deliveries and pickups) to meet customer requirements for cafeteria, logistic distribution and mail delivery services to a campus environment in a sub-surface tunnel environment.
Assigned EMTs to appropriate vehicles on time and verified that they arrived at their post in a timely manner.
Dispatcher
Answering called-in requests for cab service and sending the cabbies to the customer via radio, cell phone or computer.
Assisted drivers with directions to pick up locations and around closed streets and traffic pileups.
Advise personnel about traffic problems, such as construction areas, accidents, congestion, weather conditions, or other hazards.
We worked with several medical companies and acted as a liaison between the facility and payment parties.
Contributed to maintaining EMS equipment inventory by keeping records of all transfers and subsequent disposition of parts.
Dispatcher
Through this position, I dispatched taxi drivers to pick up passengers.
In addition, I also researched addresses for both call takers and drivers.
Another role I played was researching quotes for call takers and drivers.
Responded to emergency calls within specified times and properly dispatched first responders to the scene.
Trained dispatchers on how to meet and exceed the needs of the citizens.
Dispatcher
Answer non-emergency ambulance calls from the public and other public safety agencies.
Monitor various computer screens, while efficiently gathering, prioritizing, and documenting caller information.
Provided callers with appropriate advice or referral, or initiate medical (EMS) services to the caller.
Maintained a clear channel of communication between dispatchers and paramedics by being familiar with emergency equipment, policies, procedures, patient needs, medications, etc.
Exhibited a positive attitude in dealing with incoming calls to ensure proper dispatch service.
Dispatcher
Effectively managed a high-volume of inbound and outbound customer calls.
Gathered and verified all required customer information for tracking purposes.
Mastery of customer service management systems and databases.
Improved call center functionality and service capacity by resolving customer complaints efficiently and quickly.
Assisted dispatchers as a member of their team by making regular reports on call volume trends; set up mobile Motorola radios for them.
Dispatcher
As a dispatcher working for a well known taxi service, I was responsible for taking phone calls and communicating information to mobile units.
Answered an average of 100 to 150 calls per day by addressing customer inquiries, solving problems and providing dispatch information.
Also was in charge of scheduling and some technical assistance to my drivers.
Provided community service by responding to motor vehicle accidents during off-hours, weekends, and holidays.
Maintained accuracy and completeness of all information provided to dispatchers regarding the status of freight, riders, personnel, and animals.
Dispatcher
Navigate AS400 and RandMcNally for driver support and company documentation.
Multitask daily with data entry, phone calls, emails, driver messages and driver window.
Communicate with terminal managers using Excel spreadsheets and Microsoft Word.
Relinquish paychecks to 150 drivers and work with payroll to resolve any issues.
Trained new dispatcher after transferring to dispatch center.
Dispatcher
As singular dispatcher on shift, simultaneously take up to five phone calls, dispatch 50-200 rides, manage up to 40 driver lease payments and cab assignments, and negotiate ride requests with contracted companies.
Fully trained six new dispatchers within a span of 10 weeks on company policies and procedures, usage of dispatching software, and proper customer service etiquette; continue regularly training new dispatchers.
Conduct customer credit card transactions using the WorldPay system, and maintain customer satisfaction guarantee through prompt response to email inquiries related to ride cost, complaints, and lost & found items.
Efficiently routed hundreds of trains and checked on thousands of riders daily with minimal errors and complaints.
In recognition for completing paperwork within required time frames; received highest performance rating possible.
Dispatcher
Answer phone calls and take reservations in a very busy business.
Assign Taxi fare in order of request to the first cab in line and by order of position.
Coordinate with drivers using a two-way radio to make sure calls are dispatched in a timely manner.
Assisted drivers in answering questions and solving customer or vehicles problems.
Accurately scheduled and dispatched personnel for two companies that had a combined fleet of over 50 tractors, semi-trailer trucks, and flatbed trailers.
Dispatcher
Greeted customers on the phone and/or email to resolve their queries.
Administered various requests for airport shuttle/taxi fares and responded to location request.
Scheduled pick-ups and drop offs and ensured regular airport runs.
Coordinated with drivers and ensured location is reached as per scheduled time.
Supervised working of shuttle/taxi drivers and completed required paperwork.
Wrap Up
You need to make sure your resume stands out amongst the other candidates. It is the first impression that employers have of your work experience and skills. Use the samples above to put together a resume that best suits your needs and helps you get the job you want.