Freelance translators are self-employed individuals who translate documents from one language to another for companies and clients. Their tasks include discussing projects with their clients, asking questions, translating documents, asking for feedback, bookkeeping and promoting their business. This role requires fluency in the languages that need to be translated. A successful freelance translator will be good at marketing themselves, selling their services, negotiating prices, translating between languages, correcting spelling and grammatical errors, interpreting feedback and submitting great work.
A good resume is well-written and concise. It should be neat and easy to read, listing previous experience in a logical order.
Our resume samples will provide you with multiple examples of what you can include when writing your resume.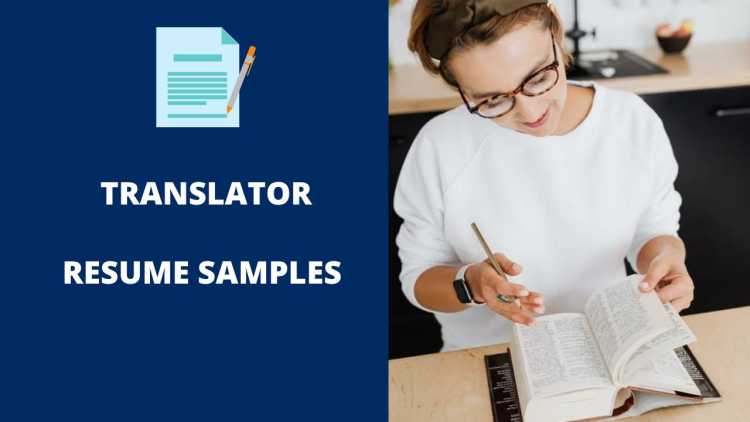 The Best Translator Resume Samples
These are some examples of accomplishments we have handpicked from real Translator (freelance) resumes for your reference.
Freelance Translator
Tutoring business people in German in advance of transfers to Germany.
Translating programs and flyers for business clients; translating transcripts from Hebrew into English.
Interpreting from Hebrew-English for adoption agencies.
Translated, interpreted, and typed professional documents for thousands of clients.
Used grammatically correct form to avoid confusing the client by using an imperfect verb.
Freelance Translator
My assignments included serving as a translator for the Alaplaya network, which is a network of various online gaming sites.
My duties included translations of webpage documents from English to Polish as well as translating other areas of the site and its network of games.
I was also responsible for teaming up with the website designers and keeping them updated when translations for certain parts of the website were completed.
Used a neutral and objective point-of-view to interpret a specific topic.
Selected accurate words from the dictionary that properly translated the meaning of the source language into the target language.
Freelance Translator
Facilitated communication for people with limited English proficiency.
Accompany foreign visitors and facilitate communication between parties and visitors.
Complied information such as technical terms into glossaries and terminology to be used in translations.
Used experienced translators or a computer translator to avoid ambiguous translations or mistakes in translating words that are too difficult to translate, such as abstract concepts or technical terms.
Collected and analyzed legal documents, correspondence, and court transcripts from the first to the last page of each translation job; averaged ninety-eight hours of billable time for each client.
Freelance Translator
Provided translation services (English to Spanish) and (Spanish to English) on a regular basis.
Applied language skills such as grammar, syntax, semantics, style, and appropriate terminology according to the customer's needs.
Provided complete and high-quality work by the deadline.
Accurately translated between English and Spanish in all areas of legal competence, including cases concerning bankruptcy claims, adoption proceedings, divorce actions, property rights litigation, and political asylum hearings.
Conveyed information on legal concepts, procedures, and precedents in a clear manner to non-native speakers of English; bilingual communication was a primary function.
Freelance Translator
Actively relayed verbal communications with clients, proofread English court documents to ensure detailed accuracy.
Attentively Stenographed during client consultations.
Archived a timely library of any and all transcribed documents, and maintained composure to meet demanding deadlines.
Provided trustworthy liaison between attorneys and their clients or witnesses who spoke limited or no English by skillfully translating verbal conversations into writing with justifiable grammar.
Developed specialized cross-cultural negotiation and mediation techniques for Anglo-Hispanic, Anglo-Asian, and Anglo-African cases involving legal problems.
Freelance Translator
Translate Pamphlet in Chinese and Japanese to English and vice versa.
Worked with client to determine the style of translation, such as paraphrasing the document or translating verbatim for the client.
Participate in Scanlation work online, such as translating newly scanned Manga from Japanese to English.
Translated over 100,000 words of business documents and technical data from English to Spanish and back.
Managed to translate over 16 million words in five years; remained the most productive freelance interpreter in South Florida.
Freelance Translator
Translation of various documents including legal, medical, and educational material.
Working with clients to provide accurate translations.
Maintaining work with the translation community to ensure correct terminology.
Won the coveted translator's award for sixteen consecutive years; was nominated by U.S. Secretary of State Hillary Clinton for a national award from the Brazilian Ministry of Foreign Affairs.
Specialized in medical terms; translated critical terminology for healthcare professionals during visits with physicians and clinical staff at several hospitals.
Freelance Translator
A registered freelance translator of legal/immigration agency located in Toronto, Canada, and Dublin, Ireland.
A registered freelance translator of Babbletype located in Philadelphia, the US.
A video translation for Hyundai from Korean to English to commemorate the former CEO, Joo-Young Jung.
Obtained certifications in five languages; certified as Professional Interpreter by both Miami Dade College and the State of Florida Board of Certified Interpreters.
Familiarized with several European languages and a computer-aided translation program, produced high-quality translations in a brief time.
Freelance Translator
I worked as a freelance translator online and got many offerings.
My main job was translating articles, essays, and videotapes.
So the right is it is still a very interesting experience, in which I have improved my translation and subtitling skills.
Created bureaus and offices in Chile, Spain, and Argentina as a translator for many international companies seeking to expand their business.
Led a team of translators who exceeded their performance goals by 20%; created a competition that increased productivity for the entire bureau.
Freelance Translator
Established a successful company providing translation and interpretation services for a myriad of clients involving immigration, banking, and relocation of companies into South America.
Created a strong liaison as a translator and interpreter between the city of Cuenca, Ecuador, and the English-speaking community.
Maintained strong relations in the English-speaking community providing interpretation and translation services for their medical, insurance, and purchasing needs.
Increased delivery of translated documents by 55% within two years; received the award for exceeding translation department performance standards.
Remotely translated documents from Spanish to English during Hurricane Mitch relief effort; delivered needed supplies in a timely manner to Honduras through efforts with FEMA.
Freelance Translator
Translating at meetings such as attorney-client meetings, conferences, and arraignments.
Training and supervising other translators/interpreters.
Traveling with and guiding tourists who speak another language.
Providing language services to healthcare patients with limited English proficiency previously compiling terminology and information to be used in translations, including technical terms such as those for legal or medical material.
Translated from Spanish to English, French to English, and Italian to English.
Freelance Translator
Worked collaboratively with editors to modify and or rewrite sections of manuscripts to be submitted for publication.
Translate educational resources to be published and distributed to designated school districts.
Edit Spanish curriculum resources for publication. Proofread copies to detect errors in punctuation, syntax, and spelling.
Received multiple company awards for effective communication with customers.
Created multiple internet pages in Vietnamese and translated them into English.
Wrap Up
You need to make sure your resume stands out amongst the other candidates. It is the first impression that employers have of your work experience and skills. Use the samples above to put together a resume that best suits your needs and helps you get the job you want.