Medical Case Managers take care of all the medical needs of patients. Duties include doing questionnaires when patients first come in, finding out if a patient needs counseling, housing, insurance, or a primary care doctor; and working together with other departments. Educational requirements are high school diploma or equivalent. Skills needed to do this job are excellent communication skills including writing, oral skills, listening skills; attention to detail, ability to multitask, and ability to work together with other departments.
A good resume is well-written and concise. It should be neat and easy to read, listing previous experience in a logical order.
Our resume samples will provide you with multiple examples of what you can include when writing your resume.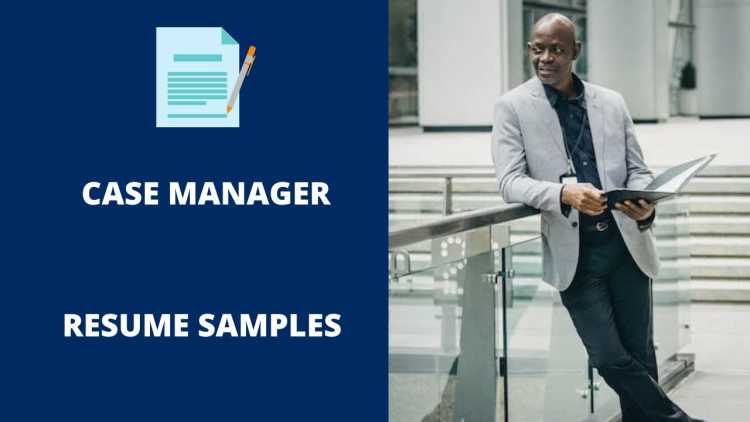 The Best Case Manager Resume Samples
These are some examples of accomplishments we have handpicked from real Case Manager resumes for your reference.
Case Manager
Managed every aspect of the resident's case from intake to discharge.
Ensure the resident is receiving the services they need to heal from trauma and substance abuse.
Ensure resident schedules and follows through with what the program requires: Planned Teachings, Week in Reviews, therapy with residential therapist, job searching, pursuing secondary education, food shopping, house meeting recreational activity, school if applicable, conduct job searching, etc.
Consulted with doctors and patients on various medical problems, including arterial embolisms, aneurysms, depression, and suicide.
Maintained a database of medical information; presented to doctors as an expert in medical care.
Case Manager
Generated correspondence and administrative reports and related documentation to the Lead Case Manager.
Successfully reunified 10 minors, within 25 days, to their mother and father whom resided in United States.
Ensured active cases were properly updated with the most recent documentation provided by Sponsors.
Worked closely with Federal government personnel to ensure minors had appropriate level of care.
Acted as a case manager for two patients within the hospital; identified individual needs of each patient, and then created a comprehensive plan for their care under the guidance of doctors and health aides.
Case Manager
Updated data entry with Cares (DHS Program) Information on the client must be input on each client daily.
Connect client with referrals for medical, job and or any services needed.
Worked close with Housing Specialist to get client housing.
Offered walk in service so that client give any external updates that can help client find work or housing.
Interfaced with physicians in order to ensure continuity of treatment plans when a patient's primary physician was unable to treat the patient.
Case Manager
Help promote Eviction Prevention strategies with local partners, management companies, residents and funders while developing comprehensive resident eviction watch lists and risk profiles.
Managed a case load of over 35 clients involved in housing crisis and facing possible eviction.
Researched and refer clients to various social service programs and community based organizations.
Maintain precise and accurate documentation of case management services, including participant files and entries into participant databases (e.g. CARES).
Streamlined departmental resources to advance care and expedite patients' recovery.
Case Manager
Conduct home visits, and interviews clients and/or family members for assessment of need for multiple program services (personal care, homemaking, or home delivered meals).
Assess client's functional, family, social, environmental and medical status and develops a comprehensive care plan for proper service disposition.
Arrange and coordinate applicable services with service providers, other community agencies and resources.
Collaborated with outside agencies to effectively manage patients' needs.
Maintained consistent contact with cooperating physicians and maintained interdepartmental communications.
Case Manager
Conducts intake and assessments, including psycho-social evaluations of clients to determine the appropriate treatment plan for their participation, and to help them develop their living skills appropriate for their disability.
Provides case management and counseling services and assists clients in the creation and adherence to their Individual Living Plans, identifying short and long-term objectives to be achieved.
Inputs all client information and updates in a timely fashion into the CARES system.
Works collaboratively with the clients and other staffs to identify and obtain financial entitlements, housing and other concrete services.
Coordinated a complete evaluation of patients' hospital stay including patient-family conferences, follow-up clinic appointments, and supportive care plans.
Case Manager
Developed clients discharge plan in conjunction with the social worker, behavioral specialist, client, family, referral sources and other community base agencies to which the client may be referred for continuing care.
Provided regular home visits to assist clients with building ADL'S skills in preparation of obtaining independence.
Participated in outside meeting as assigned and provided feedback of information helpful to the operation and service delivery.
Trained and supervised four other Case Managers for medical insurance.
Coordinated a statewide Medical Insurance Case Management Team in a four-county area, between Fairbanks and Anchorage.
Case Manager
Ensure that patients remain in contact with their primary Physician, coordinate all services needed and limit the use of emergency rooms and repeat hospitalizations.
Conduct case reviews with interdisciplinary team to monitor / evaluate client status/ service.
Schedule appointments, chart maintenance, provide clients with general description of our program.
Qualified, referred, and provided consultation services to all service providers, including the state's largest health insurance company, Blue Cross/Blue Shield of Alaska.
Developed a new approach to manage program costs and client satisfaction through utilization of business intelligence tools.
Case Manager
Tracks all medical, behavioral substance use and other network referrals made for patients and ensures that patients follow up on referrals and attend scheduled appointments, through accompaniment when necessary.
Provides phone and physical outreach to patients who have been non-adherent to necessary treatment appointments or have missed appointments for initial visits with new providers.
Makes reminder phone calls to patients for all appointments.
Facilitated the community integration of isolated, unemployed, and disabled patients with chronic health conditions.
Planned and coordinated resources with medical providers, social workers, and family members to ensure access to services.
Case Manager
Responsible for patients in an acute care setting relative to medical and surgical needs.
Worked closely with insurance carrier clients and adjusters.
Assess patient acuity Heavily weighted on assessments, discharge planning and implementation.
Conduct telephonic reviews with various insurance and managed care companies Knowledge of Interqual, Milliman criteria, Medicare and Medicaid regulations.
Instituted and completed care plans using T.H.I.N.K., a new holistic approach to patient management developed by the agency.
Case Manager
Provided unlimited Case Management services to clients through financial assessments, employment plans and all other outreach services.
Engaged clients daily through home visits, office visits, and telephone contact.
Collaborate with Mental Health Care providers and organized Case Conferences with clients, HASA, and Supervisors.
Document and maintain client files daily providing case coordination, direct services, case management and crisis management.
Advised patients on how to maneuver a complex bureaucracy that controls their benefits and insurance coverage; personally handled over 400 phone calls by helping patients prepare for appointments, get appointments set up, schedule prescription refills, and financial assistance applications covered by Medicaid.
Case Manager
Assembles information for the completion of forms for the preparation of reports.
Prepares and types correspondence reports, forms, contracts and specialized documents from drafts, notes, dictated tapes, or brief instructions, using a computer.
Assisted clients that have mental history to submit supporting housing documents.
Developed and implemented an in-house case management system for fifteen special needs clients.
Recognized as outstanding Case Manager by the JCAHO team.
Wrap Up
You need to make sure your resume stands out amongst the other candidates. It is the first impression that employers have of your work experience and skills. Use the samples above to put together a resume that best suits your needs and helps you get the job you want.