Marketing coordinators provide strategic, creative and administrative support to marketing directors and VPs. They identify target audiences, conduct market research, coordinate social media campaigns, assist with strategic planning, evaluate current trends and created content. Most companies require either an associate's degree or a bachelor's degree for marketing coordinators. Marketing coordinators must be able to communicate effectively, use basic office equipment, manage a CRM software, use creative software, interpret analytics, collaborate with others and manage a marketing calendar.
A good resume is well-written and concise. It should be neat and easy to read, listing previous experience in a logical order.
Our resume samples will provide you with multiple examples of what you can include when writing your resume.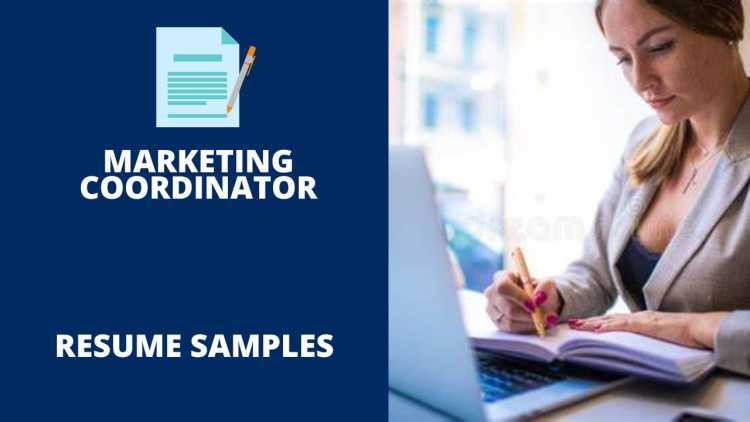 The Best Marketing Coordinator Resume Samples
These are some examples of accomplishments we have handpicked from real Marketing Coordinator resumes for your reference.
Marketing Coordinator
Provided high-level support Public and Labor new sales teams with activities that may include, but are not limited to, entry level sales training, enrollment meetings, health fairs, sales proposal development and constituent relations (producers, plan sponsors, customers).
Support local sales team with review and quote process for prospective business Request for Proposals (RFPs).
Foster and maintain strong internal relationships with Underwriting, Sales, Network, Product Development and Operations departments.
Establish and foster genuine external relationships with brokerage firm representatives and plan sponsors.
Increased revenue for a Lumber Company by developing and implementing a Growth Plan for its Commercial Lumber Division.
Marketing Coordinator
Updated multiple websites with current inventory offering and marketing materials when needed.
Define, coordinate and manage relationships with design agencies, web agencies, printers, suppliers of promotional tools or other vendors linked to communication missions.
Design, implement or convert master versions of all graphic sales support materials (product brochures, PowerPoint document, flyers).
Trained to Master Marketer Gold Elite Status by gaining 200 CMEs and attending 80-plus conferences on marketing, sales, customer service, advertising, direct marketing, PR, and live events.
Restructured a company through the creation of new accounts and the development of new marketing materials; achieved internal reorganization goal of positions-to-contacts by 50% within six months.
Marketing Coordinator
Implement content editorial calendar to manage content and plan specific, timely marketing campaigns.
Collaborate with other coordinators and AmeriCorps VISTAS to manage reputation, identify key donors and coordinate actions.
Continuously improve by capturing and analyzing the appropriate social data/metrics, insights and best practices.
Interned with top New York Ad Agency; achieved universal status in the agency's training program after completing over 100 work assignments in diverse disciplines within 8 months.
Produced and administered the annual Spring campaign on campus for the student-run literary magazine The Turf.
Marketing Coordinator
Developed and implemented marketing and advertising for both Direct Marketing and Digital Marketing campaigns.
Designed and developed an interactive website that increased monthly visitors by 24.8%.
Improved search engine optimization using Google Adwords and Thomas Net Web design, resulting in 32% more conversions.
Monitored and maintained all company social media accounts, resulting in a 2.02% increase in Net Followers for Facebook, 62.5% increase for Instagram, 32.6% increase for Twitter, and a 7.46% increase for LinkedIn.
Helped with planning and production of visual arts exhibits, special events, and marketing campaigns for various cultural organizations including the Dance School, Music, and Theater departments.
Marketing Coordinator
Help plan, coordinate logistics and set up for all Information Meetings, special events and cultivation meetings.
Managed lists for Expression of Interest, Future Residents and management of all related files (prospective residents, etc.).
Report statistical information regarding the marketing activity for preparation of weekly and monthly reports by the Marketing Counselor and Marketing Consultant.
Prepared marketing communications to prospective residents, development team and management as directed by Spectrum.
Created a central database for theater ticket sales that was always updated and organized in a database format.
Marketing Coordinator
Liaise for new merchandising display between Swiss headquarters and dealer network with responsibilities for estimates, inquiries, order fulfillment, shipping, etc.
Develop innovative tradeshow marketing loan program for the dealer network Administrative Expert.
Coordinate sewing machine loan contracts for Bernina while managing warranty database to ensure quality control and accuracy.
Coordinate meetings and actively manage marketing collateral for distribution Innovative Leader while effectively overseeing a team to create, collate, pack and ship items.
Managed all accounts within Strategic Advertising, Marketing & Public Relations at the University of Connecticut during Spring 2018 to bring in an additional $200K to support fund-raising.
Marketing Coordinator
Generated organic ideas for advertising, marketing brochures, sales kits and other promotional materials.
Coordinated meetings and trade shows by identifying, assembling, and satisfying all requirements alongside the Vice President.
Produced additional marketing communications, such as flyers, company literature and exhibition-related projects.
Assisted in creating new logos designs and adding modifications to company's brand for marketing materials to give clients and vendors.
Brought a new product to market by coordinating with designers, manufacturers, sales associates, and internal resources.
Marketing Coordinator
Developed and implemented marketing plan via print and online campaigns.
Drafted and published monthly newsletters sent via email blasts using Photoshop & MailChimp.
Took customer orders by telephone and through website with follow up to ensure satisfaction.
Marketed a company-wide project and two products by creating a marketing campaign that pulled in over $100,000 in revenue in one quarter.
Coordinated the development of an attractive and effective advertising campaign for a large retail store that increased sales by 13% over the previous year.
Marketing Coordinator
Assisted the Marketing Manager with modernizing and circulating marketing materials to internal and external clients.
Assisted the Marketing Manager with social medial projects via LinkedIn and the corporate website.
Supported the Marketing Manager with market research tasks including emerging opportunities.
Launched a successful corporate re-branding program by revising corporate logos and designing promotional items including t-shirts, pens, key chains, mugs, hats & more.
Created innovative strategies to increase sales and marketing results under tight budgets; developed successful campaigns for expansion of customer base.
Marketing Coordinator
Worked closely with clients to identify their needs and concerns and provide solutions-oriented campaign themes.
Directed a successful SEO and link-building campaign to increase the website's credibility and drive traffic.
Represent our physicians at multiple events within the community including health fairs, and women's expos.
Developed original methods to implement advertising, market research, public relations, and promotions; reinforced client satisfaction.
Over-saw the production of print, television, and radio ads for an international manufacturer/distributor; streamlined processes, and enhanced customer service.
Marketing Coordinator
Created internal processes for capturing and routing inbound communications and sales leads.
Overhauled company's phone and voicemail box system to be more sales-friendly and allow for efficient and timely follow up of sales leads and client inquiries.
Saw a 3% increase in open rates after taking over the content for company's weekly healthcare Digest (in combination with counterpart's visual redesign).
Collaborated with the creative director in design layout and production of a regional magazine that featured the region's top newsmakers and trends; increased circulation by 15%.
Coordinated, partnered, and facilitated cohesiveness between diverse advertising campaigns, partners, and audiences.
Marketing Coordinator
Provides direction to a team of ten writers based on my knowledge of what would best benefit the client in terms of attracting their target audience and their SEO strategy.
Creates PowerPoint presentations and conducts meetings with clients to coach them on navigating their individualized reporting dashboard, how to make website edits using the company's unique software and how to conduct successful automated marketing campaigns.
Manages nearly 100 digital marketing accounts spanning a wide variety of industries.
Meets with clients face to face and telephonically to provide insight, discuss reporting, and access marketing goals.
Devised and distributed ad campaign promotions that attracted a record number of customers to a chain of retail outlets.
Wrap Up
You need to make sure your resume stands out amongst the other candidates. It is the first impression that employers have of your work experience and skills. Use the samples above to put together a resume that best suits your needs and helps you get the job you want.