McDonalds Crew members prepare and serve food. Their duties include showing enthusiasm; smiling as they greet customers; making sure tables and floors are clean; taking orders accurately; meeting shift goals; and stocking shelves. There are no educational requirements for this job, but you must be the minimum age for working in your particular state. Skills needed are a desire to please, focus, attention to detail, good listening skills, interest in people, ability to stand for long periods.
A good resume is well-written and concise. It should be neat and easy to read, listing previous experience in a logical order.
Our resume samples will provide you with multiple examples of what you can include when writing your resume.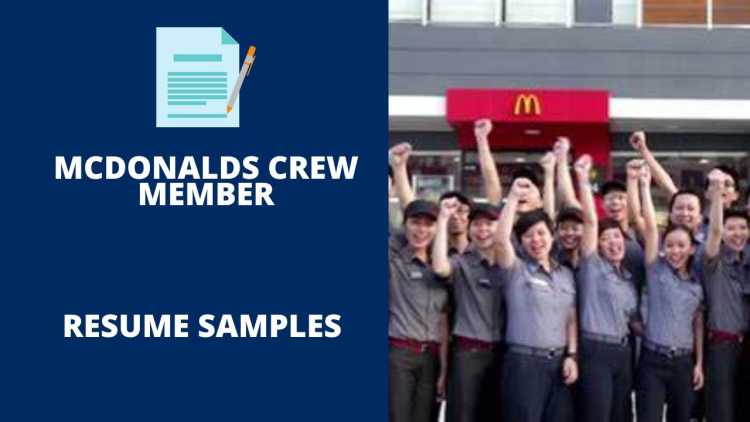 The Best Mcdonalds Crew Member Resume Samples
These are some examples of accomplishments we have handpicked from real Mcdonalds Crew Member resumes for your reference.
Mcdonalds Crew Member
I am a crew member working at drive thru, cashier, register, cook, and window at times, runner, and like to keep my self busy.
Looking to establish a career but I just don't think mc Donald's it's what I want as career.
Would like something that I can grow from and learn more.
Attained a consistently clean and organized area of the restaurant, including the organization of supplies and equipment.
Trained to food preparation procedures by Mcdonalds such as how to use standard measuring tools such as the scale, grater, and slicer.
Mcdonalds Crew Member
Responsibilities were increasing from cleaning on lobby to working on counter and drive-thru.
Contributing to the company's profits by strategically 'upselling' menu items.
Working in teams to make sure that we're reaching the targets.
Accomplishing several tasks at one time such as pouring the drinks, using machines, handing out orders and handling payments by credit or cash.
Tested recipe proportions and taste-tested recipes during pilot runs of new products.
Mcdonalds Crew Member
Make sure customers paid the correct amount and received correct amount of change if needed.
Take orders and exchange money and change at the window.
Moved from front counter to window to back drive in less than a month (trained and mastered three different job positions).
Acknowledged by management for observing proper food handling practices during the preparation, storage, and serving of all menu items.
Recognized for consistent positive contributions made to the training program, including assisting other crew members with training videos filmed prior to April 2010.
Mcdonalds Crew Member
My responsibilities were to cook the food, prepare the food on the table, clean my station as well as occasionally others.
I learned how to work in a fast paced environment, work under pressure.
I learned how to set a goal and work towards making sure I reached that goal, and most importantly, how to work as a team with my coworkers.
Prepared, packaged, and served over 250 orders in a timely and efficient manner.
Maintained a clean work area and took pride in continuous customer service.
Mcdonalds Crew Member
While working at McDonald I would take customers orders and enter them into the POS system.
I would also make ice cream and drinks as needed.
I would work front counter as well as back cash and drive thru.
At the end of every shift I would stock up and clean for the next group of employees.
Adhered to company policies, procedures, and safety guidelines at all times.
Mcdonalds Crew Member
I was promoted to take on many tasks very quickly.
I had the responsibility of closing the store at night, stocking, cleaning, helping customers, and assisting my manager.
I also did some cooking rolls while working for the company.
Knowing that the owner was looking for new people to help train, I trained under them with my mentor to learn the industry's standard of excellence.
I developed confidence in my skills by completing the course requirements within approximately six months.
Mcdonalds Crew Member
I was always expected to provide customers with a quick and accurate service and show sensitivity to their individual needs, both from behind the till as well as in the dining areas.
Food Preparation and cooking the wide variety of food involved using a broad range of equipment and tools.
It was necessary to produce orders to a consistently high standard and understand that quality control is vital.
Assumed responsibility for customer service, order accuracy, and sanitation during shifts.
Planned and organized a variety of team-building activities to strengthen employee morale and cooperation.
Mcdonalds Crew Member
Receive payment by cash, check, credit cards, vouchers, or automatic debits.
Assisted customers by providing information and resolving their complaints.
Calculate total payments received during a time period, and reconcile this with total sales.
Supervise others and provide on-the-job training.
Weigh items sold by weight to determine prices.
Mcdonalds Crew Member
Clean food preparation areas, cooking surfaces, and utensils.
Operate large-volume cooking equipment such as grills, deep-fat fryers, or griddles.
Maintain sanitation, health, and safety standards in work areas.
Learn all of the jobs, and receive training and experience necessary to become a manager.
Generated sales revenue above $35,000 in gross annual income during three years of employment.
Mcdonalds Crew Member
Receive orders and process cash or credit / debit card payments and ensure that proper receipts and change are given to customers.
Provided customers with information on how long it will take for their order to be processed.
Relay order at the backend and assist in preparing it according to set recipes.
Pack customers' orders or place them on trays depending on the dine in or takeaway preferences.
Spoke directly with customers regarding menu selections; ensured customer satisfaction by promptly addressing concerns or complaints.
Mcdonalds Crew Member
Count money make sure their is 35.00, then help pep cooking meal burg, fries, help manager with what every he me to do.
Make sure the store was clean an, make sure the bathroom was clean an manes fresh check the parking lot.
Pick up what every tasks was out on it.
Accurately prepared orders within one minute of completion; recognized by the shift manager for remarkable efficiency.
Achieved the highest employee evaluations in all areas; recognized as an outstanding Mcdonalds team member.
Mcdonalds Crew Member
At Mcdonalds I have had various jobs: I have worked on the cashier, I have also done food prep and cleaning as well.
I was never late, I always stayed later if needed.
I was a very hard worker and had many compliments from regular customers that knew my name personally.
Assembled and distributed over 2,000 sandwiches within one hour to a crowd of 1,200 spectators during a state fair event.
Accurately registered customers within fifteen seconds; recognized for excellence by the shift supervisor.
Wrap Up
You need to make sure your resume stands out amongst the other candidates. It is the first impression that employers have of your work experience and skills. Use the samples above to put together a resume that best suits your needs and helps you get the job you want.