A Medical Billing Specialist files medical claims with insurance companies. Duties include filing claims on time, resolving complicated accounts receivable issues, working with patients regarding their bills, working with management staff, answering phones, and maintaining confidentiality. Educational requirements are a high school diploma or equivalent. Skills needed are a professional personal presentation, communication skills, organizational skills, detail oriented, able to multitask, ability to manage time, ability to understand insurance EOB's (explanation of benefits).
A good resume is well-written and concise. It should be neat and easy to read, listing previous experience in a logical order.
Our resume samples will provide you with multiple examples of what you can include when writing your resume.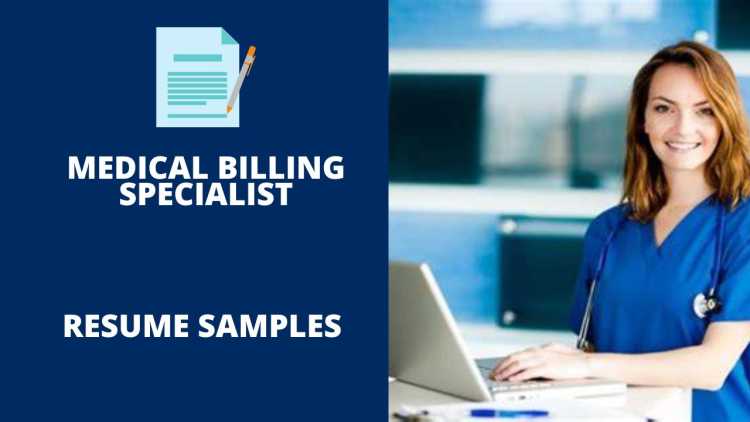 The Best Medical Billing Specialist Resume Samples
These are some examples of accomplishments we have handpicked from real Medical Billing Specialist resumes for your reference.
Medical Billing Specialist
Assisted with medical records system maintenance, prepare itemized statements for payment, and appropriately reconcile charges to achieve monthly claims submission deadline.
Enter all remaining urgent care/walk-in charges and private patient payments as generated to ensure an easy transition into the new company acquisition.
Code off-site employer (occupational health) charts as assigned.
Maintained and analyzed medical billing records for over a hundred physicians.
Managed five junior billing specialists during the training required by the senior billing specialist.
Medical Billing Specialist
Assisted the physician in assembling and processing claims, coding and resolving difficult and outstanding billing issues.
Collected patient co- payments and generated outstanding balance statements.
Maintained patient information, appointments, demographics in Carecloud EMR database.
Scanned- prescriptions, referrals, face sheets, insurance information, identification cards, and consent forms into patient charts.
Provided administrative assistance to six full-time billing specialists during long hours of meetings, client visits, and office management.
Medical Billing Specialist
Post and reconcile insurance payments. Research and resolve incorrect payments, eob rejections, insurance retractions, and other issues with patient accounts.
Examine patients' encounter forms to verify diagnosis codes, and reconcile codes against services rendered.
Review and validate accuracy of charges, including dates of service, services provided, location, patient identification, and provider signature.
Reviewed accounts for possible assignment and made recommendations to the billing supervisor, also prepared information for the collection agency.
Received outstanding performance awards from the Chief Executive Officer (CEO) and the Chief Financial Officer (CFO).
Medical Billing Specialist
Responsible for collecting, posting and managing account payments.
Responsible for submitting claims and following up with insurance companies.
Evaluate patients financial status and establishes budget payment plans.
Developed professional recommendations for personnel management which demonstrated an area of expertise in organization development, as well as in knowledge related to budgetary control.
Accepted certification by the American Association of Professional Coders (AAPC) for biller and coder competency.
Medical Billing Specialist
Review diagnosis codes and procedure codes for errors and correct the claims before sending to the insurance company.
Review patient demographic information for correct spelling and proper documentation.
Gather all prior-authorization and referrals if needed and attach to the claims.
Once the claims are finished for review I send the claims electronically through Allscripts and paper claims are mailed.
Adhered to all regulations, guidelines, and procedures while processing medical claims.
Medical Billing Specialist
Worked open balance accounts as assigned.
Prepared and submit appeals on denied charges based on insurance plan requirements.
Follow up on unpaid charge's and determine best method to collect open balances quickly.
Adjust denied charges with appropriate write-off code, only after gaining Manager/Supervisor approval.
Aided physician's office in attaining a new level of efficiency, timeliness, and revenue by developing numerous strategies.
Medical Billing Specialist
Help respond to patient phone calls regarding insurance or payment problems and issues.
Meet regularly with Collection Manager to discuss payment problems or trends that may be causing the claims to be denied or not paid accurately.
Assisted Collections Manager with preparation of month end and other tasks as required.
Communicate with the coders/medical assistants/doctors regarding use of diagnoses and make proper corrections, when necessary.
Managed patient accounts while creating new methods to maximize reimbursements from providers.
Medical Billing Specialist
Well versed in Microsoft office, Windows, Database Management, Excel, Website Programs.
Knowledge in providing maintenance and technical support with basic office equipment.
Enviable ability to make sound decisions in a manner consistent with the essential job functions.
Proven ability to handle money and perform basic mathematic calculations.
Resolved issue surrounding hospital patient billing; professional recommendations resulted in hospital accounting procedure change.
Medical Billing Specialist
Researched and resolve incorrect payments, EOB rejections, and other issues with outstanding accounts.
Insure accuracy of insurance claims, Verify correct ICD-10 and CPT codes for a variety of specialties.
Assign ICD-10 to physicians diagnosis and insure correct level of service and various other CPT codes.
Set-up practice management software for submission of electronic claims to clearinghouse.
Participated in the completion and distribution of over 6,000 patient billings.
Medical Billing Specialist
Review, correct and send medical claims to respective insurances on paper and send claims electronically on a daily basis.
Made sure that workers compensation and auto claims have their date of injury input in claims.
Review and respond to all correspondence and explanation of benefits denial.
Send all requested medical information and necessary documents requested by insurance.
Attained an annual 20% base pay increase.
Medical Billing Specialist
Responsible for the timely and accurate editing, submission, and/or follow-up of assigned claims, while meeting the expected productivity and quality standards on a weekly basis.
Able to reprocess claims for Managed Care and commercial payers.
Assure all assigned claims meet clearinghouse and/or payer processing criteria.
Payer response reports and rejection reports are worked timely and meet Departmental Productivity and Quality Review standards.
Received outstanding employee performance award.
Medical Billing Specialist
Prepared itemized statements, bills, or invoices and recorded amounts due for items purchased or services rendered including reconciliation of patient accounts.
Reviewed documents such as purchase orders, sales tickets, charge slips, or hospital records to compute fees or charges due.
Conferred with supervisor for corrections of IDC9 and CPT codes for clean submission of claims.
Communicated with insurance companies and government agencies regarding incorrect and inappropriate denials.
Promoted to management level position (Medical Billing Specialist).
Wrap Up
You need to make sure your resume stands out amongst the other candidates. It is the first impression that employers have of your work experience and skills. Use the samples above to put together a resume that best suits your needs and helps you get the job you want.