Interpreters translate between English and a foreign language. Your duties would include translating phone calls, translating speeches and presentations, using polite language at all times, conducting interviews of speakers before their official phone call, and escorting foreign dignitaries. Educational requirements include a high school diploma or equivalent and fluency in a foreign language. Skills needed include attention to detail, cultural sensitivity, fast thinking, clear speaking, perfect listening skills, ability to multitask and ability to work under pressure.
A good resume is well-written and concise. It should be neat and easy to read, listing previous experience in a logical order.
Our resume samples will provide you with multiple examples of what you can include when writing your resume.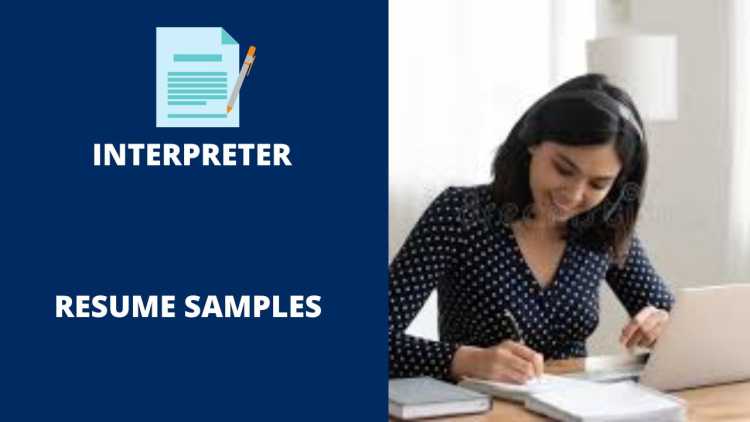 The Best Interpreter Resume Samples
These are some examples of accomplishments we have handpicked from real Interpreter resumes for your reference.
Interpreter
Interpreter and Translator with expertise in Arabic-language communications and facilitating communication between English and Arabic-language speakers.
Skilled in translating complex technical and legal documents.
Strong ability to use active listening skills to provide quick, accurate and concurrent translation and interpretation skills.
Selected by a local doctor to assist with the translation of medical information during delicate procedures of the elderly.
Provided language access services to deaf and hearing patients in the healthcare industry.
Interpreter
Render spoken ideas quickly, clearly and accurately, between health care team, patient and family.
Facilitated communication between judges and Medicaid recipients to resolve benefit issues.
Facilitated communication between officials to resolve rent and housing issues for NYCHA.
Served as a liaison between multi-ethnic parents and children.
Extensively used English, Spanish, and American Sign Language as a Certified Interpreter for the Deaf, notetaker for both speech and sign, in order to help students learn English as a second language.
Interpreter
Performed independently, and manage multiple assignments effectively, and function in complex, fast-paced work environment while meeting all deadline.
Timely dissemination of all Health Proxy and CDPAS documents and protected under CCMS Portal.
Worked proactively with medical staff to schedule and conduct health reassessment for population with language barriers.
Interpreted at hospital bedsides for physicians, nurses, and other health care professionals.
Effectively conveyed information to Spanish-speaking clients in the security and international banking industry.
Interpreter
Handling over the phone English/Mandarin interpretation for different industries like insurance, medical, legal, and others.
Always being courteous and polite with both the English speaker and LEP.
Following protocol and using good note taking to convey information in both languages.
Interpreted for individuals who did not speak English for over 300 corporate, government, and private clients.
Assisted government officials with bilingual documents during the investigation of a money laundering case.
Interpreter
Provided cultural information to healthcare providers in order to ensure appropriate provision of health services.
Keep patient safety a main consideration, ensuring they can effectively communicate their needs with medical staff.
Bridge between patients, physicians, nursing staff and other hospital personnel to ensure everyone has a clear understanding.
Rewrote documents in both English and Spanish; established quality assurance procedures regarding legal terminology to meet court requirements.
Created documents that synthesized both languages into a common language that judges, attorneys, and clients could understand.
Interpreter
Handle calls on demand and renders meaning of conversations in the consecutive mode of interpretation between speakers of Mandarin and English.
Recognize sensitive cultural differences, and is professional and courteous at all times.
Use appropriate industry terminology and understands common industry procedures and practices.
The calls involve simple or complex, non-technical or technical subjects in the fields of: Healthcare, Government, Insurance, Financial, Utilities, Travel & Hospitality, and General Business.
Translated complex legal documents and business correspondence between U.S. and Ecuadorian officials.
Interpreter
Provided interpreting services to deaf students first as a student interpreter, a freelance interpreter, an apprentice interpreter, and finally as a full-time staff interpreter in January of 2015.
Interpret on the Science and Engineering team.
Mentor student interpreters, conduct research project, participate in professional development courses, and work as a scheduler to assign work and fill requests for an interpreter.
Interfaced with clients of the U.S. Department of Labor, State Farm Insurance, and Commercial Bank of San Francisco in Spanish to clarify and resolve financial complications regarding policy cancellations, claims, and bank loan payments.
Maintained detailed files of cases by interpreting important information from handwritten insurance policies for several commercial lines companies.
Interpreter
I have been exposed to criminal proceedings such a as arraignments, pre-trial hearing, preliminary Hearing, and trials.
I can transfer in different registers and transfer along with colloquialism and Slangs, typical legal and non-legal false cognates, consecutive techniques leading to a maximum of 40 terms per segment, simultaneous techniques leading to a maximum of 140 words per minute.
I have knowledge in court proceedings such as misdemeanor plea forms, misdemeanor sentencing Forms, probation and sentencing memorandum, felony plea forms, change of plea, probation Violation, plea in misdemeanor and felony cases, progress reports, readiness conferences, and time Waivers.
Interpreted for five years for colleagues at the Office of Refugee Resettlement about special immigrants traveling from Southeast Asia to the United States; became an expert on refugees' rights to political asylum in the United States.
Compiled and prepared daily and weekly reports in English, Spanish, and Farsi.
Interpreter
Worked with Hospitals, Clinics, in Personal Homes, Mental Health Facilities, School Districts, Clinics, Law Firms and Mental Health Clinics
Translate information as the reason for a medical visit, medical history, explaining surgical procedures, giving medical care instructions, providing drug information and scheduling follow-up appointments.
Using accurate medical terminology, engage in intercultural mediation in accordance with interpreters code of ethics and conduct.
Maintain emotional stability when interpreting for victims of torture, sexual assault, and refugees fleeing war and genocide.
Consistently performed tasks in accordance with requirements, deadlines, and performance standards.
Interpreter
Researched the historiographical developments in scholarly debate regarding the Protestant.
Reformation's role in the decline of European magic and rise of rationality.
Investigated the causes for said changes within the scholarly discourse, such as the growth of research or contemporary political movements like feminism and LGBT activism.
Evaluated academic arguments based their respective choice of evidence, nuanced analysis, and style approach.
Examined the impact caused by denominational bias among modern day scholars and how modern disagreement affected one's understanding of the past.
Interpreter
Provided medical interpretation services to patients and other healthcare professionals in hospitals and clinics, including interpreting patient procedures, health information, diagnostic studies.
Assisted patients/ Clients in completing medical tests, medical forms, program eligibility forms and other social services.
Promoted professional interpreting standards to the interpreting code of ethics.
Provided support to the branches of the U.S. Army Reserves by interpreting for field clerks; provided representative government documents for dual citizens.
Assisted administrative staff by performing clerical tasks such as data entry and data analysis.
Interpreter
Over the phone interpreter in a consecutive manner to many different clients; including but not limited to medical, legal, insurance, bank. The role is to serve as conduit to provide non-bias interpretation.
Also served as a volunteer, in face to face interpretation in court.
In rare cases also provided translation services to our clients.
Demonstrated quality customer service skills by providing accurate translation from English to Farsi; recognized as one of the best interpreters at the Department of Justice (DOJ) Headquarters Information Agency Interpreter Program.
Communicated in over 7 different languages and dialects; provided interpretive assistance for court, immigration, and social services.
Wrap Up
You need to make sure your resume stands out amongst the other candidates. It is the first impression that employers have of your work experience and skills. Use the samples above to put together a resume that best suits your needs and helps you get the job you want.