HR Generalists are responsible for the daily activities of human resources. These individuals are tasked with hiring employees, maintaining personnel files, processing payroll & benefits, negotiating contracts, establishing workplace policies, updating job descriptions to stay compliant with state law and company policy, and resolving employee issues. HR generalists must have a bachelor's degree in human resources or related field along with experience working in human resources required. HR generalists need to have strong communication skills, be detail-oriented people-person who can interact successfully with all kinds of people from various backgrounds.
A good resume is well-written and concise. It should be neat and easy to read, listing previous experience in a logical order.
Our resume samples will provide you with multiple examples of what you can include when writing your resume.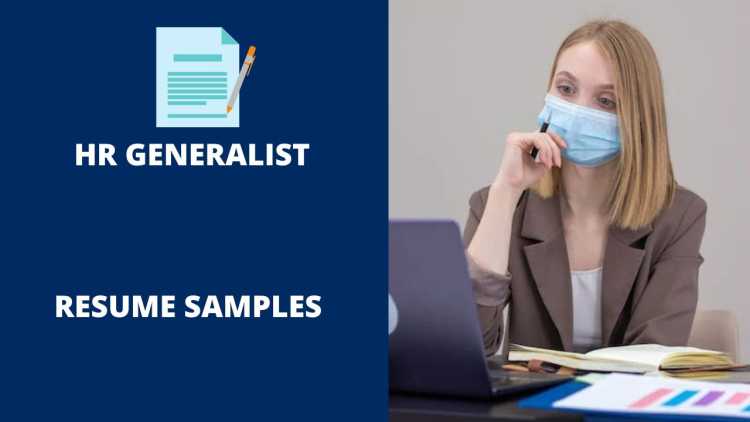 The Best HR Generalist Resume Samples
These are some examples of accomplishments we have handpicked from real HR Generalist resumes for your reference.
HR Generalist
Provides HR generalist support to over 400 employees across 9 offices for the US Insurance, Finance and Investments departments.
Develops and maintains strong relationships with the departments and business unit leaders, making the HR Generalist team a strategic partner in Talent Acquisition, Performance Management, Compensation, Policy and Procedures, and Training & Development programs.
Coaches and partners with clients to define key staffing needs and oversees the professional recruitment process, including candidate sourcing, utilizing vendor relationships, resume screening, conducting interviews and making hiring recommendations.
Managed monthly HR functions such as payroll, benefits, employee performance practices, and personnel investigations.
Compiled accurate data from employee timesheets; analyzed and solved complicated problems with resulting positive results.
HR Generalist
Function as key contact for union and corporate employees for all employee questions.
Managed HR administrative functions and develop HR processes and procedures including maintaining employee's personnel files, benefit communication & enrollment administration, FMLA administration and payroll.
Assisted management with employee's issues, grievances, investigations, disciplinary actions and all related documentation as required.
Administer all onboarding and new hire orientation for all corporate and warehouse employees.
Prepared weekly reports allowing the supervisor to monitor performance, address concerns, and establish goals.
HR Generalist
Handle employee on-boarding process including offer letters and other on-boarding documents via ATS.
Initiate background and drug screens through Accurate Background and My E-Screen.
Enroll employees on benefits during new hire period/open enrollment and initiate COBRA for terminated employees.
Responsible for overseeing the internship program, including job posts through campus career sites, phone screens, and interviews.
Skilled inefficient routing of phone calls at a busy call center and by anticipating questions before they were asked.
HR Generalist
Processed payroll for all weekly and biweekly employees (approx. 300) in the retail/corporate offices and funded 401(k) accounts.
Managed the time and attendance module of the HRIS. Answered all manager/employee questions, processed adjustments, approved timesheets/PTO requests.
Tracked company-wide PTO usage and made adjustments to ensure all data was correct.
Partnered with the director of accounting for the 401(k) audit and the 401(k) Non Discrimination Testing.
Led the year end process which consisted of: 3rd party sick pay, approval and printing of the W-2's, verifying employee data, STARS gross up, prep for the following year which included employee withholding changes, company holiday schedule, extending the payroll calendar, updating goal amounts, etc.
HR Generalist
Prepares reports by compiling summaries of earnings, taxes, deductions, leave, disability, and nontaxable wages.
Determines payroll liabilities by calculating employee federal and state income and social security taxes and employer's social security, unemployment, and workers compensation payments.
Resolves payroll discrepancies by collecting and analyzing information.
Administer various employee benefits programs, such as group health, flexible spending accounts, dental and vision, accident and disability, life insurance, 401(k), and wellness benefits.
Surveyed daily morale trends at two locations to improve addressing of employees' problems.
HR Generalist
Ensure the timely and efficient completion of all assigned deliveries and tasks; track, compile and analyze performance in an effort to implement new and/or improve existing processes and route scheduling for the company.
Maintains customer records by updating records that consisted of invoices, bill of ladings, and returns.
Recruit talent for plant through company websites and also other employment outsources.
Received recognition presented by the labor relations committee of superior knowledge of the employment laws in the state of New Jersey.
Served as the HR Generalist for a manufacturing company.
HR Generalist
Provided on-going system support for several core HR Systems including but not limited to Recruitment, Onboarding, Time & Attendance and HRIS.
Managed Onboarding process & support field staff remotely for a smooth onboarding transition.
Conducted background checks and worked with account manager to expedite clearances.
Worked to provide staff with many different positions and opportunities to grow in their profession.
Used various systems to track employee hours, attendance, training, promotions, and other relevant information.
HR Generalist
Assisted with establishment of in-house employee training system and maintained employee training records.
Accountable for talent acquisitions, staffing, employment processing, compensation, health & wealth benefits, safety.
Managed employee retention & relations issues such as sexual harassment, tardiness, time and attendance and relationships between management and associates.
Oversaw payroll using ADP and excel, as well as benefits such as 401k, medical, dental & vision.
Managed organizational/retail development and legal Compliance along with termination procedures and exit interviews.
HR Generalist
Managed employee relations through discussions, corroborating policy and working directly with the leadership or management team to resolve these employee issues.
Led HR efforts in managing personnel records, administering benefits enrollment, disciplinary actions and recruitment.
Managed the payroll function and processed timesheets for permanent and temporary employees while working with a fluctuating number of employees.
Created and implemented a Warehouse Employee of the Month program along with other recognition programs.
The motivated team as well as individual employees with positive reinforcement and constant positive feedback.
HR Generalist
Managed full cycle hiring process and on-boarding. Conduct recruitment effort for all hourly crewmembers; open houses, job fairs, new hire orientations; Assists managers with administering assessments and interviews.
Enter and process new hire information and records. Maintain I-9 information and airport badge information.
Monitors performance evaluation program for new hires and current crewmembers; follows up as necessary.
Performs benefits administration to include employee enrollments and termination, election forms, payroll deductions, claims resolution, change reporting to carrier, and timely communication of benefit information and eligibility to employees.
Effectively handled disciplinary actions. Resolved issues quickly and efficiently by placing an employee on probation rather than terminating him/her.
HR Generalist
Full life cycle recruiting including identifying, screening, interviewing and assessing candidates technical and organizational fit.
Works directly with department managers during the selection, interview and hiring process.
Establishes and manages relationships with managers to determine staffing requirements and make recommendations throughout the hiring process.
Utilizes multiple resources for candidate identification to eliminate recruiting costs associated with agency fees; including Internet sourcing and data mining using various on-line services, newspaper advertisements, career fairs and employee referrals, and social media.
Collected the data necessary to properly analyze company performance, including sales and production totals in order to control growth expenses.
HR Generalist
Human Resources representative for seven departments for matters related to employee relations, recruiting, and transitions.
Acted as the advocate and representative for staff on behalf of the organization.
Job competencies include excellent verbal and written communication skills, exceptional organization, and ability to work quickly and gracefully under pressure.
Fought hard against budget cuts that would have hurt employees' ability to complete training programs or promotions held by the company's CEO.
Maintained an established company culture through both employee and management training.
Wrap Up
You need to make sure your resume stands out amongst the other candidates. It is the first impression that employers have of your work experience and skills. Use the samples above to put together a resume that best suits your needs and helps you get the job you want.