HR Assistants provide administrative support to the HR department of an organization. Their tasks include maintaining records, processing payroll, filing employee complaints, documenting terminations, scheduling orientations and collecting performance reviews. To be an HR assistant, you must have either an associate's or bachelor's degree. HR assistants must have excellent oral and written communication skills, organization, attention to detail, computer skills, HR software skills, knowledge of employment law and they must enjoy working with people.
A good resume is well-written and concise. It should be neat and easy to read, listing previous experience in a logical order.
Our resume samples will provide you with multiple examples of what you can include when writing your resume.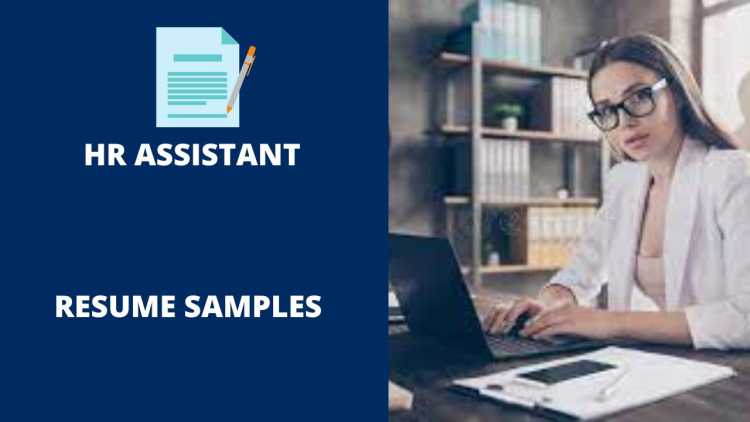 The Best HR Assistant Resume Samples
These are some examples of accomplishments we have handpicked from real HR Assistant resumes for your reference.
HR Assistant
Assemble new hire information folders. update HR files, assist with HR compliance/confidentiality.
Provided HR assistance in the areas of benefits, workers' compensation, and assisting.
HR Manager as needed with employee issues and interpretation of policies and procedures.
Providing moral support and understanding for all employees regarding ER issues and referrals to EAP.
Improved efficiency of the Human Resources department and increased productivity by enhancing employee relations, processing employee files, and resolving employee disputes.
HR Assistant
Solely responsible for coordinating the on-boarding processes for all new hires from the date of signing the offer late to the date of hire.
Serves as coordinator to recruiters/hiring managers in determining how the on-boarding processes are working and recommends changes in overcoming roadblocks that hinder the process.
Assisted Recruiter with screening potential candidates through various job search engines and/or social media.
Responsible for tracking, monitoring systems, and pulling reports for business application.
Implemented a new method of processing pre-employment applications by streamlining the process and reducing the time from application to decision-making.
HR Assistant
Provides job candidates by screening, interviewing, and testing applicants; notifying existing staff of internal opportunities; maintaining personnel records; obtaining temporary staff from agencies.
Pays employees by calculating pay; distributing checks; maintaining records.
Administers, medical insurance, savings bond, and disability programs by advising employees of eligibility; providing application information; helping with form completion; verifying submission; notifying employees of approvals.
Monitors unemployment claims by reviewing claims; substantiating documentation; requesting legal counsel review.
Achieved 98% accuracy rate for processing applications.
HR Assistant
Provides payroll information by collecting time and attendance records.
Assists in payroll processing, which includes ensuring PTO is applied to the timecard, and deducted from the PTO Chart.
Maintains employee information by entering and updating employment and status-change data.
Developed, completed, and submitted varied HR forms for various departments within the company.
Printed and mailed out numerous employee benefits packages to the appropriate recipients.
HR Assistant
Document all Workman Comp, warehouse accidents and employee FMLA to Warehouse Manager and HR Manager.
Prescreen applicant resumes and coordinate job interviews (including scheduling, interviewing and discussing company benefits).
Conduct new employee orientations and termination interviews (including submitting required paperwork to HR Manager).
Responsible for documenting and reviewing all employment eligibility verification forms (I9's) for VP employees and temporary staffing personnel to ensure complete compliance with Company policies and safety rules.
Processed performance evaluations for all employees within or outside of the company.
HR Assistant
Assisted the customer service team in providing effective customer service for all internal and external clients by using excellent, in-depth knowledge of company products and programs as well as communicating effectively with team members within the customer service department.
Recruitment: Prepared job advertisements, screened applications, conducted interviews and participated in the selection process.
Worked in collaboration with department heads to determine key performance requirements.
Designed and implemented training programmes and plans to ensure that training and career development needs were identified and appropriate training and development interventions were delivered to enhance staff performance.
Screened, organized, filed, and updated employee personnel files while maintaining the confidentiality of all sensitive information.
HR Assistant
Prepared and post job advertisements, screen applications, arrange interviews, participate in selection process, and administer pre-employment tests as required.
Provided general administrative support such as preparing correspondence, forms and reports, arranging meetings, composing regular correspondence, processing confidential reports and documents, filing electronic and hard copy, tracking deadlines, and taking minutes as needed.
Prepared source documentation needed for new hires, or effective changes in pay, status, or benefits.
Answered general and special inquiries from employees, and responded to HR requests for information, interpretation, and guidance.
Assisted with HR tasks and responsibilities including the extension of notices for Federal employers operating under State of Hawaii Workers' Compensation Law; maintained labor organization files.
HR Assistant
Responsible for new-hires, change of status and termed employees processing.
Responsible for making sure employees are enrolled for insurance after 90 days as well as keeping records of employees who have been termed.
Maintain records of I-9's, backgrounds, self-ID's and medical files as well as seasonal (Christmas and Camp) employees.
Attended meetings with senior Human Resources management and company personnel as a representative on topics related to employee benefits, terminations, diversity, and HR best practices.
Executed executive-level presentations in support of requested training programs; developed PowerPoint slides related to HR topics.
HR Assistant
Accountable for HR master employee data including data accuracy, data records retention and data extraction for reporting.
Assists with the recruiting, onboarding and separation process.
Responsible for the Learning Management System in SuccessFactors including assigning, scheduling and reporting.
Responsible for the research and preparation of various HR Reports including importing into SharePoint.
Hired, trained, and supervised new employee orientation to proper business etiquette.
HR Assistant
Respond to general questions from employees and prospective applicants in a timely manner.
Process payroll bi-weekly through the Kronos system.
Assisted HR Manager with the coordination of applicant flow and conduction of New-Hire orientations.
Maintain employee database and administer prompt follow-up on outstanding documents.
Assisted in the coordination of benefits enrollments such as medical and dental insurance, 401K retirement plans, and credit union accounts.
HR Assistant
Responsible for the day to day delivery and administration of core employee job change and life cycle processes for supported areas including on-boarding, promotions, transfers, re-organizations, and terminations.
Responsible for maintaining and ensuring full compliance of employment files both physical and digital as well as overall record keeping.
Responsible for creation and issuance of employee related documentation, including but not limited to, offer Letters, separation agreements, consultancy agreements, side letters and verification of employment letters and seeking approval for these where necessary.
Increased employee satisfaction from 23% to 63% by revising the perceived meaning of benefits, developing comprehensive benefits analysis, and engaging employees in the goal-setting process.
Rendered advice and guidance relating to employee benefits, employment policies, and payroll regulations to all levels of staff.
HR Assistant
Review staff records, communicate with staff and supervisors to update expiring credentials and make sure proper documents are submitted to ensure company is in compliance with all regulations, policies and procedures.
Updated and provide openings for positions openings via socials media, ads, emails and contacts as well as classify/sort resumes to further recruitment.
Assisted in company culture building including involvement in company committees, events and special projects.
Implemented and updated human resources reporting system, including time and attendance and training records.
Performed employee training in numerous areas including FMLA, ADA, EEO, harassment, sexual harassment, and voluntary affirmative action.
Wrap Up
You need to make sure your resume stands out amongst the other candidates. It is the first impression that employers have of your work experience and skills. Use the samples above to put together a resume that best suits your needs and helps you get the job you want.