Front Desk Receptionists are the first point of contact for clients when entering a hotel. Duties include room bookings and reservations, special requests, registrations, mail delivery, key assignments, and cashier work. Experience in hospitality is encouraged, and a high school diploma or GED takes care of the education requirements. Receptionists must be comfortable with computers, be able to work flexible hours, and have strong interpersonal and communication skills. They must also be organized, personable, professional, and hospitable.
A good resume is well-written and concise. It should be neat and easy to read, listing previous experience in a logical order.
Our resume samples will provide you with multiple examples of what you can include when writing your resume.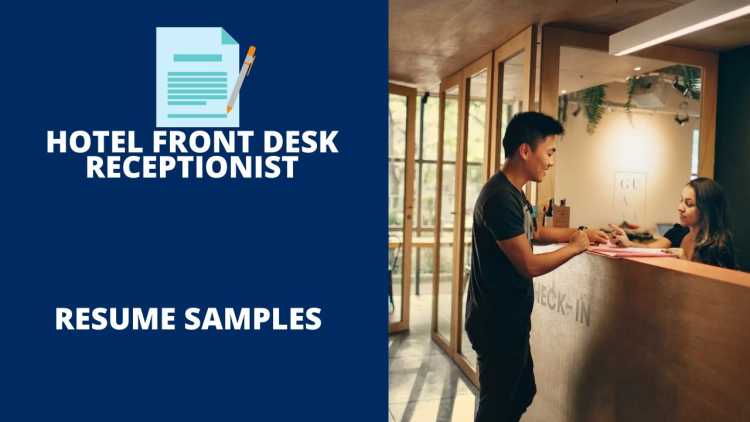 The Best Hotel Front Desk Receptionist Resume Samples
These are some examples of accomplishments we have handpicked from real Hotel Front Desk Receptionist resumes for your reference.
Hotel Receptionist
Serve the visitors, Greeting them, welcoming them, and announcing them appropriately.
Answer, record and return phone calls as well as provide basic information if necessary.
Receive and respond daily to emails, notifications, notices or certificates.
Maintain security following processes and access control (monitoring it through screens, asking for authorizations, etc.).
Processed reservations and processed payments from guests.
Hotel Receptionist
Reviewed account information and charges with guests during check-out.
Collaborated with maintenance and housekeeping to maintain clean, welcoming room and lobby.
Verified that personal and payment information on guest accounts was accurate and complete.
Maintained professional telephone contact with guests to ensure their needs were met.
Embarked on special projects including the development of a reservation management software program for all reservation systems in the hotel chain.
Hotel Receptionist
Keep records of room availability and guests' accounts, manually or using computers.
Performed bookkeeping activities, such as balancing accounts and conducting nightly audits.
Post charges, such those for rooms, food, liquor, or telephone calls, to ledgers manually or by using computers.
Received "Employee of the Year" award; named most deserving by peers, supervisors, and corporate officers, due to exceptional service provided to corporate clients, customers, and employees, while attending to administrative duties.
Achieved political clearance to meet and greet visiting dignitaries, presidents, senators, congressmen, governors, and government leaders.
Front Desk Receptionist
Answering questions, address complaints and give suitable information.
Answering all incoming calls and redirect them or keep and distribute messages.
Accepting and signing the delivery of letters, packages etc. and distribute them either personally or through an interoffice dispatching system.
Preparing outgoing mail by drafting correspondence, securing parcels etc.
Responded swiftly to individual needs by anticipating the needs of customers while adhering to banks' guidelines regarding authentication, disclosure, and customer service.
Front Desk Receptionist
Use computers for various applications, such as database management or word processing.
Answer telephones and give information to callers, take messages, or transfer calls to appropriate individuals.
Operate office equipment, such as fax machines, copiers, or phone systems and arrange for repairs when equipment malfunctions.
Greet visitors or callers and handle their inquiries or direct them to the appropriate persons according to their needs.
Achieved award for meeting customer satisfaction guidelines based on customer survey ratings from customers who had applied for a loan.
Front Desk Receptionist
Directed visitors by maintaining employee and Department directories; giving instructions and smoothing out any concerns regarding the hotel.
Answered all incoming phone calls in a professional and friendly manner and directed them to the correct department.
Greeted all incoming visitors with a warm and friendly welcome and directed them appropriately.
Prepared check out receipts and collected payments from departing guests, making sure each entry and payment is accurate.
Advised staff members of company policy changes that were not previously communicated over the phone.
Hotel Receptionist
Greet guests and patrons, resolving and assisting with any conflicts that may arise.
Verify guests' registration information.
Answer queries regarding hotel's services, charges, local restaurants, and travel directions.
Compute bills, and take payments, balancing cash at the end of the shift and generating account reports for the manager.
Determined which items needed repairs with each daily check-in; ordered appropriate termite treatments in accordance with the building codes and inspections.
Front Desk Receptionist
As a front desk receptionist I had a high number of phone calls as well as checking guests in and out of the hotel.
Scheduling arrivals of guests, meeting their needs and cash handling.
With being a front desk receptionist it required patience with guests, friendly attitude, being a people person and connecting with the guests.
Compiled and distributed monthly reports; maintained calendars and file folders; updated data on computer systems.
Communicated regularly with the Human Resources department regarding employment status, benefits, and payroll preparation.
Hotel Front Desk Receptionist
Answered phones, booked reservations, respond to emails and electronic reservations.
Included encoding and organizing pertinent information and data into the computer utilizing excel formatting.
Prepared check out receipts and collected payments from departing guests.
Worked closely with managers to ensure timely completion of assigned tasks.
Acquired vast knowledge of clientele, procedures, policies, and fund-raising from underprivileged children's facilities all over the city.
Hotel Front Desk Receptionist
Guaranteed guests of a full hospitable service that would entice them to visit the hotel again.
Ability to work under pressure and manage and resolve guest issues or complaints.
Coordinating conference and meeting space areas based on the requirements and handling event planning issues.
Developed excellent customer service skills through all aspects of operation: front desk to management.
Responsible for welcoming guests, checking in, and managing guest records.
Hotel Receptionist
Ensure superior customer service experience by addressing customer concerns, demonstrating empathy and resolving problems on the spot.
Build good relationship and rapport with guest to make them feel comfortable.
Keep clear and comprehensive records of guest room bookings and all billings for accountability and future reference.
Inform guest of the services and accommodation rates in the hotel and make reservations for guest according to their needs.
Organized and maintained guest registry, allocating rooms, making reservations, and assigning keys to the room.
Hotel Front Desk Clerk
Provided the highest quality of service to the customer at all times and maintained the hotel's standard of service and hospitality.
Handled guest registration and room assignments; pre-registrations, blocking reservations and cancellations.
Assisted customers in all inquiries in connection with hotel services, in-house events, directions, local attractions, check cashing and safety boxes.
Maintained efficiency and orderliness through regular cleaning procedures.
Ensured that housekeeping requests are met by requesting the appropriate staff member to accomplish the task in a timely manner.
Wrap Up
You need to make sure your resume stands out amongst the other candidates. It is the first impression that employers have of your work experience and skills. Use the samples above to put together a resume that best suits your needs and helps you get the job you want.