Graduate teaching assistants help professors teach college courses. They prepare classrooms, develop educational materials, prepare PowerPoint presentations, proctor and grade exams, answer students' questions, and grade papers. They provide these services to their advisor during graduate school in return for an assistantship. They must have knowledge of the subjects they teach, follow instructions, have good editing, proofreading, and computer skills, and be organized, punctual, and detail oriented.
A good resume is well-written and concise. It should be neat and easy to read, listing previous experience in a logical order.
Our resume samples will provide you with multiple examples of what you can include when writing your resume.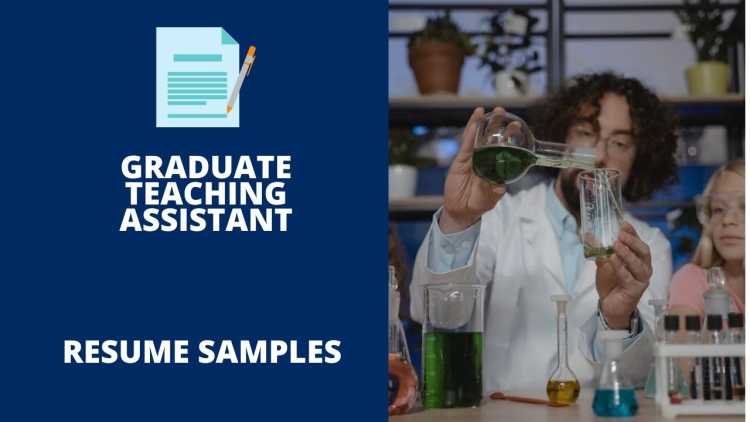 The Best Graduate Teaching Assistant Resume Samples
These are some examples of accomplishments we have handpicked from real Graduate Teaching Assistant resumes for your reference.
Graduate Teaching Assistant
Familiarizing students with photography concept building strategies.
Camera and post production software operation through Adobe Lightroom.
Assessing student photography projects through individual ideation meetings and public critique group meetings.
Aided high school students in their preparation for the upcoming Regents Examinations. Tutored students and coordinated a weekly study hall.
Conducted graduate surveys for students; identified and corrected errors within their written documents.
Graduate Teaching Assistant
Assisted International Relations professor with teaching course work for two different semesters.
Reviewed, proof read and edited papers for publication.
Evaluated student performance, provided feedback, and assigned grades for 20-30 International Relations students.
Held office hours on behalf of supervisor for individual student consultations about grades and home works.
Proactively corrected and graded in-class tests and exams with unplanned instructors.
Graduate Teaching Assistant
Preparing teaching materials for the course of BOT 350 Resource Management and Conservation Biology; Aiding with the voluntary field trip of Kawainui Marsh Environmental Restoration Project.
Giving lectures to the lab section of BOT 480 Algal Diversity and Evolution; Aiding in the morphological and microscopic identification of algae species; Conducting weekly field trip of algae collection.
Giving lectures for the lab course of BIOL 375L Concepts of Genetics.
Served as a sub-committee member for the department's Academic Committee, which produced rules of conduct for faculty, staff, and students.
Curated, managed and maintained over 11,000 rounds of examination.
Graduate Teaching Assistant
NFC Based Smart Tour Guide: Developed an app that help tourists to find details about tourist spot. (Tizen, C++, JSON, GIT).
Smart Switch Mobile: Developed an Tizen app that use to transfer data from devices to new Tizen device in a faster way. (Tizen, C++, JSON, GIT).
Automated BVT Testing Tool: Developed an automated testing tool to test basic verification test for Tizen OS. (Python, GIT).
Water Erosion Prediction Application: Developed a web application for Citizen Scientist. (Grails, GIT, Mashup Programming).
Authored and designed several lesson plans for English Composition and English Grammar courses.
Graduate Teaching Assistant
Organized & supervised the biochemistry lab experiments, validated & managed inventory, and monitored disposal of waste chemicals as per guidelines.
Delivered a range of teaching & assessment activities in biochemistry, molecular biology & genetics.
Guided, supported & communicated with students regarding academic queries & information.
Assumed leadership role as a public relations liaison between the school district, student body, and parents.
Established rapport with school board members to ensure quality curriculum development during the expansion of available college prep courses.
Graduate Teaching Assistant
Developed Curriculum, Coding Exercises and tutored students for Database Management System class.
Scheduled regular office hours to meet and tutor students in need of extra assistance improving their overall grades.
Examined students' performance, provide feedback and grade assignments, exams, and projects for over 250 students.
Taught class in the absence of other professors in the department, reducing class cancellation.
The quality of education was greatly increased once the new curriculum was adopted by the school board due to my involvement in the development process.
Graduate Teaching Assistant
Assisted Professor Henry Levin in teaching of graduate course Resource Allocation.
Taught 1hr/wk, conducted extra classes and graded papers of 12 Masters and PhD students.
Topics covered include: cost-benefit, cost-effectiveness, production functions and value added.
Influenced, motivated, and inspired a generation of students towards awareness of the world's future.
Coached, tutored, and trained over 75 students in mathematics, English, and speech.
Graduate Teaching Assistant
Assisted faculty members with classroom instruction, exams, record keeping, and other miscellaneous projects.
Provided assistance to undergraduate students on Microcontroller based PSoC software under the guidance of chair.
Assisted students to develop their models and program language namely c and assembly language.
Created and write materials such as a syllabus, visual aids, answer keys, supplementary notes, and course websites.
Educated student leaders in study skills and time management.
Graduate Teaching Assistant
Assisted professor in Big Data Management course instructing students on Hadoop Map-Reduce and Spark on z/OS.
Designed and implemented team project using Docker and MapReduce; Tested the system on both MySQL and HBase.
Tested Spark on IBM z system with the help from IBM's z/OS team. Evaluated Apache Spark and Spark on IBM based on two Scala projects: Page Rank and Movie's Rating Counting.
Initiated projects for students to improve motivation for learning as the inspirer of new initiatives.
Built a network of international student exchange to foster deeper relations between nations.
Graduate Teaching Assistant
Mentored students with programming part of their project, guided them in selecting suitable hardware for projects.
Conducted 20hr/week lab sessions for students to complete their project prototypes.
Evaluated final prototypes before final submission to the department.
Developed a new database in SQL to add, delete, update/modify project entries of student/team.
Presented "The Psychology of Children" research seminar to students in college-level Elementary Education program.
Graduate Teaching Assistant
Designed a highly redundant network to help them understand STP, OSPF and EIGRP routing Protocols.
Helped them configure cisco routers and analyze the internal communication by sniffing the packets through Wireshark.
Guided them to understand ARP, IGMP and STP and how it works in routers and switching.
Grade exams and take addition working hours to solve their problems related to Computer networks and protocols.
Provided student teaching to two classrooms during their Junior and Senior years with an Outstanding Academic Achievement Student Teacher Award for Excellence.
Graduate Teaching Assistant
Developed, administered and corrected tests and quizzes in a timely manner.
Coordinated after school tutoring hours with teachers to help students in need of extra attention.
Utilized variety of teaching methods including lectures, media, group discussion and role-playing.
Researched and coordinated holistic program design for a new elementary school using Native American philosophy to improve the school environment and student performance.
Collaborated with professors and fellow students to bring to life the definition of a "Community of Learners" through classroom discourse, independent projects, and group activities.
Wrap Up
You need to make sure your resume stands out amongst the other candidates. It is the first impression that employers have of your work experience and skills. Use the samples above to put together a resume that best suits your needs and helps you get the job you want.