Game Designers develop new computer games. Their duties include working in teams inventing new games; working on different games at the same time; helping the production department; and working with many computer design programs and computer languages. For this job you must first earn a BS/BA degree in game development or a related field. Skills needed are: ability to work with different design programs, proficiency with computer languages, a passion for playing computer games, creativity, and high energy.
A good resume is well-written and concise. It should be neat and easy to read, listing previous experience in a logical order.
Our resume samples will provide you with multiple examples of what you can include when writing your resume.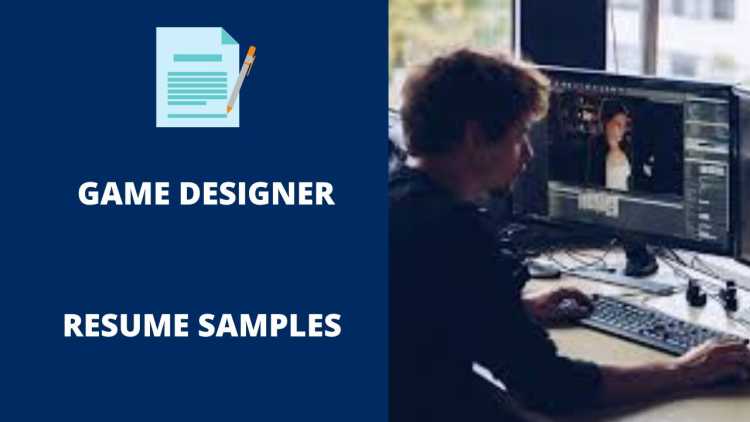 The Best Game Designer Resume Samples
These are some examples of accomplishments we have handpicked from real Game Designer resumes for your reference.
Game Designer
Designed and implemented player and enemy combat mechanics and AI using toolkits and visual scripting systems in Unity for a single-player Action-RPG.
Developed, presented, and followed through on game designs for numerous gameplay systems including combat, abilities, AI, and character progression.
Balanced and refined combat systems, mechanics, and flow.
Worked with engineers to develop and refine tools to aid in level design and development.
Created game scripts and art assets for an RPG game.
Game Designer
Working closely with the design team to created and refine aspects of the gameplay experience.
Using licensed and/or proprietary technology to implement AAA quality gameplay systems.
Writing design documents to communicate concepts to multiple disciplines (programmers, artists, level designers, producers, etc).
Communicating with people from a variety of different disciplines knowledgably and effectively.
Developing single player and multiplayer levels based on game design documents and research material.
Game Designer
I have help my best friend make game since we meet, We started super smash bro.
We apply our own character and stages. We apply new music as well as new images.
The recent project we are working on mine craft mods and so far we have done everything from adding new mobs and changing Steve's player skin to adding new materials, worlds, and dimensions.
Worked with other designers, artists, and gameplayers to develop and design a new game for the App Store.
Developed a Data Management system to support daily events for users on the mobile platform.
Game Designer
Updated statistics and records from the previous year and updated coaching and player in the current game.
Used XML files to develop the game plan descriptions that provided competitive analysis for preparation against opponents.
This feature one was of the biggest additions to the game and was even featured on ESPN.
Developed scripts for inventory and enemy tracking systems used by NPCs in the game.
Incorporated Nintendo Wii Remote and Nunchuck controls with third-party applications; created functional prototypes for games development.
Game Designer
Tested digital gaming and metagaming content such as Magic: The Gathering Toolbox, Duels of the Planeswalkers, and Magic: The Gathering Online.
Consulted on structure, direction, and support programs for high-level organized play including the Pro Tour, as well as store-based community building.
Stress-tested Magic sets to ensure balance and variety at highest levels of competition.
Built, integrated, and supported the development of a software game.
Responsible for all phases of the software development life cycle including, management resources, planning and organizing work efforts, gathering requirements, and delivering solutions to business problems.
Game Designer
Coordinating play tests and general player feedback sessions both internally and externally.
Constant communication with QA and Customer Service on testing methods, content updates, and player feedback.
Creating concept maps called Top Downs to develop a basic layout of each zone for the concept and environment artists to use for creating environmental art.
Designed games for entertainment for all audiences.
Responsible for all phases of the software development life cycle including, management resources, planning and organizing work efforts, gathering requirements, and delivering solutions to business problems.
Game Designer
Wrote rules and conduct community play tests to validate concepts refine where appropriate.
Contact and assist art team in visualization of game, including requirements for images, thorough approval process, and eventual presentation to CEO.
Participate in interviews and community events to discuss product.
Developed and designed original game concepts, level design, and programming including multiplayer gaming capabilities.
Delivered concept prototypes to project stakeholders within the Reed College Technology department.
Game Designer
Write, review, and provide feedback on Pitch Documents and Game Design Documents.
Participate in brainstorming sessions for in-progress and upcoming projects.
Offered design solutions to solve problems while keeping projects on budget and on schedule.
Built a paper prototype and facilitated remote playtesting with worldwide team.
Wrote game pitch documentation / game design documentation and facilitated the live document feedback process.
Game Designer
Contributed to development of interactive products on behalf of IT company specializing in small business consulting and technology services, serving solid base of commercial clients throughout 5+ years of operations.
Directly managed development of user interface and motion design from concept to execution, creating casino-themed and adventure games which generated more than $50,000 in yearly revenue and reached thousands of users.
Managed relationships with commercial clients throughout development of customized products, clarifying specifications involving visual design, interactive features and animated elements.
Created original 3D characters and designed original scenarios while reporting directly to IT Project Manager.
Expanded and enhanced an existing application by programing scripts for a video game.
Game Designer
Designed and document new mobile features for a live mobile game.
Designed post launch features for Cars to improve Key Performance Indicators.
Iterate and drive features to meet high standards with multiple team members to implement new features and content for a live game.
Co-created a social media application that obtained over 500,000 users and 20,000 user logins per month.
Developed game concepts, implemented design patterns, and developed a cutting-edge game engine.
Game Designer
Working as part of the development team to created graphics and assets for mobile applications.
Working individually on the functionality of one company project.
Was a Lead Designer of a large scale company project with a small team.
Participating in the marketing efforts of the company; representing the company at product expositions.
Created and designed an online gaming platform for clientele adoption while maintaining security measures to prevent fraudulently gained accounts.
Game Designer
Experiment with gameplay narrative and game genres to craft unique interactive experiences.
Review game art, write copy and game dialogue, approve promotional materials, and work with show teams.
Implement findings from user testing, game analytics, and game industry trends.
Created specialized tools used by other developers to improve efficiency in their jobs.
Developed and maintained a library of code to expedite time-to-market for product development.
Wrap Up
You need to make sure your resume stands out amongst the other candidates. It is the first impression that employers have of your work experience and skills. Use the samples above to put together a resume that best suits your needs and helps you get the job you want.