Recruiters help organizations find and hire employees. They attend job fairs, post job openings on relevant websites, review job applications, schedule job interviews, assist hiring supervisors with onboarding procedures, and help train new employees. This position typically requires a bachelor's degree. They must be extroverted, enthusiastic, and organized, and have good listening, writing, speaking, and facilitation skills.
A good resume is well-written and concise. It should be neat and easy to read, listing previous experience in a logical order.
Our resume samples will provide you with multiple examples of what you can include when writing your resume.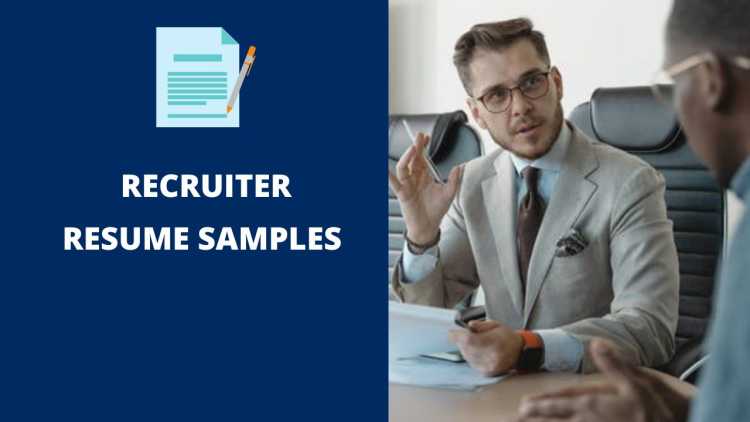 The Best Recruiter Resume Samples
These are some examples of accomplishments we have handpicked from real Recruiter resumes for your reference.
Recruiter
Recruited and hired employees for pharmaceutical, broadcasting, consumer goods, technology and engineering clients.
Hired Patient Care Reps, Pharmacists, Accountant, Sr. Director, Application Development, National Account Managers, Corporate Trainer, Marketing Associate, LPNs, RNs, Sr. Corporate Counsel, QA Analyst, Network Infrastructure Administrator, Help Desk Analyst, Pricing Specialist, Software Engineers, Electrical Engineer and Mechanical Engineer.
Utilized LinkedIn, Dice, CareerBuilder, Zip Recruiter and Indeed, niche boards and industry associations to source candidates.
Handled interview and hiring processes for employers, associates, and candidates.
Achieved a mean average of 4.0 over the course of three years, to become our highest-paid employee.
Recruiter
Coordinate recruitment events, such as open houses, job fairs and college fairs.
Conduct all backgrounds checks on candidates and followed up with candidates when additional documents were needed.
Develop and implement a system to track all candidate submittals, interviews and starts.
Identified and recruited individuals for the company who demonstrated leadership potential, who had integrity and character with a positive attitude toward working with older individuals.
An excellent listener; supported and encouraged a change in both individuals and their families.
Recruiter
Responsible for full time/part time /permanent/contract recruitment for clients requiring.
Evaluated and matched candidate resumes to the client requirements to determine the best applicant for the job.
Negotiated wage rates, benefit packages, and other terms and conditions of employment with candidates.
Sourced candidates through job boards such as internal ATS Job Diva, Career Builder, Monster, Dice, Zip Recruiter and other social mediums such as LinkedIn, indeed.
Satisfied physically and emotionally during all employment periods; demonstrated strong leadership skills to help others attain their full potential over nine years.
Recruiter
Worked in the direct hire division with a successful track record of placements.
Experienced in the Technical, Accounting and Finance, and Administrative Support space.
Fully vetted all potential candidates with detailed screening and in person interviews.
Created a pipeline of professionals via LinkedIn Recruiter, Indeed and CareerBuilder.
Established professional relationships with more than 40 companies, organizations, and individuals; assisted in interviewing and selection.
Recruiter
Organized all prospective clientele on a daily basis in order to utilized time efficiently.
Managed recruiting and staffing initiatives for Fortune 500 companies.
Performed complete recruiting processes including; sourcing, screening, interviewing, reference checks, employee orientation, retention and redeployment.
Utilized Internet job sites, employee referrals, company databases, and career fairs.
Successfully enrolled over 200 students in colleges throughout the United States.
Recruiter
Established positive working relationships with HRA funding source and all workforce partners to optimize funding, customer satisfaction and community relations.
Managed program day-to-day relationship with customer, staff and vendors addressing concerns promptly with an action plan to ensure satisfaction, contract renewals, and positive positioning for acquiring future business.
Monitor staff performance, providing feedback implemented Performance Improvement Actions Plans.
Appeared on 10 different radio shows and local television programs promoting educational programs, scholarships, granting awards, and scholarship opportunities.
Executed numerous business transactions, primarily under the direction of others; presented complete solutions to difficult problems.
Recruiter
Co-created and piloted a new recruiting process for the company to created a more effective method for selecting and hiring candidates.
Responsible for sourcing, screening, and interviewing potential administrators and managers to staff 20+ offices, nationwide.
Collect accurate and timely data to evaluate the new process as well as assist management in people-planning activities.
Enhance the candidate experience throughout the recruiting process by providing assistance and guidance.
Researched new areas for profit for my employer through participation in international-related meetings at The University of Texas at Arlington.
Recruiter
Managed receptionist area, including greeting visitors and responding to telephone and in-person requests for information.
Wrote reports and correspondence from dictation and handwritten notes.
Made copies, sent faxes, returned emails to our clients etc., and handled all out going correspondence in a timely matter.
Identified five top and bottom applicants through thorough research and interviewing.
Established criteria for selecting key professionals to help enhance client retention.
Recruiter
Qualify candidates through research & phone interviews; provide recommendations & feedback.
Build rapport & maintain solid relationships with hiring managers and candidates by establishing credibility & trustworthiness; consistently establish resourcefulness & excellent problem solving skills.
Effectively represent the needs of both sides through clear and consistent communication.
Oversaw the hiring process, including first-round interviews and obtaining additional references.
Maintained confidential files regarding candidate's educational, work experience, interests, hobbies, and marital status in order to maximize employee retention.
Recruiter
Networked with industry contacts, association memberships and associates.
Pre-screened all resumes prior to sending them to corporate hiring managers for consideration.
Facilitated all new employee orientations to foster a positive team attitude.
Created and completed personnel action forms for all hires, terminations, title changes and terminations.
Implemented guidelines of job performance; monitored the performance of employees and adapted to new company policies as necessary.
Recruiter
Address questions from managers, and outside agencies regarding the status of candidates.
Interview prospective candidates to assess qualifications and capabilities regarding specific positions.
Cold call an average of 100 people per day regarding different job opportunities.
Guide candidates through the application process and addressing any of their concerns.
Hired 22 salespeople, office assistants, and customer service representatives; within 90 days, sales increased by 40%.
Recruiter
Partnered with two talent acquisition professionals to recruit for positions across 120+ departments using the ApplicantPro tracking system.
Conducted phone screens for open positions focusing on basic qualifications, compensation and benefits.
Maintained weekly HR functions (i.e) MBTA, employee passes, and discounted movie ticket programs.
Organized all current and former employee files, including confidential updates to contact information.
Recruited, hired, and trained 3 generations of management talent resulting in uninterrupted professional growth.
Wrap Up
You need to make sure your resume stands out amongst the other candidates. It is the first impression that employers have of your work experience and skills. Use the samples above to put together a resume that best suits your needs and helps you get the job you want.