Legal assistants help lawyers. They do research, gather evidence, organize files, prepare documents, write letters, and prepare and file legal documents. Some positions require an associate's degree in paralegal studies; however, some employers prefer their legal assistants to have a bachelor's degree in a prelaw subject and a paralegal studies certificate. According to the Bureau of Labor Statistics, legal assistants must have good reading, writing, speaking, computer, interpersonal, organizational, and research skills.
A good resume is well-written and concise. It should be neat and easy to read, listing previous experience in a logical order.
Our resume samples will provide you with multiple examples of what you can include when writing your resume.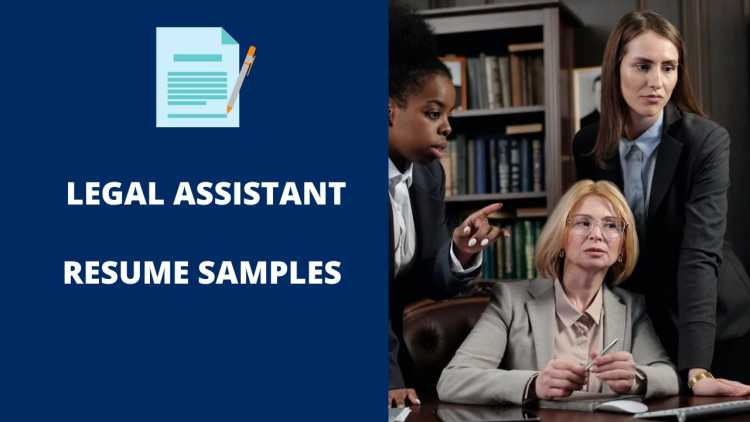 The Best Legal Assistant Resume Samples
These are some examples of accomplishments we have handpicked from real Legal Assistant resumes for your reference.
Legal Assistant
Schedule clients with doctor appointments and necessary referrals to specialists.
Collect and analyze intake information and fully investigate each case.
Maintain contact with clients and insurance companies on a regular basis.
Prepared legal documents, correspondence and answer multiple phone calls.
Legal Assistant
Audit files and letter templates for compliance, utilizing Excel and Power Point to compile results.
Increased compliance in a nationwide network of over 100 legal offices by collaborating with a team of managers to created a comprehensive 200-page policy and procedure manual.
Electronically oversee files; review and audit for compliance with federal, state, and company standards.
Legal Assistant
Setting reminders. Reviews calendar daily and proactively handles upcoming events to determine dates upon which various pleadings must be served and filed.
File documents using the federal electronic filing system.
Responsible for checking court document email, saving a copy of documents to client's.
Prepares files for attorney prior to meeting with clients. Confirms client appointments and performs receptionist duties when needed.
Legal Assistant
Downloaded files that consist of a tremendous amount of emails and attachments in an mbox viewer.
Identified, prepared and organized client's emails and attachments in the mbox viewer to print the emails as PDFs and saved to the same folder above; titled each email based upon its time stamp and each attachment according to the same time stamp with the title of the attachment in parentheses.
Saved, edited, printed any/all documents production for attorney's review.
Bates-stamped including editing header/footers, and edited confidential disclosures to only client/attorney privileges using Adobe Acrobat software.
Legal Assistant
Began work at the firm as an Office Services Assistant and earned the promotion to Legal Assistant.
Updated Accounting of Debt and drafted Complaint Resolutions for attorney approval.
Finalized edits made in daily letters and Status Reports sent to homeowners and their respective associations.
Assembled Snap Legal paperwork and official documents sent to courts located within the Inland Empire.
Answered phones and spoke with clients to answer all questions and concerns in regards to their case files.
Legal Assistant
Prepared correspondence regarding A-list actors, producers, directors & screenwriters.
Track and report expenses using People Soft Expenses.
Provided direct support for multiple Oscar-winning Films & was promoted from Junior to Senior Legal Assistant.
Legal Assistant
Open files for new clients on the computer immigration system, created physical file folders, close files and prepare for archive.
Open, log, sort, and distribute office mail, as well as send out client's mail, and compose routine letters to clients.
Performed data entry, as well as intake of new client information, and collect payments.
Answer phone calls, take messages, and relay pertinent and sensitive information to office paralegals, accountant, and attorney.
Legal Assistant
File hazard insurance claims on pre-foreclosed or real estate owned properties on behalf of financial lending institutions.
Responsibilities consist of interpreting legal documentation, compiling substantial information to eloquently articulate a justifiable insurance claim, discussing claim details with insurance adjusters, drafting dispute letters upon disagreement of claim settlements, and determining if the outcome of a claim is fair and reasonable.
Prior to becoming a legal assistant, I began as a clerical assistant.
My responsibilities consisted of managing files and records, designing forms, gathering information pertaining to potential insurance claims, and communicating with individuals outside the institution.
Legal Assistant
Performs legal research, draft and review technical legal documents for attorney signature.
Conduct pre-deployment and preventative law briefings nationwide to 100 plus reserve service members.
Serve as assistant administrative officer for 15 attorneys, 4 paralegals and 13 legal assistants.
Coordinate with attorneys and clients to prepare legal documents and handle highly confidential documents.
Legal Assistant
Help attorneys draft trust documents, letters to clients, and letters to outside organizations.
Maintain database of current clients and professional contacts.
Organize and compile all executed Estate Planning documents for each client.
Maintain and organize all files on the server for each attorney as it is a paperless firm.
Legal Assistant
As a legal Assistant I worked hand and hand with the attorneys and prepped all the documents for court, and depositions.
I was also in charge of maintaining the filing for the office as well as handling all phone calls that came in along with email and faxes.
I was responsible for all scanning and maintaining office supplies.
Legal Assistant
Composed ,revised and finalized reports, and Budgets to our carriers, our insured, and Plaintiff's counsel.
Updated client relations management program (Needles) for reports, motions and EBT dates.
Tracked and managed reports from attorneys to clients ensuring deadlines are met.
Wrap Up
You need to make sure your resume stands out amongst the other candidates. It is the first impression that employers have of your work experience and skills. Use the samples above to put together a resume that best suits your needs and helps you get the job you want.