Litigation Paralegals provide assistance to attorneys. Their duties include scheduling hearings, drafting pleadings, conducting research, following up on clients, assisting in case settlements, and assisting in pre-claim investigations. To become a litigation paralegal, you must obtain an Associate's degree in a program related to legal studies. Litigation paralegals must demonstrate communication skills, sound judgment, organizational skills, computer savvy, interpersonal skills, an attention to detail, and stress tolerance.
A good resume is well-written and concise. It should be neat and easy to read, listing previous experience in a logical order.
Our resume samples will provide you with multiple examples of what you can include when writing your resume.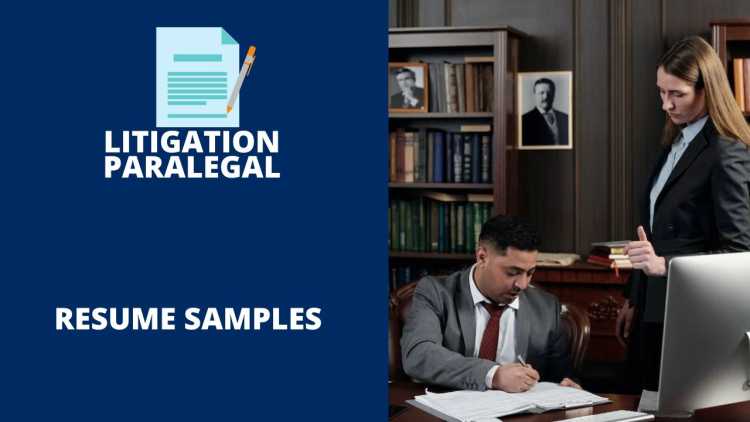 The Best Litigation Paralegal Resume Samples
These are some examples of accomplishments we have handpicked from real Litigation Paralegal resumes for your reference.
Litigation Paralegal
I am a civil litigation paralegal and notary proficient in personal injury, wrongful death and criminal/traffic defense for a nine attorney office.
I perform all paralegal duties from new client intake through final settlement and/or trial, including, but not limited to, scheduling appointments, hearings, depositions, mediation, and trial.
I have extensive experience in preparing, filing and serving legal documents and pleadings such as new law suits, motions, notices.
Recognized for outstanding performance by the senior partner of the law firm.
Assisted attorneys in acquiring critical legal data for complex litigation cases, including 3 defense verdicts of $5 million each.
Litigation Paralegal
Draft letters to various medical providers requesting client's medical records pertinent to the case.
Prepared subrogation letters to Client's health insurance company requesting itemization of client benefits.
Review medical records and other relevant documents for information that can lead to other discoverable requests.
Compiled over 10,000 pages of evidence to prove real property ownership and subsequently settled a case out of court at cost savings of over $1 million.
Created procedural documentation and organized files so that attorneys may quickly respond to discovery questions as well as avoid extraneous court appearances.
Litigation Paralegal
Preparing and filing pleadings, notices, and motions in state and federal courts using e-filing systems.
Creates reports for attorneys based on case specifications and attorney requests.
Works with attorney to develop legal arguments, motions and other case filings.
Preparing written correspondence with clients, opposing counsel, vendors, and judicial assistants.
Assisted two attorneys with trial preparations for a child custody case; both attorneys were awarded attorney compensation awards by the court.
Litigation Paralegal
Assisted attorneys in defense of high volume personal injury and home owners' insurance defense litigation and all of the plaintiff's personal injury litigation cases.
Preparation of demand letters and packages.
Scan, print, various mail and Email documents; schedule and calendar, notice and prepare packages for hearings, mediations, depositions and trials.
Provided litigation support services to law office and clients and maintained case files.
Analyzed discovery documents, including interrogatories, depositions, and exhibits.
Litigation Paralegal
Senior Litigation Paralegal representing individuals who have suffered serious injury due to automobile negligence.
Responsible for, and maintained over 65 litigation cases.
Duties included, drafting and responding to legal discovery, drafting motions, pleading, affidavits, and notices, scheduling matters for depositions, trial and mediation, preparation of witness and exhibit list, e-filing, and maintaining a senior associate's calendar.
Researched laws pertaining to issues presented by the case.
Compiled regular and ad hoc reports for the attorney and clients.
Litigation Paralegal
Paralegal support to Associate General Counsel for high-end real estate development corporation. Draft, revise, proofread complaints, motions, responses; e-file pleadings utilizing Florida e-Filing Portal.
Schedule hearings, depositions, mediations and arbitrations; arrange for court reporters and process servers.
Researched cases, laws, statutes, regulations, court rules, policies, procedures, case law, legal periodicals and other legal authorities relevant to particular claims.
Refuted opposing counsels' arguments by researching precedents.
Performed due diligence research for several intellectual property cases.
Contract Litigation Paralegal
Contract personal injury litigation paralegal hired for pre-trial and trial preparation.
Prepared all pre-trial and trial exhibits for Plaintiff personal injury trial.
Attended and assisted at trial, In addition help draft motions and respond to discovery and assisted in pre-screening client intake.
Reviewed litigation case files to ensure compliance with ethical standards and precedents (advance of legal knowledge).
Researched and edited contractual agreements for clients.
Paralegal
Compile research and documents for commercial real estate transactions.
Kept attorney apprised of TREC legislative changes during session.
Proofread and cite checked documents to be filed with the court and commercial agreements or contracts.
Worked with clients with commercial and residential leasing, purchasing and sale of property.
Familiar with the Securities and Exchange Commission and its regulations as they pertained to the sale, acquisition, and merging of entities.
Litigation Paralegal
Communicate directly with clients, experts, witnesses, litigation support vendors and Courts.
Maintain case calendars, calculate deadlines for discovery, motion practice, scheduling/pretrial order deadlines.
E-file documents with courts and serve counsel with same.
Briefed, prepared, and presented financial transaction data in court; represented the client before Judge.
Created customized database to organize voluminous litigation case files; saved firm tens of thousands of dollars by replacing or updating inefficient databases.
Litigation Paralegal
Draft reports to insurers regarding case status, monthly and quarterly reports.
Organize and manage attorney and equity partner's Calendar.
Draft, review and edit various legal documents such as Pleadings, discovery responses, and discovery motions.
Prosecuted, defended, mediated, and mediated again over 50 cases for clients in Justice Court, Municipal Court, and Probate Court.
Constantly recognized for posting excellent case results and getting your client to a successful conclusion.
Litigation Paralegal
Prepared legal documents including pleadings, briefs, motions, discovery, arbitration and mediation portfolios.
Prepared documents, such as legal correspondence, and organize and maintain documents in paper filing system.
Involved in all aspects of litigation support including legal research, factual investigation, medical records review, document/file management and trial preparation.
Draft legal documents including pleadings, interrogatories, affidavits, subpoenas and memoranda of law.
Handled sensitive cases from divorce to wills to custody battles; resolved disputes in a timely manner.
Litigation Paralegal
Administrator of record retrieval process for discovery phase of approximately 200 premises liability lawsuits.
Coordinate payment of invoices, deposition scheduling, and Independent Medical Examination scheduling.
Review and summarize medical records and deposition transcripts for defense strategy in litigation.
Researched and analyze legal precedent and case valuation studies to prepare for settlement negotiation.
Saved the County more than $ 10 million by successfully protecting the taxpayers from fraud and waste.
Wrap Up
You need to make sure your resume stands out amongst the other candidates. It is the first impression that employers have of your work experience and skills. Use the samples above to put together a resume that best suits your needs and helps you get the job you want.